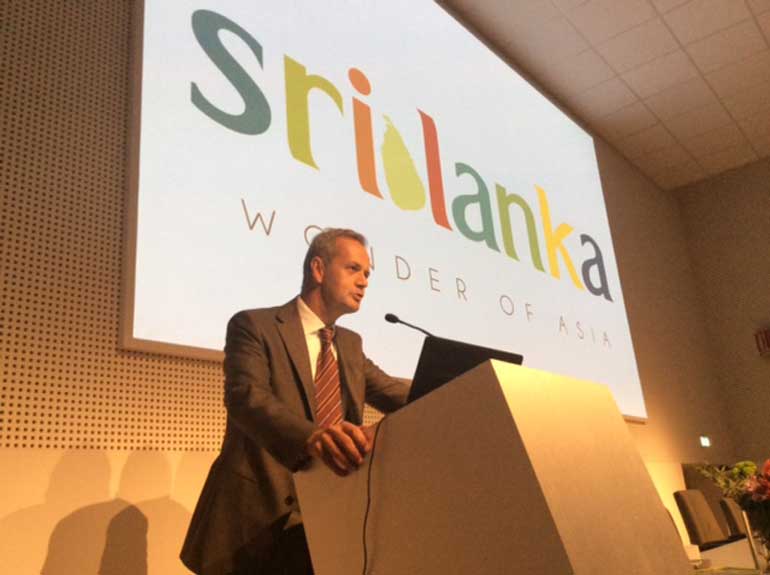 Calzedonia Managing Director Marco Carletto addressing the Sri Lanka Business Forum at World Expo 2015 in Milan​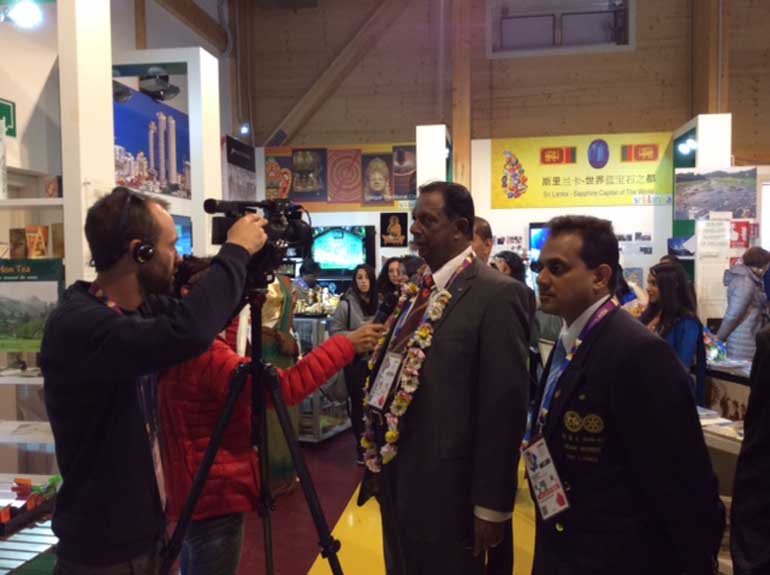 Tourism Minister John Amaratunga with Expo 2015 Sri Lanka Pavilion Commissioner General Dr. Rohantha Athukorala being interviewed by RAI TV in Milan
Sri Lanka's economy driven by the industry and commerce portfolio which accounts for almost 25% of GDP was showcased to the world at the Expo 2015 – Business Forum and press conference staged in Milan.

The Sri Lankan delegation comprised Tourism Minister John Amaratunga, Sri Lanka to Italy Ambassador delegate Daya Pelpola, Expo 2015 Sri Lanka Pavilion Commissioner General Dr. Rohantha Athukorala, EDB Chairman Bandula Egodage, Milan Charge De Affairs Pradeepa De Seram, Rome Charge De Affairs Poshita Perera, Minister Commercial Jinasena, Department of Commerce Deputy DG Raheem, EDB Deputy DG Jeevani Siriwardena, NJGA Deputy Director Ayoma Dias, Sri Lanka Tourism Assistant Director Shirani Herath and Sri Lanka Pavilion Manager Darshana Perera.

The key point highlight in the industry and commerce portfolio was how the five billion dollar apparel industry was linked to the global value chain, explained by Athukorala.

BOI Director Nilupul De Silva highlighted how Italian companies have invested in Sri Lanka in diversified areas such as textile and garments, footwear, tourism, rubber-based products, horticulture, paper and paper products, coir products and services.

De Silva highlighted the companies operating in Sri Lanka such as Omega Line Ltd. (Calzedonia), Sirio Ltd. (Calzedonia), Benji (Calzedonia), Texlan Lanka Ltd., Filotex Lanka Ltd., Lanka Wine Ltd., Michelangelo Footwear, Arpitalian Compact Soles Ltd., Palm Garden Village Ferrarese Ltd., etc.

The strongest endorsement that Sri Lanka received was when the Calzedonia Managing Director Marco Carletto shared the success story of his company Omega Line in Sri Lanka, which has five factories with 12,000 people employed by the company that has operated in the most difficult time during the war.

"The company Calzedonia is a classic example of a company linked to the global value chain," said billion dollar owning company Managing Director Carletto to the 158-strong business and press community of Italy.