Text and pix by Marianne David

Surabaya, the capital of East Java and Indonesia's largest city, has too frequently been dismissed as a place that only serves to connect a visitor to another place via plane, train or other modes of transport.

Now, however, Surabaya is shedding that reputation and emerging as a city well worth exploring, boasting many places of interest. As it celebrates its 723rd anniversary, the city has reinvented itself as 'Sparkling Surabaya'.

The anniversary holds special significance in Surabaya as it is here that Indonesia's battle for independence began – highlighted by the many statues commemorating independence in the city.

The Daily FT participated in a familiarisation trip for media in mid-May organised by the Indonesian Embassy in Sri Lanka and Singapore Airlines, which comprised visits to Surabaya, Kota Batu and Madura in Indonesia, with transits in Singapore.

The Sri Lankan media contingent was accompanied by Embassy of the Republic of Indonesia in Sri Lanka Second Secretary Economic Affairs Tranmike and Singapore Airlines Ltd. PR and Premium Services Manager Shihana Cader.

This article explores places of interest in Surabaya city and takes a look at its tourism plans, while follow-up articles in this series will feature the visits to Kota Batu and Madura.


Hello, Surabaya!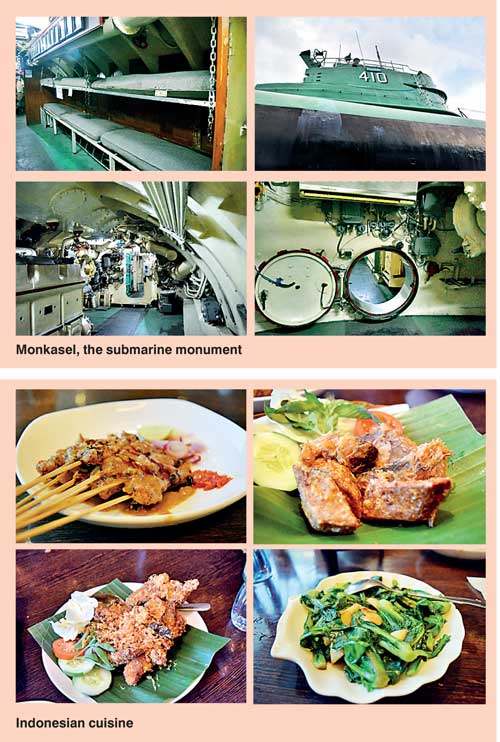 We landed in Surabaya in the mid-morning heat and looking around, it immediately felt like we were on familiar ground. The city has several similarities to Sri Lanka, even sharing many common words!

Before checking into our hotel, there was a matter of priority to attend to – lunch! With everyone eager to dig into an Indonesian feast, we headed to Surabaya Town Square (Sutos) for lunch at Ria Restaurant. A bustling and vibrant mall at Sutos served up our first experience of Surabaya and its people while the food that followed was just as impressive.

The dishes I recognise and remember from that meal, which also featured at meals to follow, included chicken satay and beef satay; marrow soup; fried fish and fried chicken with an Indonesian twist; various kinds of vegetables with garlic; and rice.

Rice was a feature at every meal – ideal for the Sri Lankan palate! The waiters serve up all the other dishes first and the rice last and that's when you know it's time to dig in – although diners nibble on the other dishes until the rice makes an appearance.

Post lunch we checked into Midtown Hotel Surabaya, to freshen up and prepare for our first sightseeing outing.


Sightseeing begins!

First up on the sightseeing tour was Monkasel, the submarine monument in Surabaya, located along the Kalimas River. Exploring the submarine monument KRI Pasopati 410 is a great experience and visitors can take their time slowly walking through, taking pictures all the while. The place was not overly crowded when we visited although there were many people in the vicinity.

The submarine, which belongs to the Eastern Division, was erected as a monument beginning July 1995. The KRI Pasopati 410 was sliced ​​into 16 sections and then reconnected and placed on the foundation of the monument. It is 76.6 metres long and 6.30 metres wide with a full weight of 1,300 tons. The attraction was officially opened in 1998 and is a key place of interest for locals and tourists in Surabaya.

It was time then to head to Pantai Ria Kenjeran to see the four-faced Buddha statue and visit Vihara Sanggar Agung.

The nine-metre tall four-faced Buddha statue, covered in gold paper, is called Maha Brahma by the Indonesian people and is recorded as being the largest such statue in Indonesia. It is surrounded by four statues of four-metre high white elephants.

A Chinese temple located within the Pantai Ria amusement park with the sea as its backdrop, Vihara Sanggar Agung has recently become a tourist destination. The temple features a 20-metre high statue of Guan Yin on the waterfront, as a symbol that this temple is dedicated to Nan Hai Guan Shi Yin Pu Sa or Guan Yin Bodhisattva of the South Sea.

The giant statue was built after one of its employees saw a women dressed in white walking on the sea as she was closing the temple at night, believed to be an appearance of Guan Yin herself.

We ended our first day in Surabaya with another Indonesian spread for dinner at Dapur Desa Restaurant, where we are joined by Singapore Airlines General Manager Sri Lanka Richard Kwee. It was time then to call it a night for a few of us, while the rest opted to go shopping in this city that says it never sleeps.


Tourism plans

Day two in Surabaya kicked off with a press conference with the PR Division of the Local Government of Surabaya and local media at the PR Division office. The warm welcome was followed by an informal briefing on Surabaya and its tourism plans.

"We are not blessed with beautiful landscapes or scenery or natural resources so we want to make use of our human capital to make Surabaya sparkle. We are utilising this excellent capacity to promote tourism," explained officials at the PR Division.

To develop the city and empower every generation to promote Surabaya and propel it to greater heights, the Local Government has opened 1,200 libraries in strategic locations such as parks, schools and public grounds. It is also placing a lot of emphasis on educating its youth to learn several foreign languages via its language schools.

With one million tourists visiting each year at present, the Local Government's target is five million visitors a year. The tourism promotion approach is five-fold – heritage, religious, museums, shopping and culinary. Its focus on MICE tourism will be boosted by the UN Habitat Conference to be held in Surabaya this year, with 195 participating countries. Surabaya is also a popular destination for cruise ships given its impressive harbour.

The city's many activities in 2016 as part of its tourism push include a Football Championship, Surabaya Shopping Festival, Night Fair, Surabaya Fashion Parade, Surabaya Great Expo, Ancient Bike Jamboree, Dragon Boat Rowing, Culture Parade featuring flowers, Festival Rujak Uleg (rujak is a special dish), Surabaya Urban Culture Festival and dance performances.

Other events include motor shows, travel, wedding and techno fairs, a Durian Festival, France Spring Festival, Festival Kalimas (held on the Kalimas River), Ramadan Festival, culinary and fashion festivals, musical shows including a Jazz Traffic Festival and a Kite Festival, among many others.


House of Sampoerna

Our first sightseeing visit on day two was to the famous House of Sampoerna. Its story is built on a foundation of tobacco and cloves and the company is the largest manufacturer of kretek (tobacco and clove) cigarettes. This uniquely Indonesian product is an integral part of the country's rich culture.

House of Sampoerna is a must-visit in Surabaya. This Dutch colonial-style compound was built in 1862 and is now a preserved historical site. It still functions as a production plant for Indonesia's most prestigious kretek brand, Dji Sam Soe, and beautifully showcases the story of the founding family.

It also offers visitors the unforgettable experience of watching the hand-roll production facility with more than 2,400 women hand-rolling cigarettes using traditional equipment at a speed of more than 325 sticks per hour. The compound also comprises a shop, a café, and an art gallery.

The visit to House of Sampoerna was followed by lunch at Ria Kombes Restaurant, after which we all checked into the stunning Bumi Surabaya Hotel – our home for the next three days.

Bumi Surabaya is a classic city resort in the heart of the city just 40 minutes from the International Juanda Airport. The highlight of the property is its beautiful garden with many trees and water features which bring a sense of peace and serenity, erasing the hustle and bustle of downtown Surabaya. The property is styled with elegant references to Java's rich artistic heritage.


Tugu Pahlawan

In the evening, we visited Tugu Pahlawan (Heroes' Monument), and spent some time walking around the serene and well-maintained grounds there. The monument is dedicated to the people who died during the Battle of Surabaya on 10 November 1945. The 10 November Museum is located at the same premises.

We ended the day with a drive across the Suramadu Bridge, also known as the Surabaya-Madura Bridge. A cable-stayed bridge between Surabaya on the island of Java and the town of Bangkalan on the island of Madura in Indonesia, it was opened in June 2009 and is 5.4 km in length. The longest bridge in Indonesia, it is the first bridge to cross the Madura Strait.

Other options for visitors to Surabaya include visits to Kenjeran Beach, Surabaya Zoo, Ciputra Water Park and its many museums or a round of golf at one of its several golf courses. Dotted across Surabaya are traditional markets and hawker streets which are open well into the night, where one can enjoy the sights and sounds of Surabaya at one's own pace.
---
Visa-free entry for Sri Lankans boosts Singapore Airlines' plans for Indonesia
While Surabaya, the 'City of Heroes,' has focused on positioning and promoting itself as an attractive destination, ably assisted by the Indonesian Government, Singapore Airlines has supported that push by increasing flights to the destination and promoting it among tourists.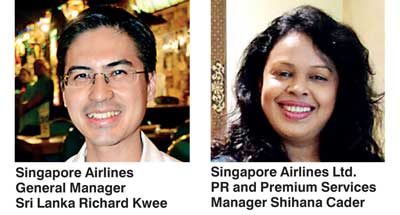 For Singapore Airlines in Sri Lanka, the decision to promote Surabaya among Sri Lankans was made over two years ago. The process was further strengthened with Indonesia's recent decision to offer free visa entry to Sri Lankans.

"Indonesia is a huge market which recently announced visa-free entry for Sri Lankans and therefore it's only natural for SIA to try to promote Indonesia, including Surabaya," said Singapore Airlines General Manager Sri Lanka Richard Kwee, in an interview with Daily FT.

Commenting on why Sri Lankans should visit Surabaya, he said: "I think there's definitely enough to attract Sri Lankans. The shopping here is really good and I think Sri Lankans love to shop. The brands, variety and pricing are really nice. The food is also really good. Just a short drive away is Kota Batu, which is uphill and the weather's really nice. They have a zoo, a museum and a transportation museum, all of which are very impressive."

Indonesia's decision to grant visa-free entry to Sri Lankans is great news that will help Singapore Airlines attract many more customers in the future, asserted Singapore Airlines Ltd. PR and Premium Services Manager Shihana Cader.

"In Indonesia we fly to 12 destinations together with SilkAir. Overall, we operate over 60 flights per week to Indonesia. Our strong presence in the region gives our passengers many flight options, and is sure to satisfy even the pickiest passenger," added Cader.

Outlining the airline's plans for South East Asia and Sri Lanka in the future, Cader revealed that Singapore Airlines would like to offer even more attractive fares and offer more value additions to its product, adding that increased travel by Sri Lankans would undoubtedly help achieve this goal.

"Giving the opportunity to travel with more options by offering more flexibility to select flights to suit their schedule with our new aircraft is also among our immediate goals. Since our hub is located in this region, we would always like to be at the forefront of promoting travel to this part of the world and making it accessible to everyone," she explained.

Singapore Airlines flies to Surabaya daily from Singapore and has SilkAir connections to Surabaya as well. The airline has introduced three additional morning flights from Colombo to Singapore (SQ 467), giving its passengers the convenience of choosing their preferred flight to travel.