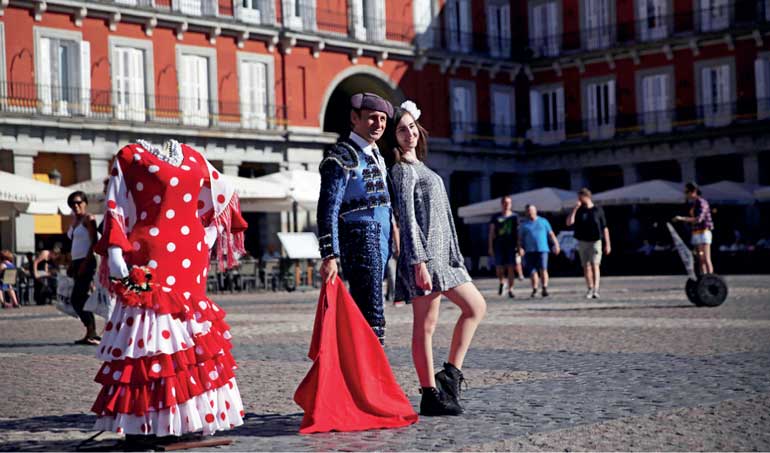 A tourist has her photo taken with a street performer dressed as a bullfighter at Plaza Mayor square in Madrid, Spain, 30 September. REUTERS
MADRID (Reuters): Spain hosted 10.1 million foreign tourists in August, the National Statistics Institute (INE) said, 5.8% more than a year earlier and marking a monthly record for arrivals as the influx of visitors bolsters the economy.

Spain's thriving tourism industry has fuelled a jobs surge over the summer months, extending an economic recovery throughout a period of political uncertainty triggered by two inconclusive national elections.

In the first eight months of 2016, the number of tourists rose more than 10% from the same period in 2015 to 52.5 million, INE said, putting Spain on track to surpass last year's record 68.1 million arrivals for the full 12 months.

Security fears in competing destinations across the Mediterranean and in the Middle East have helped lure more tourists than ever to Spain's shores. Northeastern Catalonia, home to vast stretches of beaches, was the most visited region in Spain, followed by the Balearic Islands.

Britons remained the most numerous visitors to Spain and arrivals from the United Kingdom were up 3.9% year-on-year in August. But this marked a slowdown compared to previous months and follows the UK's vote to leave the European Union, after which the British pound weakened against the euro.

Tourism provides some 11% of Spain's gross domestic product.