SINGAPORE, (Reuters): Singapore Airlines will resume non-stop flights to the United States in 2018 after becoming the launch customer for a new ultra-long distance variant of the Airbus A350, the carrier said in a statement.

SIA converted seven of the 63 A350-900s in its order book to the A350-900ULR variant for the services. It has also converted four purchase options for the A350 into firm orders, giving it a backlog of 67 of the latest widebody jet on the market.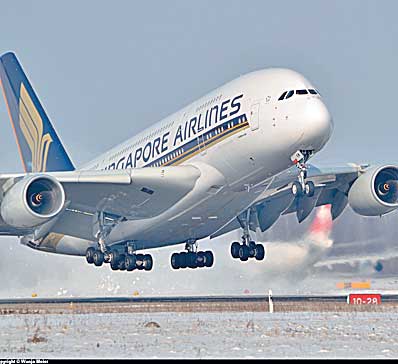 Resuming non-stop US flights, popular with business travelers, will be an important landmark for SIA, which operated all-business class Airbus A340-500s to the United States until it retired the planes in 2013.

While the four-engined A340s were the only planes with the range for the service, the high cost of operating them at a time when oil prices were more than double current levels made it hard to turn a profit on those flights.

It will start with services to Los Angeles and New York. The New York service, at around 19 hours, will be the longest in the world when it begins.

SIA has recently found it harder to make money on services between Singapore and Europe amid tepid economic growth in the continent and tough competition, leaving it dependent on intra-Asian traffic to a greater degree than its executives would have preferred, say sources familiar with the airline's thinking.

"Our customers have been asking us to re-start non-stop Singapore-US flights and we are pleased that Airbus was able to offer the right aircraft to do so in a commercially viable manner," said Chief Executive Goh Choon Phong in a statement.

SIA's only services to the United Sates go via other hubs. The airline flies to Houston via Moscow, San Francisco via Seoul and Hong Kong, and Los Angeles via Narita.

Airbus said the new A350 variant will include a modified fuel system to increase fuel-carrying capacity, and an increase in the maximum take-off weight.