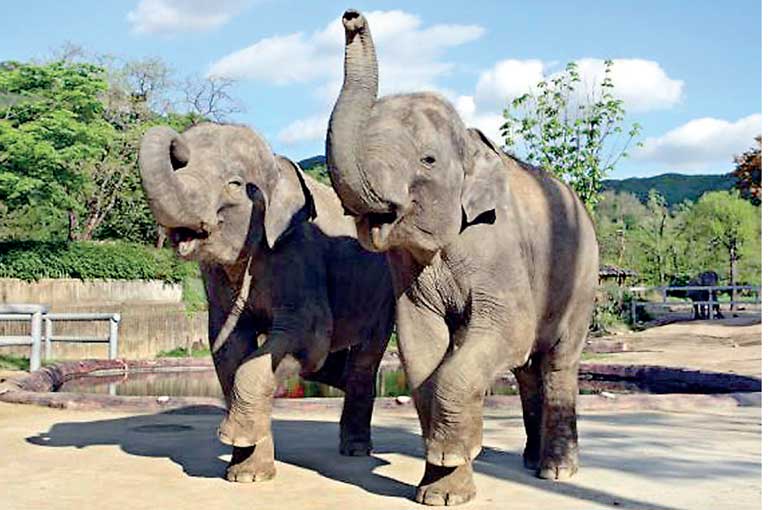 Seoul Grand Park Director Cheonheon Song and the Sri Lankan Embassy to Korea Ambassador Manisha Gunasekera held a culture festival to wish the healthy growth of Asian elephants at 4 p.m. on Saturday, 11 June.

In 2010, Gazaba (male, born in 2004) and Sugela (female, born in 2004) were donated from the Sri Lankan government and have grown together in the Seoul Grand Park before they hit puberty this year.

Representatives from both organisations gathered together to raise awareness for elephants, which are nearly extinct, and wished for the healthy growth of Asian elephants.

The Seoul Metropolitan Government received the two elephants from Sri Lanka in September, 2010.

In the past, there were three elephants, Sakura (female, born in 1965), Kami (female, born in 1981), and Kanto (male, 1981), but since they became old without having any offspring, the City wrote a donation request to the Sri Lankan government.

After being discussed in the Sri Lanka parliament, the request was confirmed and the Seoul Zoo was able to get two elephants (born in 2004). The elephants that came to Korean that year are the ones which had birthdays: Gazaba (male) and Sugela (female). These two, along with the original three, mean that there are five elephants in the Seoul Zoo.

The festival began with a large scale wall painting and celebration speeches from both organisations. They gave fruit cake full of nutrients to Gazaba and Sugela, who will soon become adolescents, to wish for their healthy growth. After that, a traditional Sri Lankan performance followed.

Before the official festival took place, the director of the Seoul Grand Park and the Sri Lankan Ambassador drew elephants on the external walls of the park to symbolise their love for elephants.

To celebrate the healthy growth of elephants, the park will put fruit that the elephants like on top of dried hay, which will serve as a nutritious meal for the elephants before the hot summer.

After delivering the cake, the performance prepared by the ambassador took place and traditional snacks were provided to mark the finale. Professional dancers danced to the beat of traditional drums while Sri Lankan traditional snacks pleased the mouths of zoo visitors as they enjoyed the various cultures of animal habitats.

Meanwhile, before the official ceremony started, an elephant painting contest took place among elementary students. The contest was held in order to promote a better environment where Asian elephants, which are about endangered due to the destruction of their habitats and cruel poaching, are protected.

The year 2017 marks the 40th anniversary of the establishment of diplomatic relationship between Korea and Sri Lanka, and this was a meaningful event where the two countries improved their friendship and exchanged cultures through animals.

"The event with the Sri Lankan Embassy strengthened the two countries and served as a cultural playground, where various cultures were shared and communicated through animals while promoting the culture of protecting endangered animals. I hope many citizens enjoyed the event," said Cheonheon Song.