Sasha Dayal, the recently appointed General Manager of The Steuart by Citrus, Colombo's latest boutique business hotel, announced exciting plans for the hotel, drawing from his international exposure and experience in the hospitality industry.

He has the vision and expertise to drive the hotel to become a world class property and one of the most favourite hangout spots in Colombo. He possesses in-depth knowledge of the hotel industry having worked in London, Las Vegas, Orlando, Barcelona and Madrid and has also been instrumental in establishing restaurants at all airports in Britain including Heathrow, Gatwick, Manchester and Glasgow. He has also served at many internationally renowned restaurant chains such as the Hard Rock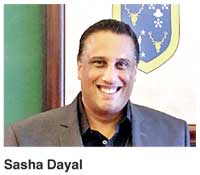 Café and Hotel, Big Easy, Zizzi, The Restaurant group (TRG) and the Levant Group.

Speaking about his plans he said, "My greatest satisfaction is in making people happy and this is a philosophy that I have inculcated in everyone who has worked with me. My goal is to make The Steuart by Citrus one of the trendiest and most sought after hangout spots in Colombo and I'm fully confident we can achieve this goal. We have selected a unique Scottish theme for the hotel and our visitors can expect much from us in terms of a unique offering. Our pub will serve some exciting cocktails never before seen in Sri Lanka. We have planned several other exciting promotions for the coming months and cordially invite everyone to come enjoy a truly unforgettable experience."

Dayal started his career in 1984 as a Chef and worked his way to the top where today he co-owns and co-manages several restaurants in London. A proud Sri Lankan, he is a product of the Overseas School in Colombo and has ambitious plans in terms of providing a unique experience to the guests of the The Steuart by Citrus.