By Shehana Dain

Two Russian tour operators are pushing to set up charters to Sri Lanka following the shift of Russian tourist destination patterns.

SLAITO President Devindre Senaratne told the Daily FT that discussions were at a preliminary stage to bring charters during the peak period and nothing was confirmed. He was tight lipped with regard to the identity of the tour operators as he said it was competitive information.

"Two tour operators from Russia are in the planning stage to operate a charter for the peak period only. Nothing is finalised. They are planning this charter because there is demand and there is a viability to attract a significant arrival number. We have not got a confirmation of it yet," Senaratne said.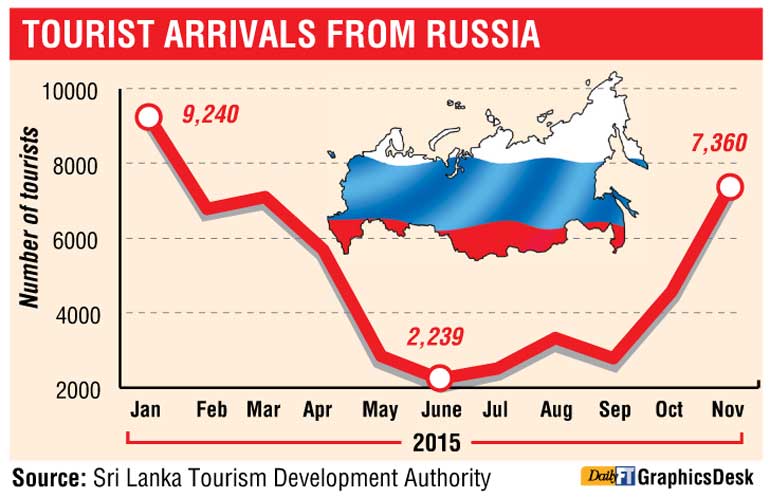 This development followed from Russian tourists having to adapt to conditions of political unrest and the sudden unravelling of events in Turkey and Egypt which resulted in the Russian Government recommending locals not to travel to the respective countries. The closing of these two highly popular destinations has forced travel companies to urgently look for replacements.

Thereby Russian Tour operators have revealed that Turkey and Egypt could be replaced by Vietnam, Thailand, China and Sri Lanka however noting that the high air transportation cost from Moscow to South East Asia is the lagging factor for this to materialise.

Currently there are no direct flights from Moscow to Colombo. The route is positioned to come through the Middle East. In addition to SriLankan Airlines, Air Arabia and flydubai are actively operating to bring in travellers from Russia.

Senaratne also noted that local tour operators are executing promotions in their capacity. Adding that he anticipates positive results and no reduction in arrivals from Russia, as it would remain the same or increase marginally.

"There is nothing called too expensive, prices are reasonable. Anyway our tour operators are offering various strategies and tactical tools to intensify the market. From time to time they have special promotions and they do round tours and will continue to do so because for the next four months the hotels will have high occupancy and demand."

However he mentioned that Russians will still prefer short haul flights.

"Short haul means prices are very cheap. It's expensive to come all the way here but obviously we may be able to get a share of it -but there are other countries where they can go on the short haul. For example, Thailand and Indonesia."

Overall there has been a decline in Russian tourist arrivals from January to November by 9.8% this year, while arrivals in October inclined marginally by 1.1%. Tourist arrivals from Eastern Europe as a whole were down by 3.7% during the year and were up by 8.5% for November.

Senaratne was upbeat about the performance noting that due to the political unrest the tour operators expected a dip of at least 50% from Russian markets and the performance recorded was satisfactory.

"Russia and Ukraine have been continually doing well for Sri Lanka, we thought a good 50% would have gone down because of all the issues in Russia but it didn›t turn out that way."