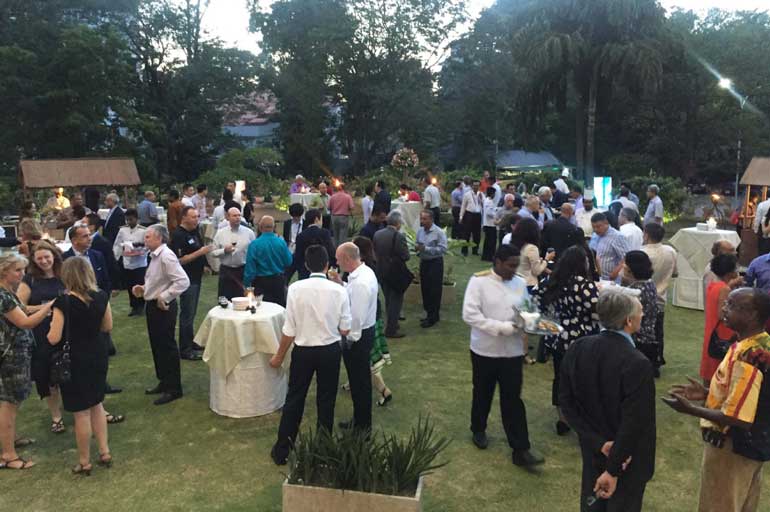 The outdoor reception hosted at the BMICH by SriLankan Airlines
Over 400 high-level foreign delegates from the civil aviation sector, including their spouses, arrived in Sri Lanka recently to participate in the prestigious 53rd Conference of Directors General of Civil Aviation Asia and Pacific Region.

The BMICH, recognised for bringing magnificence to all events in a seamless fashion, was selected as the venue to host the Civil Aviation Conference reception and dinner by SriLankan Airlines. The front terrace of the BMICH provided an enchanting setting for the outdoor reception.

"We're extremely proud to host the Civil Aviation Conference reception organised by SriLankan Airlines at the BMICH. This was a wonderful opportunity to showcase the BMICH's outdoors and banquet hall as unparalleled venues to host gatherings such as pre- and post-conference receptions," said BMICH Director/Chief Executive Sunil Dissanayake.

Those in attendance were Directors General of Civil Aviation representing the Asia Pacific Region, the President and Secretary General of the International Civil Aviation Organization and the Chairman, Board of Directors and senior management of SriLankan Airlines.

Over 35 countries participated in this conference including Australia, Bangladesh, Bhutan, Brunei, Canada, China, Democratic Republic of Timor-Leste, Fiji Island, France, French Polynesia, Germany, Hong Kong, India, Indonesia, Japan, LAO People's Democratic Republic, Macao China, Malaysia, Maldives, Mongolia, Myanmar, Nepal, New Caledonia, New Zealand, Pakistan, Papua New Guinea, Philippines, republic of Korea, Singapore, Sri Lanka, Thailand, The Socialist Republic of Viet Nam, Tonga, the United Kingdom and the US.