PARIS, France: Qatar Airways announced that at a ceremony in the 'Salon des Ambassadeurs', at the Elysée Palace, President of the Republic of France Francois Hollande presented to Qatar Airways' Group Chief Executive Akbar Al Baker a Legion of Honour.

The prestigious award was bestowed upon Al Baker for his leadership in the aviation industry and for spearheading Qatar Airways to be a leading global airline.

This is the second honour Al Baker received from the Republic of France, following from the honour awarded to him by the French Minister of Transport in Qatar in 2002 during the World Travel and Tourism Summit. The 'Officier de la Legion d'Honneur' is of higher distinction and builds upon the initial Chevalier Honour, by virtue of the Republic of France.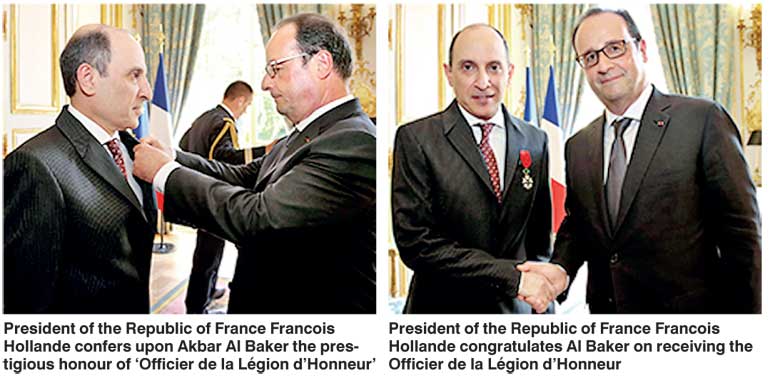 During the ceremony, the significance of this honour was conveyed, announcing the service and commitment that Al Baker as an airline Group Chief Executive has had towards the global aviation industry and also to France at-large.

Al Baker was commended for his vigour and leadership in spearheading a legacy of collaboration between Airbus and Qatar Airways – a first for the industry – where there has been a highly intricate level of coordination between design and implementation by the manufacturer and operator. The high quality product and service delivery presented on each Qatar Airways flight was also recognised for the standards and advancements it has made in hospitality, for each of its guests onboard. The efficiency of Qatar Airways' operations was praised for its precision and timely effectiveness.

Qatar Airways' contribution to the Hamad International Airport was recognised, not only for the airline's benefit but for the entire travelling public that travels to Doha and beyond.

The long and historic relationship between France and the State of Qatar was noted, particularly as Qatar Airways has been a long-standing supporter of one of France's great establishments – the aircraft manufacturing giant, Airbus – of which Qatar Airways is the only airline in the world to fly each Airbus aircraft type in its fleet.

"France is a country that I admire for its ingenuity, grandeur and long legacy of craftsmanship of the highest calibre. I humbly accept this honour with immense pride and great appreciation to the people and culture of France in all of their contribution to Qatar Airways, the national airline of my country," remarked Al Baker.

Distinguished guests in attendance at the esteemed private ceremony included Ambassadors of Qatar to France Sheikh Mishaal bin Hamad Al-Thani and of France in Qatar Eric Chevallier, as well as business leaders in the French community, General Secretary of the French Presidency and advisors to French President Hollande.

Also in attendance were Al Baker's two sons, Mohammed and Hussain, who were present in Paris for the ceremony.