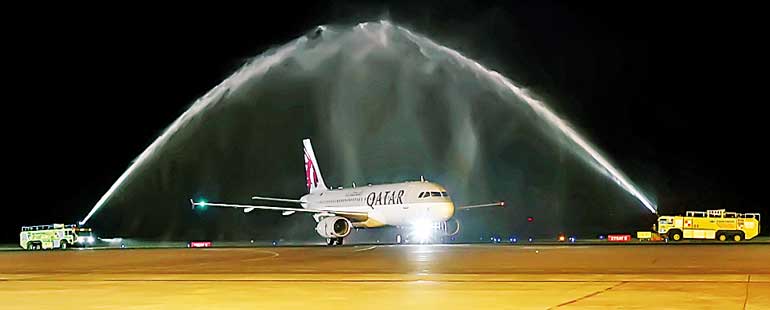 The inaugural flight touched down in the early hours and was greeted by a traditional water salute, Qatar Airways
Qatar Airways has added Armenia to its global route map, and commenced four times weekly service between Doha and Yerevan, connecting the city and country with more than 150 destinations worldwide.

Chief Commercial Officer Dr. Hugh Dunleavy, who travelled on board the inaugural flight with Armenia's Ambassador to Qatar Gegham Gharibjanian were greeted at the arrival gate by Yerevan's Zvartnots International Airport Deputy General Manager Andranik Shkhyan.

Yerevan is the cultural, political and industrial capital of Armenia and offers visiting business and leisure passengers a rich and diverse experience. With a city backdrop of the snow-capped Caucasus mountain range and situated on the Hrazdan River, Yerevan is one of the world's oldest cities, and is sure to attract visitors from around the world on the new Qatar Airways service which places the city within easy reach.

Qatar Airways Group Chief Executive Akbar Al Baker said: "We are delighted to commence service to Yerevan, the capital of Armenia. As we expand our global network, it is crucial that we connect economically important and powerful regions such as Armenia to our worldwide route offering, in particular those travelling on our latest US route additions of Boston, Los Angeles and soon to be launched Atlanta. Business and leisure passengers from around the world can now connect seamlessly to Armenia through our home and hub, Hamad International Airport."

The airline will fly the Airbus A320 direct to and from Yerevan on the four-weekly schedule, featuring a two-class cabin configuration comprising of 12 seats in Business Class and 132 Economy Class seats.

Passengers flying from Yerevan and onwards to any of more than 150 destinations on Qatar Airways will enjoy a quick and convenient transfer at Hamad International Airport, the newest airport hub in the world. Offering more than 100 retail and dining options and unique services such as a swimming pool, hotel and spa, designed exclusively for those in transit, the airport is sure to further enhance the passengers' overall travel experience. Qatar Airways, the national carrier of the State of Qatar, is one of the fastest growing airlines operating one of the youngest fleets in the world. Now in its 19th year of operations, Qatar Airways has a modern fleet of 184 aircraft flying to more than 150 key business and leisure destinations across six continents.
Qatar Airways raises stake in BA-owner IAG to 15pc
​Reuters: Qatar Airways has raised its stake in British Airways-owner International Consolidated Airlines Group (IAG) to 15.01% and said it may consider acquiring more of the firm over time.

In April, Qatar Airway's chief executive Akbar Al-Baker said the company had increased its stake to under 12% from 9.99%.

Qatar Airways said in a statement it was happy with its investment in IAG, from a financial, commercial and strategic perspective and that the relationship had helped to deliver on its westbound strategy.

Al-Baker said at an event in Atlanta that he wanted to deepen links to London, where BA has its main hub.

"This is the hottest news coming out of the bakery. We want to increase ties to London," he said.

BA announced plans last week for a new direct route between London and Doha.

"Qatar can tap into IAG's extensive American network at Heathrow and Madrid whilst with limited exposure to the Australasian market IAG can benefit from Qatar's increased activity there," independent aviation consultant John Strickland said.

Under current rules, foreign investors cannot own more than 49% of a European airline.