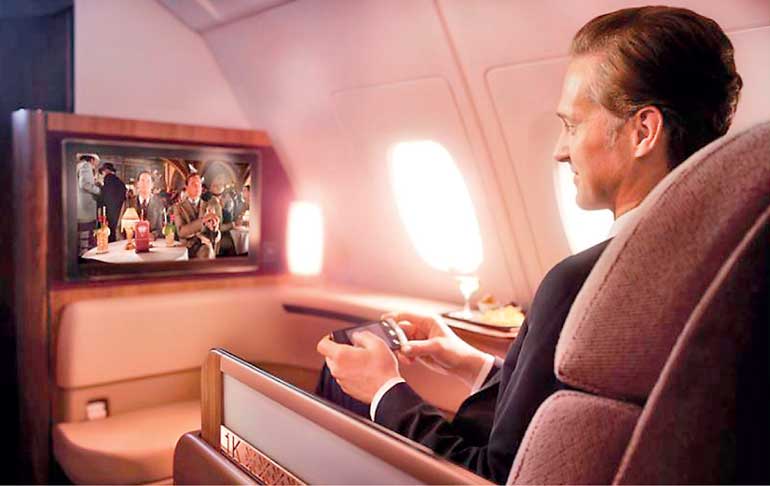 Qatar Airways was recognised for Middle East Content Innovation at the third annual Inflight workshop and awards held in partnership with F&E Aerospace, the organiser of Aircraft Interiors Middle East. The award recognises the outstanding quality of Qatar Airways' on-board entertainment platform, Oryx One.

Qatar Airways was commended for offering a wide selection of content to suit its global passengers' needs, including movies and TV series tailored to the Middle East market. The award was presented to the airline at a ceremony held Thursday 4 February at the Dubai World Trade Centre as part of the Inflight IFEC Pavilion Workshop.

Qatar Airways Group Chief ExecutiveAkbar Al Baker said: "This award recognises the creativity and innovation that Qatar Airways continually applies to delivering the highest standard of on-board entertainment and connectivity for our passengers. From the latest premieres, to classic movies, and popular TV to special-interest programmes, Qatar Airways has compiled a state-of-the-art entertainment library, unrivalled for its wide range of content in multiple languages. Oryx One enthrals our passengers, giving them a rich and extensive selection and providing them with the best entertainment experience to enhance their journey around the world with Qatar Airways."



Qatar Airways' in-flight entertainment platform, Oryx One provides its passengers with more than 2,000 channels of entertainment, including 60 blockbuster movies, 1,100 episodes of TV programmes, 500 audio channels and 50 games, refreshed each month. Oryx One offers a huge variety of the latest audio and video content as well as star-studded world cinema in more than 30 languages, including Oscar-winning, Hollywood premieres, Arabic hits, Bollywood blockbusters, modern favourites, classics and much more. A dedicated family channel offers younger passengers with a wide choice of the latest movies and TV content suitable for their age.

The popular Oryx One library of content on board includes full box sets of movies and TV series such as the Best of Bond collection; Harry Potter; The Lord of the Rings trilogy; The Dark Knight Trilogy; Blindspot; Constantine; Forever; and Gotham. Qatar Airways was also the first airline to feature the entire Marvel Cinematic Universe collection on board. Passengers can select from a wide range of Bollywood movies and from more than 200 hours of Arabic content originating from Qatar, Gulf (Khaleeji) and the Middle East region.

Passengers flying on Qatar Airways flights served by its B787, A350, A380 and A319 as well as select A330 and A320 aircraft can also access on-board Wi-Fi. Qatar Airways passengers on all connected aircraft will enjoy free Wi-Fi for the first 15 minutes courtesy of a global partnership with Ooredoo. A simple-to-use portal makes it easy for passengers to log on and connect, and then browse the Internet or post on their social media channels directly from the comfort of their seats, reaffirming Qatar Airways' commitment to providing a superior on-board service. Continued use is offered at very reasonable rates, from US$5 to US$20.