A new Sri Lanka Tourism Promotions Strategy for 2015 has been granted private sector approval.

The new strategy, which was formulated following numerous rounds of consultations with private sector stakeholders, is designed holistically integrate Sri Lanka's increasingly important informal and SME tourism industry in addition to the traditional emphasis on larger players while also placing a stronger focus on digital marketing.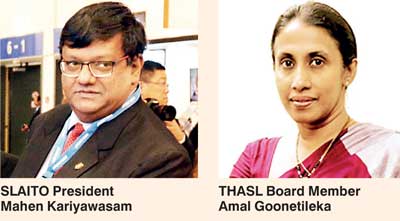 "What we are going to implement is the new thinking with private sector inputs. It is good to note that we have got written endorsement from the private sector after many consultations. A point to note is that Sri Lanka's plans have always been absolutely gold standard but the challenge is on the delivery," Sri Lanka Tourism Promotion Bureau (SLTPB) Chairman Rohantha Athukorala explained.

He added that the formulation of a new strategy was among the first tasks embarked upon by the SLTPB under the direction of Minister of Tourism and Sports Navin Dissanayake.

Commenting on the launch of the new strategy, Tourist Hotel Association of Sri Lanka (THASL) Board member and Taj Samudra Regional Sales Director AmalGoonetileka said: "We are happy to inform that the SLTPB has now formulated a broad Strategic Marketing Plan – 2015for the destination with the approval of the THASL representatives in the board. This will be reviewed from time to time and new initiatives which will be of benefit to the tourism industry will be added where necessary going forward."

Meanwhile, Sri Lanka Association of Inbound Tour Operators (SLAITO) President Mahen Kariyawasam commended the SLTPB for its timely action implementing its new strategic direction given the limited resources at hand and called on all stakeholders to work together to meet arrivals targets of 2.5 million tourists.

"Given the dynamism of the tourism industry, we will continuously make changes – especiallywith the feedback from the SME and informal sector of the tourism industry, which is very large," said Athukorala.

SLTPB has been dogged with corruption allegations to the value of over Rs. 600 million by the previous regime, whilst the top two officials are on bail following arrest and many in the current cadre are continuously being called by the Financial Crime Investigation Department (FCID) for evidence gathering.

"In the midst of all this we are activating over 40 trade fairs globally on 'sales push'whilst on the 'demand pull'we are working on the areas of visiting journalist programs, trade FAMs, below-the-line activations and specific marketing initiatives. We need innovative promotion strategies and I am happy that the new Board appointed by the Minister is open to these ideas," Athukorala stated. The Board of the Sri Lanka Tourism Promotion Bureau comprises Rohantha Athukorala (Chairman), Amal Goonetileka – Regional Director Marketing and Sales Taj Hotels Group Sri Lanka and Maldives, Angeline Ondaatjie – Jt. MD of Tangerine Hotel Group Ltd., Asoka Hettigoda -Managing Director Siddhalepa Group, Devendra Senaratne – SLAITOVice President, Mahen Kariyawasam – SLAITO President and Counsel Belgium; Vasantha Leelananda – Executive Vice President John Keells Holdings Destination Management sector; Malraj Kiriella – Director General Sri Lanka Tourism Development Authority; Shirani Weerakoon – Additional Secretary Ministry of Tourism and Sports; Milanka Gajanayake – ManagingDirector SLTPB; and Vishaka Amarasekara – Director Ministry of Finance.