A warm and welcoming property offering impressive views of the Kandy Lake and surrounding hills via its superior location, OZO Kandy has already carved out a special place for itself in the city despite being the new kid on the block.

Managed under ONYX Hospitality Group based in Thailand, the on-trend hotel brand that places heavy emphasis on three important elements – a good night's sleep, great connectivity and fine meals – has revitalised the idea of smart travel and in line with this positioning, the 122-room OZO Kandy offers guests a hassle-free travel experience in a modern environment. Opened just eight months ago, it has been winning over guests, impressing them with the top-notch hospitality experience on offer.

Headed by Krishantha Damunupola, who exudes compelling charm and takes great pride in his work, OZO Kandy is undoubtedly redefining hospitality in the hill country. Following are excerpts of an interview with Damunupola on the property, its offerings, positioning and potential: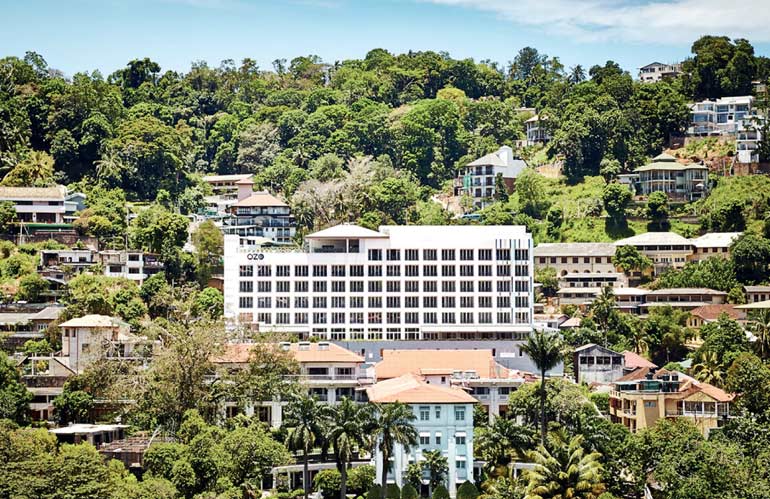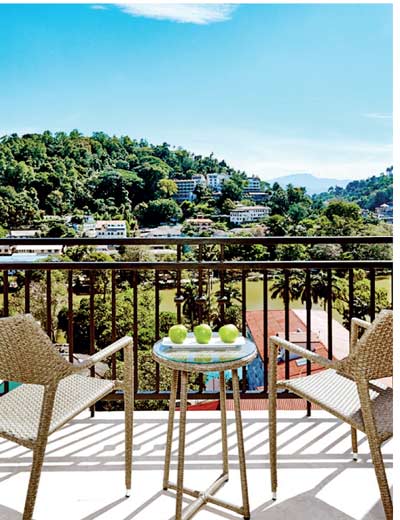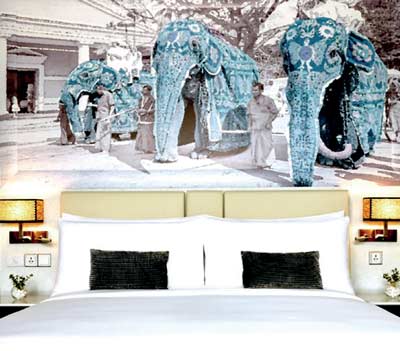 By Marianne David

Q: Could you tell us about OZO Kandy – the property, its positioning, offerings and potential?

A: Managed under ONYX Hospitality Group based in Thailand, OZO Kandy is the second OZO property opened in Sri Lanka and is conveniently located in the popular leisure destination of Kandy. The hotel is located just minutes from the town centre and offers uninterrupted vistas of the Kandy Lake and the surrounding hills, including the Knuckles mountain range.

Offering 122 cosy guest rooms, each smartly designed to keep travellers well connected, including free Wi-Fi and a multimedia connectivity panel for gadgets, OZO Kandy offers visitors everything they could wish for after a full day of exploration.

OZO guests are hungry for new experiences and always on the lookout for new discoveries. They want to be in the know about the local best and form connections with the places they visit. OZO seeks out the unseen cultural sites and the tastiest local food, so that guests can easily explore the underbelly of a destination. OZO hotels aren't just places to get away – they're gateways into the best each destination has to offer.

The last international hotel brand to enter Kandy was in 1981 and since then the market has been dominated by local operators. ONYX, alongside joint venture partners Sino Lanka Hotels Holdings and The Kandy Hotels Co., identified Kandy as a potential destination to develop a midmarket property and the end result is OZO Kandy.


Q: Key pillars at OZO are sleep, nutritious meals and connectivity. How do you ensure this?

A: At OZO our main focus is providing a great sleep experience. OZO's sleep promise ensures feather soft pillows, signature beds, blackout curtains and even a sheep counting screen saver on the IPTV to help bring on the zzzzs. When morning arrives, OZO makes sure guests have everything they need to kick-start their day.

Wi-Fi connectivity is termed as a basic need of a present-day traveller. At OZO, we fulfil this requirement to exceed the expectations of our guests. From the time you step in, you are connected. We offer free Wi-Fi access throughout the hotel along with a lectern with all the information you need to make your stay in Kandy a fruitful one. Our connect station consists of two IMacs with free internet access in case you are not carrying a device.

In addition to connecting guests to their lives back home, OZO also aims to connect guests to the locale. Friendly staff, known as vocal locals, are on hand to provide insider tips on what to see and do nearby. And if that's not enough, information is readily available on the in-room IPTVs and at the guest lectern located by the Spot, giving itinerary suggestions tailored to length of stay, whether it be 24, 48 or 72 hours plus. Free time at the hotel can be spent working out at the fitness room 'Tone' or chilling at the rooftop pool 'Splash'.

After a good night's sleep, guests can ensure they wake bright with a breakfast 'boost' at EAT, OZO's signature restaurant, serving breakfast, lunch and dinner. Each evening, EAT will showcase the best of Sri Lankan and international cuisine with a variety of tempting buffets. For the best view of the surrounding hills, the BOMMU rooftop lounge is ideal for cooling drinks and poolside bites all day long. Guests with early starts or long journeys can make the most of the grab-and-go outlet EAT2GO, which is always on hand for fresh and tasty snacks 24 hours a day.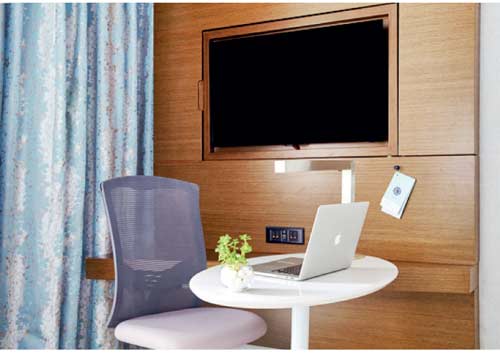 Q: It's been eight months since the property was opened. How has it been received and what kind of feedback has there been?

A: The response we have received and continue to receive is exceptional. OZO is a new brand liberated from the old cumbersome ways and offers a hospitality experience which every modern day traveller wishes for. Above all else, the feedback from Sri Lankan guests is amazing as they love the hotel and its concept, interior, etc. OZO Kandy is very well established and has become the talk of the town within a very short period. We are working towards becoming the leading hospitality provider in the destination.


Q: What can guests expect at OZO Kandy and how does it differ from OZO Colombo?

A: Both the properties provide its guests with the same hospitality experience as per OZO brand guidelines on par with international standards. The main differences that I see is that OZO Colombo is yielding through corporate business and OZO Kandy is purely into leisure business. Other than that, OZO Colombo offers banquet facilities while we only provide a meeting space up to 12 persons. There are other difference such as space, colour themes, etc., since the each property is influenced by certain aspects of the destinations. In generally both properties offer more or less the same.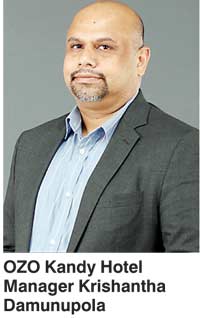 Q: How does OZO Kandy give back to the community in which it operates?

A: Being a part of ONYX Hospitality, the OZO brand works around the theme water and in partnership with OZO Colombo we are working on few projects related to the theme. Apart from that, every month we have a programme and we have been helping two orphanages in and around Kandy.

We have extended our helping hand to schools situated around the hotel. Recently we assisted 20 students of a leading school by providing them with culinary lessons and also by assisting them with expertise to conduct culinary competitions. Furthermore, we donated 1,000 school books to a rural school situated in Mahiyangana where students are not even provided with the basic facilities.

Even our Christmas programme begins with the annual Christmas CSR programme 'Dream Come True,' in which we invite kids from an orphanage to share and write their wish list for Christmas and set up a wish tree. The OZO team and guests get the chance to sponsor gifts and provide lunch for kids with a special Christmas party.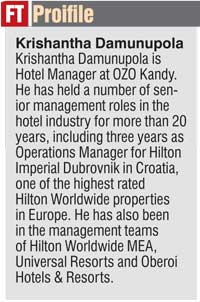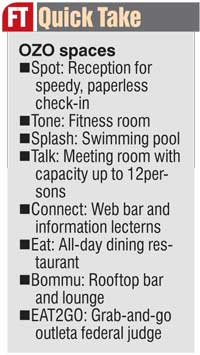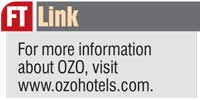 Q: This is your first local job since you returned to Sri Lanka after spending a decade overseas, although you are not a newcomer to the industry, having worked at local hotels before. Why did you take on the OZO Kandy challenge and how would you describe the experience of leading the property since its inception?

A: Yes, I am returning after a decade. I had the opportunity to gain a lot of experience and exposure by working for leading hotel chains in the world. Before I embarked on my overseas career, I had the opportunity of working in Sri Lankan properties as well. This includes stints at Oberoi group and Universal Group of Hotels.

Coming back to Kandy was like coming home. I am a Kandyan and coming back to home terrain with an international brand was an accomplishment. On top of that opening up a new hotel was a challenge I always wanted to take on. I am very content and satisfied to see the hotel doing really well. When I first stepped into the hotel in November 2014, it was a construction site. From that point onwards, it was a challenging experience and now to see the hotel up and running is something that brings contentment and I treasure every moment of that experience. We have a great team, which stood strong at tough times to ensure that the property was on the right track at the pre-opening stage. We all worked in unity as one team to ensure the results that we are enjoying today.