The emergency meeting in progress (from left): Advisory Board Members Udaya Nanayakkara, Ajit Gunewardene, Shiromal Cooray, SLTDA Chairman Paddy Withana, Ministry Secretary P.H.J.B. Sugathadasa, Tourism Minister John Amaratunga and Advisory Board Chairman Harry Jayawardena. Board Members Abbas Esufally, Prema Cooray, Sunil Dissanayake and Advisor to the Ministry of Economic Policy Dinesh Weerakkody were also present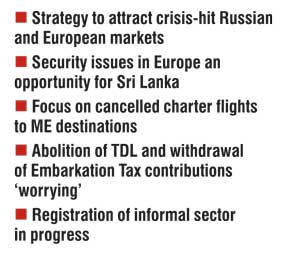 The newly appointed Tourism Advisory Board held an emergency meeting at the Tourism Ministry recently. The meeting was held to discuss the opportunities available in Russia as a result of the halting of flights to Middle Eastern destinations and the security crisis gripping Europe.

Tourism Minister John Amaratunga who acted quickly to seize the marketing opportunities for Destination Sri Lanka sought the views of the industry leaders on how best to take advantage of the situation and attract the beleaguered Russian and European tourists to Sri Lanka.

The Ministry together with the SLTDA has already drawn up plans to carry out an extensive destination marketing campaign in Russia early next year. The campaign includes one to one meetings with key travel agents and industry representatives in Russia.

The Board Members pointed out that all the Russian charter flights already booked for the winter season to Middle Eastern destinations have been cancelled. The Board decided to look in to the possibility of re-routing these flights to Sri Lanka during the winter season. A sub-committee headed by Shiromal Cooray was appointed to look in to this and also formulate a short term promotional plan for these special markets.

Meanwhile the travel and tourism industry leaders who make up the Tourism Advisory Board expressed serious concern on the budget proposal to cut funding to the Sri Lanka Tourism Promotion Board and the Sri Lanka Tourism Development Authority. It was pointed out that the abolition of the Tourism Development Levy (TDL) and withdrawal of the embarkation tax contribution to these two institutions would adversely affect the industry just when it was in need of a boost.

Minister John Amaratunga assured the Advisory Board that there were adequate funds to carry out the planned promotional campaigns for 2016 and if at all an issue will crop up only in 2017. He said he will convey the industry concerns to the Ministry of Economic Policy, which he said was working on an amalgamated national promotional strategy encompassing sectors such as the national carrier, the Tea Board, Gem and Jewellery Authority etc. The Advisory Board requested the Minister to brief them on the national strategy so that they could configure the tourism promotional strategy accordingly.

It was also revealed that the SLTDA has commenced registration of the informal sector. Chairman of the Authority Paddy Withana said, soon an online registration system will be introduced to simplify the process. He said satellite hotel school lecturers will be utilised to carry out site inspections of online registered properties across the island to fast track the process.