By Charumini de Silva

Reassuring neutralised relations with the European Union, Britain, India and the US was one of the best moves the current Government embarked on, which in the long-term would greatly benefit the tourism industry, Jetwing Hotels Chairman Hiran Cooray said.

"Sri Lanka had a very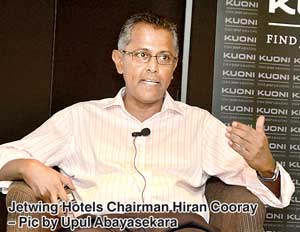 strong Government until January of this year that was highly politicised. This current Government has neutralised our relations with the European Union, Britain, India and the US, which is beneficial to the tourism industry," he noted.

He said that the former Government took more of an aggressive and volatile approach, especially with Britain and some of the other European Union destinations.

"I think from a tourism industry perspective, the neutralised approach is imperative as these are our key markets and it is nice to have healthy relationships. There is more involvement happening and we are very confident on how businesses are taking place in the country," Cooray said, addressing the Kuoni UK key agents conference held in Colombo recently.

Elaborating further, he said: "Sri Lanka is blessed as a beautiful island and as long as there is safety and stability in our country, I think tourism is just going to continue to rise."

He pointed out that under the new Government there is much more involvement with the private sector in tourism planning and development.

"Provided with a proper marketing and branding plan, Sri Lanka tourism will thrive. At the moment there is a tourism marketing plan being designed which will be launched soon and the country will start to benefit from it from next year and year after," Cooray added.

Commenting on tourism industry performance, he said that the country could easily end up with 1.8 to 1.9 million tourists by the end of the year as month-on-month the numbers were moving on a steady flow.

"The hoteliers, travel agents and service providers are getting more and more confident now. More international brands are coming into the country while adding different experiences and creating new products. Overall, all these activities bode well for the future," he said.