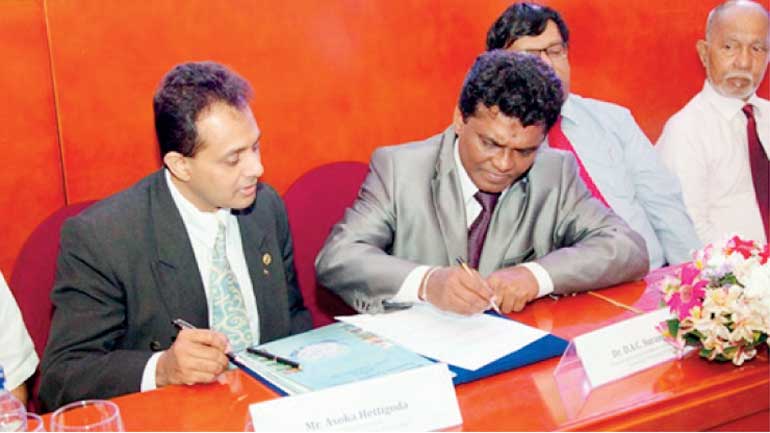 Sri Lanka Tourism Promotion Bureau Chairman Dr. Rohantha Athukorala and University of Colombo Academic Coordinator Tourism Studies Dr. D.A.C. Suranga Silva signing the Letter of Interest​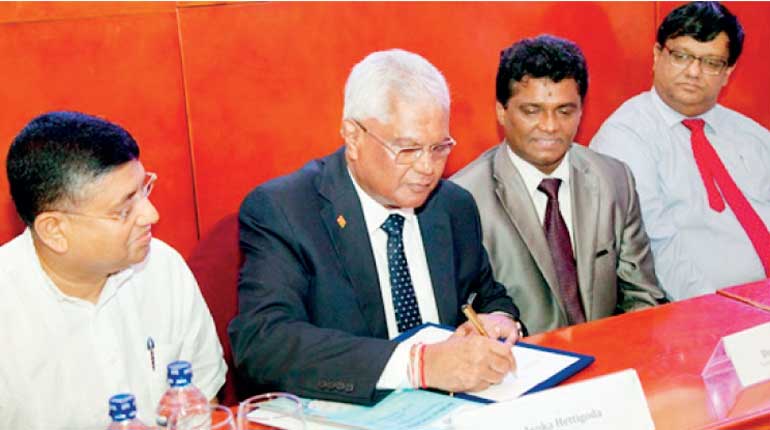 Sri Lanka Tourism Development Authority Chairman Paddy Withana and University of Colombo Academic Coordinator Tourism Studies Dr. D.A.C. Suranga Silva signing the Letter of Interest​

Presentation of the first Professional Excellence and National Contribution for Sri Lanka Tourism Development Award to Chef (Dr.) Publis Silva​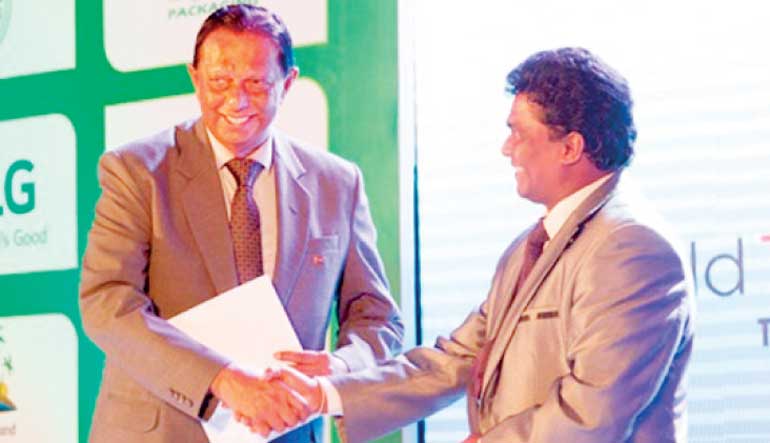 University of Colombo Academic Coordinator Tourism Studies Dr. D.A.C. Suranga Silva presenting a tourism industry related publication to Minister of Tourism Development and Christian Affairs John Amaratunga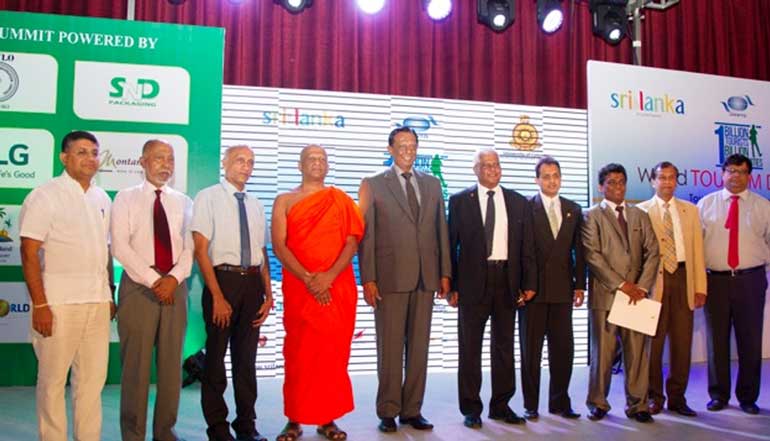 Dignitaries at the event posing for a group photograph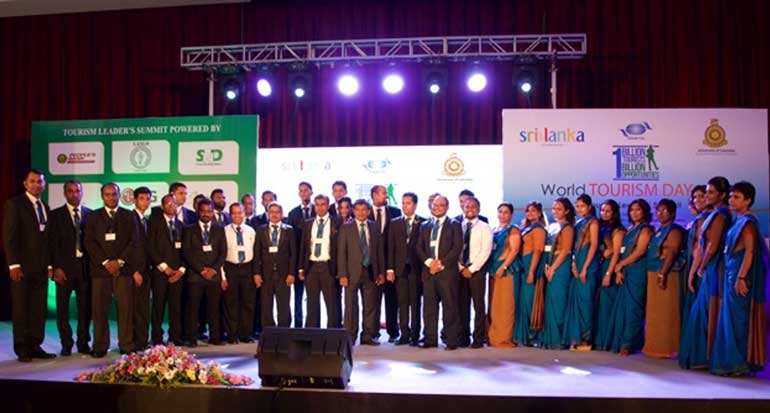 Students of first batch the Executive Diploma in Tourism, Event and Hospitality Management (EDTEHM)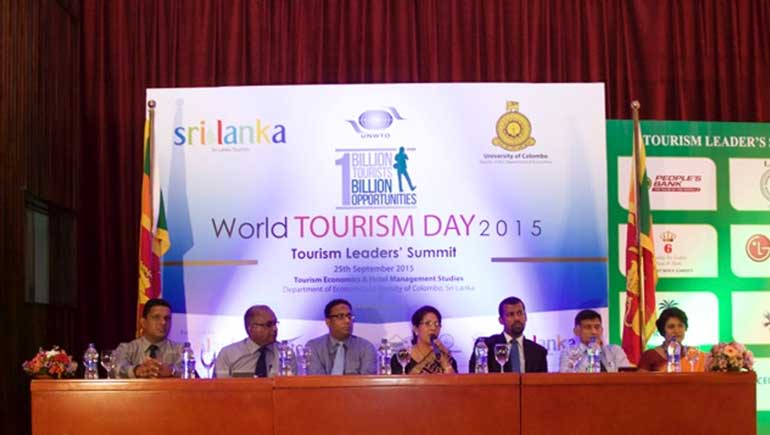 The panel of moderators of the summit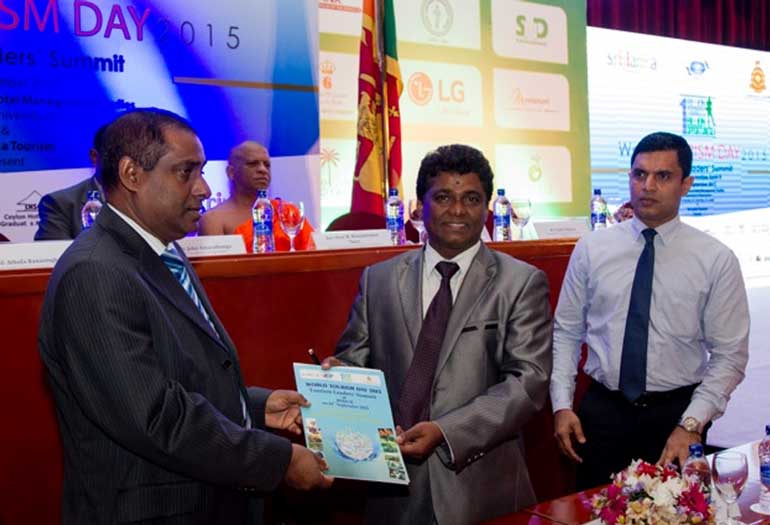 Signing of the Letter of Interest between the University of Colombo and Mount Lavinia Hotel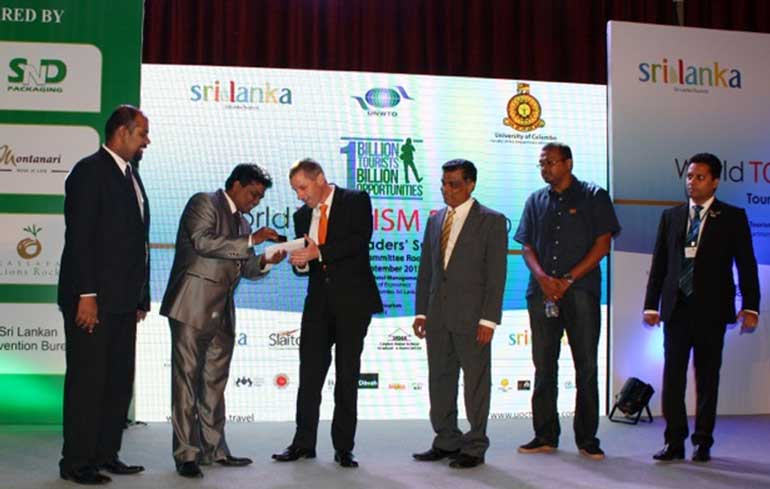 University of Colombo Academic Coordinator Tourism Studies Dr. D.A.C. Suranga Silva presenting a token of appreciation to Steven Bradie Milles, CEO – Colombo Academy of Hospitality at SLIIT/William Angliss Institute while (from left) University of Colombo EDTEHM Industry Facilitator Kasun Abeynayaka, University of Colombo EDTEHM Senior Industry Coordinator Upali Rathnayake, Antyra Solutions COO Rohan Jayaweera and Thyaga Perera look on
The Tourism Leaders' Summit, which deliberated on a range of current topics with an emphasis on promoting MICE tourism and tourism opportunities was held at the Bandaranaike Memorial International Conference Hall (BMICH) on 25 September.

Organised by the students of first batch the Executive Diploma in Tourism, Event and Hospitality Management (EDTEHM) as their study assignment of Public Private Partnership and MICE Tourism modules of the University of Colombo (UOC), the summit was themed, 'Billions of Tourists, Billions of Opportunities: Think Globally, Act Locally'.

The first Tourism Leaders' Summit was convened with the Sri Lankan 'Ayubowan' and much pomp pageantry amidst the swirling, somersaulting Kandyan dancers to welcome the distinguished guests. The eclectic and experienced panel of speakers was carefully selected to address every aspect of meeting the needs of 'One Billion Tourists with One Billon Opportunities'. Interestingly, it presented both the sides of the tourism story—mass vs. high end tourism.

The Sri Lanka Tourism Promotion Bureau (SLTPB) made history in joining the UOC to sign a Letter of Interest under the leadership of John Amaratunga, the newly-appointed Minister of Tourism Development and Christian Affairs. This venture will provide UOC students the opportunity to take the industry to new heights. The Letter of Interest is expected to link the industry with the programmes followed by the students to conduct research in issues related to tourism.

Further, two Letters of Interest were also signed between UOC and Sri Lanka Tourism Development Authority as well as between the university and the Mount Lavinia Hotel. Through such ventures, the university hopes to form industry partnerships when conducting research on tourism related subjects and thereby, gather information in order to take effective steps to develop the industry. This venture is also endorsed by Sri Lanka Inbound Tour Operators (SLAITO), The Tourist Hotels Association of Sri Lanka (THASL) and The Association of Small and Medium Enterprises in Tourism (ASMET).

As an organisation that performs a key role in educating tourism practitioners, the UOC is now able to contribute more actively towards a knowledge based economy. As a start, Dr. Rohantha Athukorala, Chairman – SLTPB, handed over 80 key topics on issues of the industry to Dr. D.A.C. Suranga Silva, Course Coordinator of the Tourism, Economics and Hospitality Management Courses – UOC. These will become the dissertation topics for the students. The findings of these topics will then be presented back to the SLTPB where it will be accessible to the industry through the Sri Lanka Tourism library. Further, plans are also underway to work out the presentation of an honorarium for research students.


Experience-based, high-end tourism

In addition, the presentation made by Malik Fernando, Director – MJF Group was extremely engaging and impressive. He stressed that Sri Lanka should focus on experience-based, high-end tourism, as there is much potential for the country to develop in that sector.

"The world has changed, tourists are not looking at the beaches or the conventional model. They are looking at experiences; meeting Sri Lankans, learning how to cook Sri Lankan food and understanding our cultural traditions. They are far more experiential," he said. Adding that the fact that the country remains to be pristine and unspoilt as it was in a tourism cocoon due to the 30-year conflict is our biggest advantage, he said that authorities should not merely look at numbers.

"The way we at Dilmah and Resplendent Ceylon are looking at it is, we want to achieve $ 2.5 billion like the Government, but we want to do it with 500,000 tourists, not 2.5 million. When you go for mass market tourism, there is a massive impact on the environment, we do not grow enough food in this country. But there are other counties such as Maldives and Bhutan, which have gone for high value-added tourism. I urge all of you to develop in your master plans to take advantage of the fact that for 30 years we did not have the ubiquitous, mass-market international brands. We have a few high end brands coming in but the fact that we do not have skyscrapers and 10,000 to 20,000 roomed resorts is an advantage; because if we had that we would actually turn off exactly the kind of tourist we want lure in. The reason they want to come here is because it is pristine, our people are largely unspoiled and they are still warm. What we need is high value tourism. We need, not numbers, but we need high spend per visitor."

The information shared by Dilip S. Samarasinghe, Director (Media and Publicity) – Board of Investment was insightful and gave the audience an idea of the economic potential of tourism in Sri Lanka. Another notable and educational address was by Rohan Jayaweera, COO – Antyra Solutions who spoke on digital branding.

Shashika Kahadawela, Assistant Manager (Sustainable and Green Initiatives) – Jetwing Group spoke on Sustainable and Green Initiatives for Tourism and Hospitality Industry. Mehdi Serrour, General Manager – Shangri-La Hotel & Resorts Sri Lanka too made an engaging presentation on the core values promoted by Shangri-La Hotel & Resorts and how they went hand in hand with that of Sri Lankan traditions.

Paddy Withana, Chairman – Sri Lanka Tourism Development Authority, Dr. Rohantha Athukorala, Prof Athula Ranasinghe, Dean (Faculty of Arts) – UOC, Steven Bradie Milles, CEO – Colombo Academy of Hospitality at SLIIT/William Angliss Institute, Paddy Paul, Managing Director – Golden Isle Travels, Indika Vithanage, President – Sri Lanka Institute of National Tourist Guide Lecturers, Aasim Mukthar, CEO – Sri Lanka Exhibition and Conference Services (Pvt) Ltd.also made interesting and engaging presentations on a host of related topics.

Apart from the educational enrichment, the audience was aptly treated to exciting cultural entertainment. The vibrant dances included, dance of the tea pluckers, low country dances, the devil dance and most fascinatingly accompanying of the distinguished guests along with renowned Chef (Dr) Publis Silva to the stage for the group photograph.

The summit was moderated by a panel of academics and industry experts including Dr. Sepali Sudasinghe, Senior Consultant – Sri Lanka Institute of Development Administration (SLIDA), Aasim Mukthar, D.L. Nihal, Senior Economist (Economic Research Department) – Central Bank, Gayan Pereis, Manager (Sri Lankan Holidays) – SriLankan Airlines, Srilal Miththapala, Institute of Hospitality (Sri Lankan Chapter), Saman Maldeni, Director (Export Services) – Export Development Board and Kanthi Bassnayaka, Director – Asia Pacific Management Institute.

Promoting Sri Lanka as a preferred destination for tourism, with a holistic approach, which focused on the aspects of investment, exports, people, culture, cuisine, government and e-commerce was the core objective of the summit. Another highlight was the presentation of the first Professional Excellence and National Contribution for Sri Lanka Tourism Development award to Chef (Dr) Publis Silva, in recognition of his contribution to the industry.


How to succeed

Delivering the keynote speech at the event, Sunil Dissanayake, Director – BMICH shared interesting ideas on how to succeed in the first three months of employment in the first job or in a new job role. He stated: "Transition to new roles are the most challenging times in the professional lives of managers and leaders. Success or failure during the first few months is a strong predictor of overall success or failure in the job."

He added, "The good news on transitions is that you get a chance to start afresh and make needed changes in an organisation. But transitions are also periods of acute vulnerability because you lack established working relationships and a detailed understanding of your new role or the new organisation. You are managing under a microscope subject to a high degree of scrutiny, as people around you try to figure out who you are. If you are successful in building credibility and securing early wins, the momentum will propel you through the rest of your tenure."

At the culmination of the summit was a cultural show, Wonderful Fusion Experience in Sri Lanka, Road to Culture and Cuisine showcasing the best of the country's culture, cuisine and craft. The renowned culinary master Chef (Dr) Publis Silva presented a demonstration on traditional cuisine at the show, adding colour to the event.

The event was organised in partnership with the BMICH, SLTPB, SLTDA, Sri Lanka Convention Bureau, Sri Lanka Association of Professional Conference, Exhibition and Event Organisers, Peoples Bank, Dave Tractors & Combines Ltd., Lankaloha Hardware Ltd., Lanka Wine "Montenary", Rockland Distilleries, LG Smartphones, World Duty Free, Pigeon Island Beach Resort, Regent Spice Garden, Okuara Hotels, Excel World, SND Packaging, Lion Royal Resorts, Mount Lavinia Hotel (MLH), Dilmah Tea and Ruhunu Mathra.