At the newly-opened boutique hotel Maniumpathy, on Kynsey Road Colombo, the most famous brew, Ceylon Tea, was celebrated in style with a tea tasting and delicious cakes and sandwiches; a perfect afternoon.

Why is 2017 a milestone year for Ceylon Tea? Exactly 150 years ago, in response to the great coffee blight decimating Ceylon's once-abundant coffee plantations, a young, pioneering James Taylor took the decision to plant tea bush seedlings in the picturesque hills surrounding Kandy at Field No. 07 of Loolecondera Estate, which happens to be right next door to another Manor House Concepts hotel, Taylors Hill.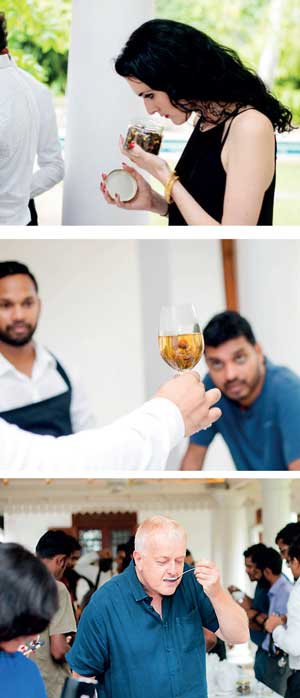 The tasting was moderated by Teaeli, a retailer of artisan, single-estate, blended loose leaf teas. With each sip the tones and hints were explained along with the process of making this world renowned brew which renewed the respect of all who participated. Fresh scones with jam and cucumber sandwiches were devoured in the serene garden at Maniumapthy and guests mingled: a perfect afternoon to celebrate the legacy of Ceylon Tea.

Maniumpathy is the latest addition to the Manor House Concepts collection of six unique and individual properties that are strategically located across Sri Lanka's most picturesque destinations offering experiences in style and serenity. With hotels in Tangalle, Tea Country, Kandy, near the Airport and now Colombo, Manor House Concepts represents Sri Lanka's boutique offerings at its best with luxury, personalised service, and exceptional quality all with the sense of staying in a home. Built in 1906, Maniumpathy is a prestigious house, which has been home to five generations of a family originating in Jaffna. This family home has been renovated and transformed into a hotel, with the intention of immersing its guests in an atmosphere reminiscent of the moods and pursuits of the people who have lived within its walls in times past. With direct access to art, shopping, entertainment, and dining, the hotel offers an oasis of serenity and luxury in the busy capital, making it one of the best hotels in Colombo.