Kuwait Airways, the National Airline of the State of Kuwait has commenced its online operation to Ahmedabad and Bangalore effective from 1September.

Currently the Blue Bird offers passenger services to Bombay, Trivandrum, Cochin, Delhi and Madras in India. Respectively, the airline has expanded its destinations in India with the new inclusion of the two new points. Bangalore is known as the "Silicon Valley of India" because of the nation's leading information technology (IT) exporter and Ahmedabad has emerged as an important economic and industrial hub in India.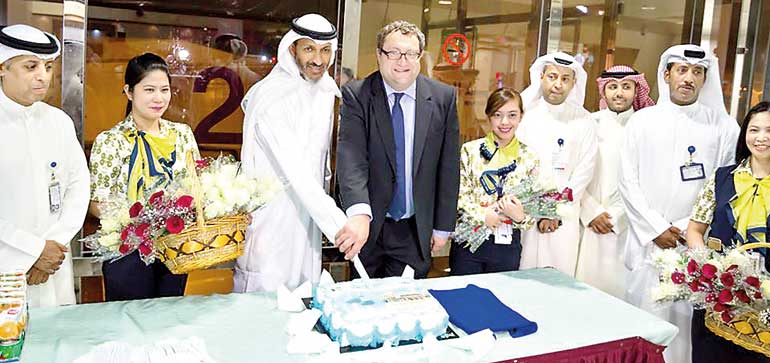 Kuwait Airways CCO Philip Saunders and CEO Ahmad Al Shahran


The flight operated in these routes are Airbus A320 with three flights a week.

Engineer Abdullah Al-Sharhan, Chief Executive Officer of Kuwait Airways, said: "We started new destinations this year in Vienna, Istanbul, and Munich. Now we are opening flights to Bangalore and Ahmadabad in the Indian subcontinent."

He added that the flights will be permanent and not seasonal. He noted that Kuwait Airways already has 39 stations and that they have added two new destinations, totaling 41 stations till the end of 2015.

Kuwait Airways strategy and the implementation of a long-term operational plan is developing and restructuring. The fleet development plan of the airline has completed its first phase with the addition of New A330's. The latest A330 which has been added to the fleet is to arrive in Sri Lanka during this month.