Celebrity chef and MasterChef host George Calombaris finds authentic dishes, coconuts and resonance of his food religion in Sri Lanka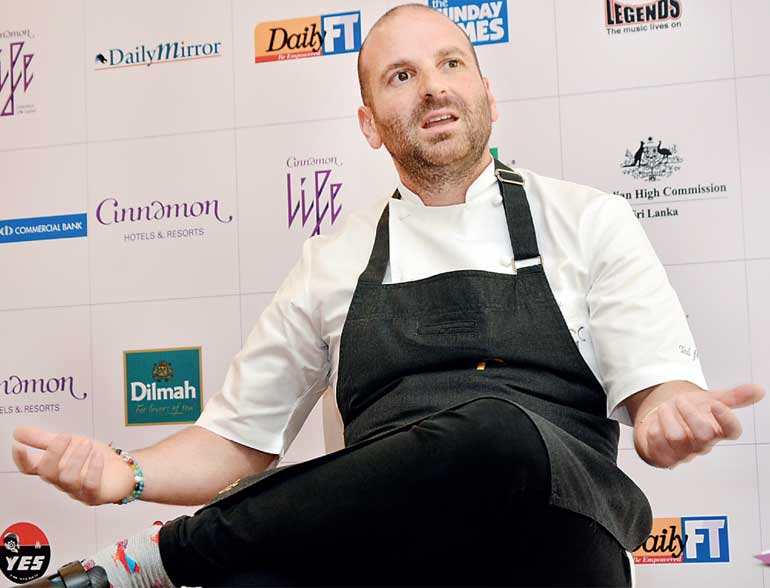 Chef George Calombaris
By Uditha Jayasinghe

Chef George Calombaris has one enemy and its opposite is his religion. His enemy has many names, adulterated food, fast food or even junk food but it is made the same way – large-scale, conveyor belted, staid of flavor and devoid of imagination. George has waged war against this enemy for many years, even generating headlines when he stopped his children from eating fast food and eventually breached its walls with the very successful and beloved MasterChef Australia, which has given him a platform to preach his food religion from. It's hard to imagine a more passionate pulpiter.

"I tell you I am bloody blessed I fell in love with food. I never planned to be a chef but that is all you did if you fell in love with food." Fused to food by family and his Greek Cypriot heritage, George believes in authentic food, cooked by grandmothers the world over and holding genuineness at its core. "It's the product of your youth. The beliefs, the interests that stays at the center of your food forever."

Approachable and friendly, George leans in when it comes to food. He is almost diametrically the opposite of other MasterChef Australia stalwarts such as celebrity chef and Godfather of modern British cooking Marco Pierre White with his mercurial temper and awe-inspiring track record of screaming at staff and throwing clients out of restaurants or creativity extraordinaire Chef Heston Blumenthal . By contrast George comes across as the sort of person one could ask cooking tips from, even though pointers will come with an intense stare and detailed instructions.
"In Australia, two supermarkets control 94% of what our consumers buy. It's scary, so I don't walk into supermarkets. But, if you ask me where to get great meat from, I'll tell you to go see Gary the butcher or go to this farmer's market or collect this, and that's embedded in me"




Food culture
"I don't eat weird things. I don't know why people keep asking me that question. I am very conscientious about what I put in my mouth. Food for me is bloody serious. There are thousands of years of meaning behind a dish or an ingredient and that is bloody important."

If George demands authenticity from his food it is only because he is ready to give bushels of it from himself. Decked out in chef's whites and a black apron with the signature 'P' from his flagship restaurant 'The Press Club', he is ambassador and activist rolled into one.

Despite being on the trot since landing in Colombo, George is like a tightly coiled spring. After a trip to Sigiriya, a boat trip, meeting staff at Cinnamon Lodge in Habarana and tasting village food, he is busy refining a dinner menu because he "tasted a mangosteen and it blew my mind."

So a mangosteen sorbet has been partnered with a lemon meringue to be a palate cleanser between courses at the dinner he curated for Cinnamon Grand. "I have to cook with tea. You'd send me back if I didn't."

Though his time in Sri Lanka has been short the experiences were not. The platitudes came thick and fast as George found kindred spirits in the women who demonstrated "cracking" basic village cooking for him. Many Sri Lankans who all but worship their rice and curry, cooked with spices in a clay pot and on a wood fired hearth, would become willing converts to George's passionate endorsement.
"Don't go and become a professional if you don't understand that being a chef is about reputation and hard work and long hours, and that can sometimes chew up your love for food"


"No preservatives, no additives, nothing bleached, nothing refined, everything was real and delicious - the way food is meant to be and that - that little hour and a half, two hours is seriously gold. That is the commercial that needs to be posted around the world; just tell people how wonderful this place is. It was an awesome experience, and I was seriously blown away by just the care, the love and commitment to hospitality - and that's hospitality. It wasn't about lots of things. It was about individual items done really, really well."

Australia's transformation as a premier food destination has been a game changer for the global tourism industry and has been driven not just by famous restaurants but also its diverse culture, elements that other countries, including Sri Lanka, are keen to embody. The national carrier, SriLankan Airlines, is expected to start direct flights to Australia at the end of this year and George feels it would be a great way to increase visitors.

The food, promoted and evolved, would be another draw. But would George give Sri Lankan's love of chili his blessing? "It's not been too bad really. See I love spicy food. It's just that I become a fountain when I eat it," he says ruefully.


Supermarkets and wired lives
Sri Lanka with its abundance of fresh produce, freely available at the weekly 'pola' and diversity of ingredients is a cornucopia of discoveries for George. Locally supermarkets are still largely an urban staple and plenty of families shop at multiple locations as the quest for chemical-free food gains ground around the country. This economical model gives more people access to eating well and living well, insists George, and inspires people to lead more unwired lives.

"In Australia, two supermarkets control 94% of what our consumers buy. It's scary, so I don't walk into supermarkets. But, if you ask me where to get great meat from, I'll tell you to go see Gary the butcher or go to this farmer's market or collect this, and that's embedded in me and my kids are fortunate to know how parsley is grown and their father has bees to make honey and chickens to lay eggs and they know where all that stuff comes from. That's my responsibility."

So what are supermarkets good for? "Toilet paper! They do a good five ply," he shoots back before taking a more contrite tone. "Let's not kid ourselves, there's a socio-demographic issue - there are people out there - 80% of them in Australia that can't afford to go to a farmer's market, that can't afford to go and buy meat from the artisan butcher that ages things properly and there's no hormones being used. Also, we've got to be realistic, that's a bigger political conversation that I'm not going to delve into."

However, George believes there is a middle ground. "But we've also got to realise that the food I ate yesterday in that village was not expensive. A bunch of okra is not expensive, but the care and love that went into that and it was a delicious meal that is good for you. That's the bit we've got to educate people to go 'what?' That meal wasn't expensive to make, just cook the okra that's in season, cook it deliciously and eat it and enjoy it."
"We've also got to realise that the food I ate yesterday in that village was not expensive. A bunch of okra is not expensive, but the care and love that went into that and it was a delicious meal that is good for you. That's the bit we've got to educate people on"


MasterChef masterpiece
Chefs gaining celebrity status is arguably the main reason for the profession to gain popularity and acceptance among an ever-expanding class of people. It has also opened up new business opportunities but George warns that jumping in feet first could make foodies fade.

"Don't go and become a professional if you don't understand that being a chef is about reputation and hard work and long hours, and that can sometimes chew up your love for food. A lot of homecooks who love food, their friends tell them they're amazing, they make the best jalebi, you must go and open up a jalebi store. They go and do it, and after a week they're tired, after week two they're exhausted and after week three they're not making money and essentially going broke and by week four, they hate life. So sometimes, turning into a professional can really turn your idea of food."

Chefs face the opposite problem. They can get lost in the concept and forget flavor. Chefs also take a huge amount of pride in cooking for their peers, dig away at techniques on a level that might exasperate home cooks and spend inordinate amounts of time at work. The tossup is a challenge but simplicity could be the best avenue to pleasure.

"Sometimes doing it at home is a wonderful thing, and having people into your house. There's no pressure because they're not paying for it. They're not going to come in there and tell you your butter chicken is crap are they? They're not going to tell you that you've got a bad haircut and your furniture is a bit wobbly. Everyone every single day comes into my restaurant and is critiquing."

A select few of those that take the plunge may end up on MasterChef Australia, which has gone beyond the achievement of most reality shows to endear itself to millions of fans in over a hundred countries. This is in no small part due to Gary Mehigan, George and Matt Preston who have kept a tight grip on the show.

"We drive it. We pick the contestants we want and that is based on their dreams and desire and cooking ability. We don't have characters. We have Aussie values, integrity, belief, inspiration and delicious food. If MasterChef Australia had a voice it would be authentic, it would be real. It would change people and nurture them."
"I don't eat weird things. I don't know why people keep asking me that question. I am very conscientious about what I put in my mouth. Food for me is bloody serious. There are thousands of years of meaning behind a dish or an ingredient and that is bloody important"


Grand plans
This is the common language George believes is the key to the success of MasterChef Australia. A connection that has spanned nine series, split into new shows and looks set to enter the record books. Alongside MasterChef Australia, George also has an ambitious plan with new business partner Radek Sali. The two are set to roll out up to 50 new Jimmy Grants souvlaki restaurants, as well as his Gazi (Greek) eatery, around Australia and the world.

Radek, a former Swisse vitamins CEO, is credited with coming up with the master plan to take Calombaris' food from Indonesia to America with stores expected to open in the space of the next three years.

With so much travel and many ventures to grapple with George is dedicated to absorbing all he can in a distilled version to carry about as memories.

"All I can do is come with an open mind and open heart and capture as many memories as possible. All I can do is share it with friends and family and other important people in my life. That inspires you to grow in culinary instincts with nostalgic references."

Scraps of notes scribbled with ideas of cinnamon, king coconut and tea will be packed up and taken away. "The variety of ways coconut is used has really struck me. Coconuts are a great way to finish sauces off. The whole idea of coconut oils and its health benefits is amazing. I love the taste of king coconut." He mulls his visit over with a moment of silence and breaks into the type of grin that features in adverts on Sri Lanka.

"I'm going away with thoughts of coconut."
"I was seriously blown away by just the care, the love and commitment to hospitality - and that's hospitality. It wasn't about lots of things. It was about individual items done really, really well"


-Pix by Upul Abayasekera