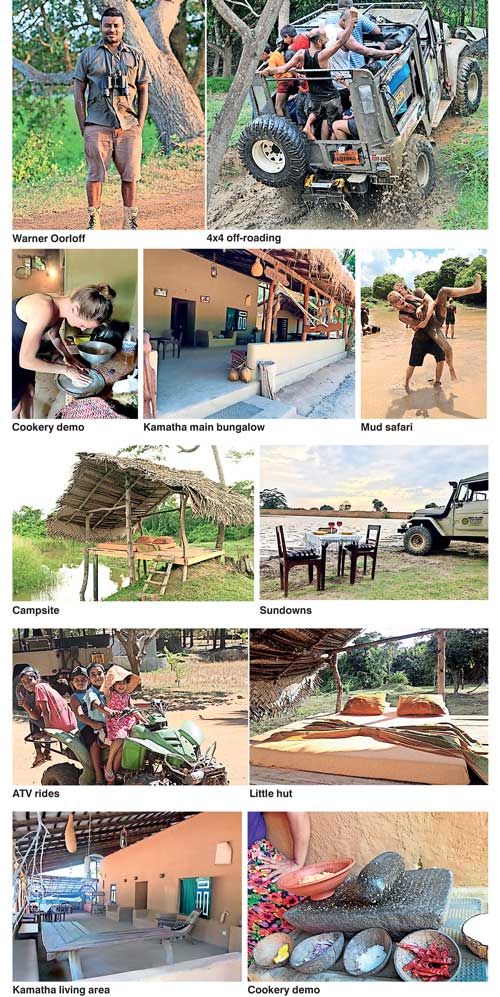 To begin a day at Kamatha is like slipping into a child's drawing: odd-shaped trees interrupt fields of paddy. The sky is crayoned a solid royal blue with a brilliant sun; layers of white puffy clouds extend in endless vistas to the next valley and the next again. There are no sounds but the scented breezes whistling lightly across the fields and the occasional flinch of some tiny, prehistoric creature under dry sticks a few paces ahead.

Kamatha Eco Lodge offers a relaxing and refreshing experience of "the real Sri Lankan life". Its community lies a little way from the well-beaten tourist trail and yet offers access to all the wonderful sights and sounds of Sri Lanka. Kamatha is situated in Habarana, in the heart of the Cultural Triangle tucked away in the midst of an ancient agricultural village and the forest. It offers easy access to the most sought-after locations in Sri Lanka (Sigiriya Rock Fortress, Dambulla Caves, Ritigala Forest Monastery, Trincomalee beaches and most famous elephant safari parks in the world – Minneriya, Kaudulla and Hurulu National Parks).

Kamatha is situated a mere 15 minutes away from the Minneriya National Park where one can witness 'The Gathering', which CNN describes as 'Sri Lanka's great elephant migration – truly one of the world's greatest wildlife events'.


Accommodation at

Kamatha Eco Lodge

Kamatha Eco Lodge offers two types of accommodation, both designed to enhance your experience at Kamatha. You can choose between a large, airy, traditional, wattle and daub cottages that let the sounds of nature lull you to sleep or spend the night in its fully equipped campsite and let its team do the hard work while you star gaze and enjoy a glass of wine.

The truly unique Sri Lankan experience can be tailored made to suit your ideal holiday – be it off road adventure, bird watching, photography, safari trips, BBQs or experiencing the day-to-day culture and lifestyle of Sri Lankan village life. Whether you want to relax and be pampered or go exploring and enjoy your holiday in true Sri Lankan style, Kamatha will make it happen.

"My friend and I stayed at Warner's Kamatha Eco Lodge for just a night and didn't want to leave when we had to. He picked us up from the main road, as his place is a little secluded. Upon reaching the place, we felt as if we had travelled back in time to the old rustic era when everything in life was simple and easily available. In one sentence, the place is beautiful," said guest Saif Ahmed, Airbnb, November 2015.

Kamatha's lodges are built to offer a true feel of Sri Lankan village life. The spacious rooms, typical veranda-style lounging areas, surrounded by paddy fields, jungle and abundant bird calls means Kamatha is by far the best location for an unforgettably unique Sri Lankan experience.

Its main cottage offers one bedroom with an attached bath. Spacious and comfortable, this cottage also boast of a large lounge area where guest can either read, play some board games or just meet over a drink. It also has a separate cottage with an attached bathroom. Secluded and serene, this cottage is much sought-after because of its unique location and the serenity it offers. All rooms are equipped with fans and mosquito nets.

"I came to Habarana with a plan to spend a day. Ended up staying at Kamatha Eco Lodge for five nights and it was the best part of my trip. The lodge is made in traditional Sri Lankan style clay and dung as explained by Warner, the super-friendly host. The setting is in a beautiful rice paddy plantation and you will wake up to the sounds of birds. Possibly the best Sri Lankan food I ate was at Kamatha. Definitely a place to go if you want to experience the real Sri Lankan village life and not one as advertised in many places," wrote Bharat, in a TripAdvisor review.


Unique campsites

Kamatha campsite comes to life when the sun rises pink and gold and resolute over the lush green waterway teaming with fish. The campsites are located facing a waterway surrounded by tropical trees, flowers and abundant bird life. Kamatha offers a truly unique camping experience. Its tents are equipped with all that is needed for a comfortable stay. Guests enjoy exclusive use of the venue, with the opportunity to relax and unwind together in a secluded environment, without any other intrusions.

Camping here will give you a once-in-a-lifetime experience of true jungle living. Its camp sites are designed to entwine into what is naturally available, and therefore the sights that greet you at dawn and the sounds that lull you to sleep at night are truly natural and breathtaking. This has always ensured that its guests have the best camping experience. Kamatha has spent years fine-turning the environment and developing a location which promises the best. Its camps are also equipped with outdoor showers and toilets.

Kamatha Eco Lodge is designed to give guests an authentic Sri Lankan experience. From food to lodging to the sounds of nature and life surrounding the lodges, Kamatha is the one place in Sri Lanka where guests can enjoy authentic cuisines and true Sri Lankan style hospitality.

Offerings at Kamatha:
Bird watching/nature walk/photography (guided tours)
BBQ nights
Sundowns
4x4 mud safaris
4x4 Off-roading
Nature safaris to national parks
Night safaris
Jungle trekking and team building
Tuk-Tuk village tour
Challey bike and ATV rides
Fishing
Kayaking
Mountain biking
Hosting of corporate events, lunches and dinners, BBQs, office parties
Sri Lankan cookery lessons
Village walks
Working alongside the 4-Wheel Drive Club in Sri Lanka, Kamatha has hosted 4x4 challenges/jamborees, Pro-Am events and Land Rover members' gatherings as well as many other off-roading programs. For those who want to experience some true off-roading as well as chill with friends and family, Kamatha is the place to be.


About the owner – Warner Oorloff

Combine a hotelier, motor mechanic, professional 4x4 driver, wildlife enthusiast, an amazing father and one crazily daring individual, and you have Warner Oorloff. Owner and Manager of Kamatha Eco Lodge, Warner has also been a keen naturalist for over 20 years. As he says: "I am lucky that my childhood passion has now become also my work. My everyday work includes nature guiding, running 4x4 mud safaris, safaris to national parks and the running of Kamatha Eco Lodge and Camp Sites. I try to spend as much time amongst nature as I can – this to me is the best reward life could offer, next to of course spending time with my kids."

Being a passionate lover of 4x4 vehicles, he is also a fully qualified 4x4 driver/instructor at Outdoorsmen 4x4 Training Centre. Warner has represented the country in several national and international challenges.

In order to share his passion for off road adventure, Warner has for the first time in Sri Lanka designed and implemented '4x4 Mud safari fun and challey bike/ATV rides'. His 4x4 mud safaris are specially designed off-road experiences which guarantee skilled driving, amazing terrains and a true dose of fun. These are now very popular and have become a big hit with groups of young tourists.

Warner also runs safaris to the Minneriya, Kaudulla and Eco Park national parks which are much sought-after due to his skilled driving, in-depth knowledge of wildlife and years of experience which means his customers are in the hands of a of a true expert who will not disappoint.

Warner has lived in and combed this entire area; hence you will be in the hands of a well-experienced jungle lover who is passionate about his work and puts in that extra effort to make your stay at his eco lodge a truly exciting and memorable one.

Being a qualified 4x4 driver Warner has a fleet of purpose-built Land Cruiser mean machines. His vehicles include a Land Cruiser BJ40 and two Land Cruiser HJ45s.


Authentic adventure experience

"We stayed in an eco-dwelling in Kamatha Adventure Lodge during our 14-day-long holiday in Sri Lanka and Kamatha was the highlight of our trip. The host Warner was an amazing naturalist who knows his job. During our trek to Sigiriya Warner showed us lots of birds and his eye and knowledge is very good spotting and identifying birds. We recommend Kamatha Adventure Eco Lodge for all," wrote Kris V in a TripAdvisor review. Kris stayed at Kamatha in February 2016 and travelled with family. Warner is truly an expert guide, who has an in-depth local knowledge, up-to-date information and a highly-developed instinct for bird-finding. His passion for wildlife means that the villages turn to Warner to catch and release dangerous reptiles.

"I believe all animals deserve to live; killing insects and reptiles not only damages the equilibrium but also ruins the valuable input they bring to the eco system. I am a lover of all animals and am fortunate to be gifted with the skill of handling reptiles and so I am able to rescue them from the villages who on most occasions kill them only due to fear," said Warner.

His tagline for Kamatha is 'Kamatha Eco Lodge where every day is a different story…' It is indeed a different story and a story which one is fortunate to experience.