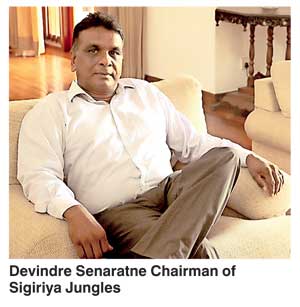 Q: How do you see the tourism industry presently?

A: Today, Sri Lanka is one of the most peaceful and safe locations in the world, which is the single-most criteria for tourists when they select their holiday destination. Furthermore, Sri Lanka enjoys plenty of goodwill in our main tourism generating markets and is also sparking interest from new emerging markets, which bodes well for the industry. There has been an uptick in inbound tourists and we hope the government continues to leverage on these favourable factors to attract greater tourist numbers into the island. Sri Lanka encapsulates a plethora of diverse experience such as nature, wildlife, tea plantations, beaches, cultural sites and natural beauty within short distance of each other, which makes it such a unique destination. I have great optimism for the tourism industry of Sri Lanka, which has emerged from the shadow after 30 years.
Q: What inspired you to embark on your own hotel venture?

A: My extensive experience in the travel and tourism trade of Sri Lanka for over three decades spurred my interest in setting up Sigiriya Jungles. My successful stints with a local hotel group and Journeyscapes, my experience in attracting business from tourism generating markets, and the level of interest in Sri Lanka convinced me that the time was right for me to foray into my own venture. Decades of interacting with tourists and what they expect from their holiday in Sri Lanka had given me clear insights into the kind of tourism offering I needed to design. I also knew that I wanted to develop a unique, niche offering that would stand apart from the many hotels that dot the island.
Q: How would you say that the property is positioned when it comes to convenience and connectivity for tourists?

A: One of the main attributes of the resort is its central location being made accessible to the country's cultural triangle which comprises of Anuradhapura, Polonnaruwa, Sigiriya, Dambulla and Kandy. The strategically located resort offers guests the facility to embark on exciting cultural, religious or adventure excursions, which is facilitated by the hotel staff. Sigiriya Jungles is a jewel in the crown of the emerald isle.
Q: What was your vision for the property?

A: My wish was to do away with the abundance of concrete and long corridors which seem clinical and have become a common feature in most hotels, and to trade it in for a seamless blend of indoors and outdoors, where guests could commune with nature. My brief to the eminent architect Vinod Jayasinghe was to create 'living spaces' and not a hotel as we know it. An exclusive design feature of the property is a large iconic wooden bridge which provides extraordinary vistas of the Sigiriya Rock and the Pidurangala Monastery, as also of the verdant environs. Sigiriya Jungles offers a matchless signature luxury experience.
Q: What are the unique features of the property?

A: Sigiriya Jungles offers 60 lavishly furnished rooms overlooking the Sigiriya Rock Fortress. Each room is designed to serve as a sanctuary with tranquil indoor and outdoor living spaces, intimate artistic touches and luxury service. The rooms offer all imaginable creature comforts for guests. Despite its location in a tranquil environment, the resort offers plenty of opportunities for rest and recreation. The resort features three restaurants, two bars and free wifi throughout the property. It has an outdoor pool, a spa and wellness centre and a fitness centre for pampering guests. The resort also offers delectable cuisine befitting its upmarket status. Its eclectic restaurants serve a fusion of Western and Eastern cuisine and traditional Sri Lankan fare. A choice of indoor and outdoor restaurants offering signature cuisine, an expansive bar, a large living lounge and a shopping area is also provided. Sigiriya Jungles is the ideal destination for both business and pleasure. It has exclusive conference and banquet halls to cater for up to 150 people along with state-of-the-art conference facilities.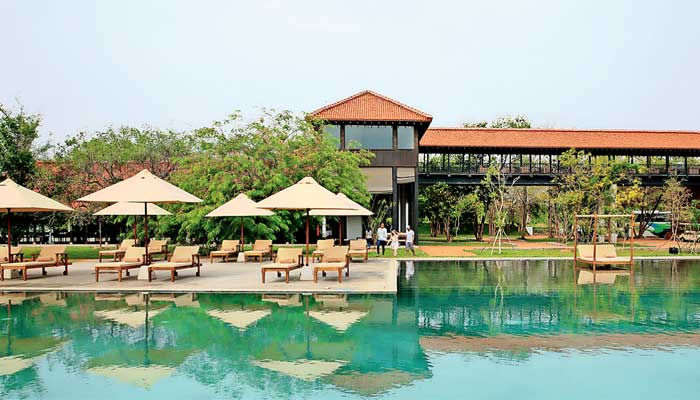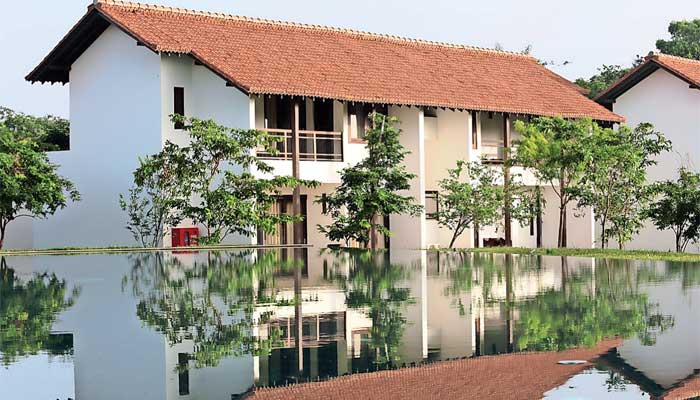 Q: Sigiriya Jungles is leading the industry in terms of sustainable features. Could you explain the reason behind this?

A: We realise that operating in the heritage location of Sigiriya requires us to run our operations responsibly, which has inspired us to establishing water treatment plants to recycle water, reverse osmosis plants for drinking water, sewage treatment plants, solar energy and the planting and nurturing of indigenous plants. We take care to ensure that the surroundings remain undisturbed and non-commercialised, usage of golf carts to prevent smoke emission. By doing this we not only preserve the pristine surroundings of this sacred site, but we are also setting a precedent for our guests to follow, thereby raising awareness about being seeking responsible and ethical tourism.