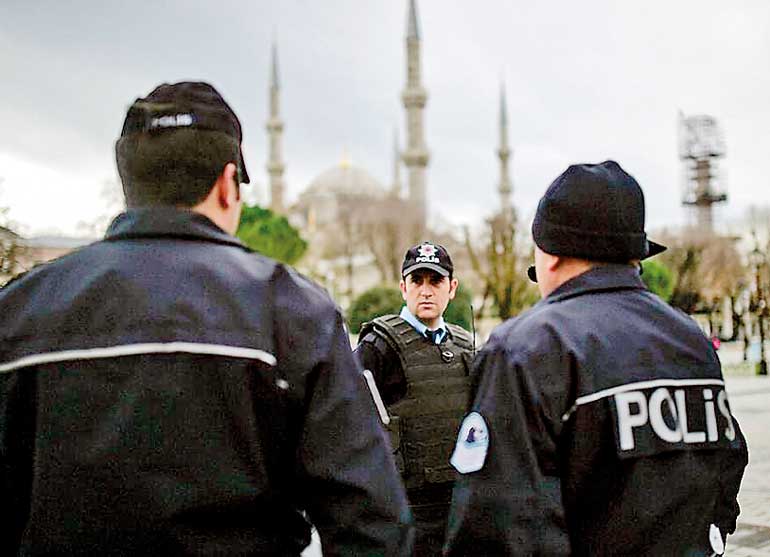 Turkish police officers stand guard near the Blue Mosque in Istanbul's tourist hub of Sultanahmet on 13 January, a day after an attack
AFP: This week's suicide attack in Istanbul has dealt a fresh blow to tourism in Turkey, which had already lost holidaymakers due to growing European jitters over terrorism and a spat with Russia, once a top supplier of visitors.

Three months after double suicide bombings in Ankara that killed 103 people, mostly pro-Kurdish activists, Tuesday's attack, which killed 10 Germans, clearly targeted the tourist sector, one of the mainstays in a country which was the world's sixth-most visited in 2014.

A record 36.8 million holidaymakers visited Turkey in 2014 according to the World Tourism Organization, with Germans making up the biggest group, followed by Russians and Britons.

But the country's tourism appeal started to dim in 2015, with Turkey suffering the same fate as other Muslim countries such as Morocco and Indonesia that are being spurned by Europeans after attacks on tourists in Egypt and Tunisia.

"In the mind of the Western tourist, there is no doubt that the potential attacks by an Islamist group on one country will be associated to danger in the whole region. Those attacks, coupled with Turkey's own attacks and proximity to Syria, have a detrimental impact on tourism flows towards the country," said Kinda Chebib, an analyst at Euromonitor International market research agency.

The flow of Russian tourists, 4.4 million of whom visited Turkey in 2014, had already slowed significantly in 2015 over the collapse of the ruble.

But the shooting down by Turkey's air force of a Russian bomber on the border with Syria in November turned the tap off completely.

Incensed by the attack, Russia warned its citizens against all travel to Turkey and recommended they head for the beaches of Russian-annexed Crimea instead.

The final tally of tourists received by Turkey in 2015 – and an estimate of their spending – is not yet known.

Euromonitor reports that the country's tourism profits fell 4.4% in the third quarter of 2015 to 12.29 billion dollars.

The attack in the historic heart of Istanbul, which the government blamed on the Islamic State (IS) group, is expected to have an immediate impact on travel to the bustling metropolis on the Bosphorus, which is a popular weekend destination for Europeans in winter.