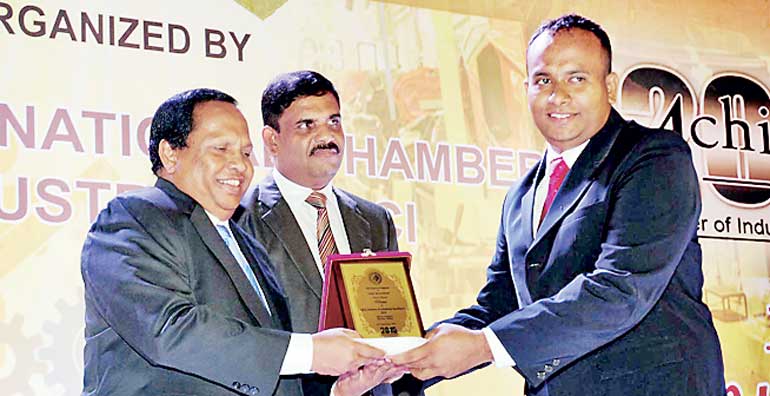 Hotelier Aravinda Sampath was honoured with an award for the excellence of Hotel Moonstone, Anuradhapura at the Ceylon National Chamber of Industries (CNCI) Achievers Awards Ceremony.

He is a well-known entrepreneur with a success story like no other, and was able to touch the highest peaks of success of the Hotel Moonstone in three years. It is significant since it's the very first time to win the award for the services sector by a hotel, throughout the history of CNCI Achievers' Awards Ceremony. The excellence shown in customer services and hospitality along with marketing strategies stands behind the curtain of the honour of the award.

Hotel Moonstone in Anuradhapura is a sophisticated modern hotel which provides higher standards of hospitality, which led for the popularity among the local and foreign tourists. Aravinda Sampath expressing his ideas said that he is completely committed to take Hotel Moonstone on a more eco-friendly path to achieve the further excellence.

Aravinda Sampath has honoured with awards previously for his huge successes as an entrepreneur. He has won the Bronze medal for the Best Entrepreneur of Anuradhapura District by Ceylon National Chamber of Commerce for Year 2014.

As a young entrepreneur he is optimistic that hotel sector will get an alarming boost with Sri Lanka targeting to develop its tourism sector to the fullest. Satisfying customers and catering to their needs wholeheartedly is a must if the hoteliers are planning to get the maximum from trending tourism industry, he added.