From 5 to 7 September, Sri Lankan hospitality and partner industries will converge at Hotel Asia 2016, the largest trade exhibition and culinary competition of its kind in Maldives. The exhibition has a history of drawing in crowds to Dharubaaruge where it will continue to be held this year.

Out of the 175 exhibitors over 60 companies from Sri Lanka will showcase portfolios covering aspects of the industry including food and beverage in room technology, laundry, air conditioning, hygiene and catering, architecture, gardening, landscaping, outdoor furniture, swimming pools, waste management, software systems and modern security systems and a wide array of hotel supplies.

The annual 'International Culinary Challenge' is a much-looked-forward-to aspect of the show. This year the Hotel Asia organisers set a more interactive tone to the event with the introduction of Masterchef-styled Masterclasses and specialised seminars. An international panel of speakers and resource personnel are also added to the agenda for the first time and will be held at the same venue.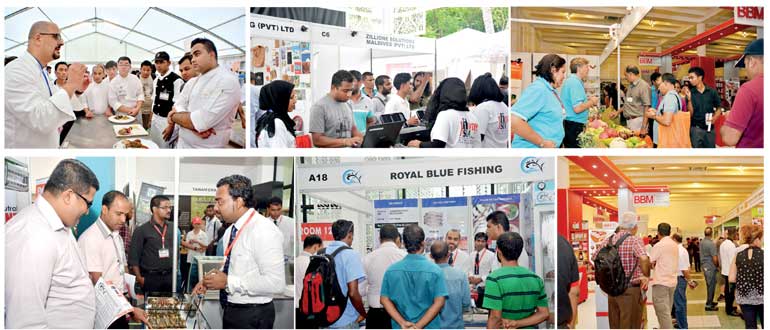 "The overriding purpose of the show is to cultivate healthy relationships between hospitality providers, suppliers and the community," explained Aasim Mukthar, CEO of MECS, the organisers of the event. "The only way to achieve any growth potential is through harmonious relationships. Hotel Asia is a platform for counterparts to speak to each other. It is a one-stop-shop for anyone in the hospitality field or potential entrants."

Describing the International Culinary Challenge, Mukthar added: "Having studied market developments, we decided to introduce many new competitions that will give contestants the opportunity to display personality, showmanship, technique and presentation skills. The Culinary Challenge competition recognises the pressure of the F&B and restaurant industry."

The competition will recognise contestants' skills in preparation of specialty dishes specifically looking at cooking techniques, use of ingredients and plating. The criteria is based on international standards and will select winners who represent some of the leading chain of hotels and resorts in Maldives. Category winners will represent their resort on the international stage as well.

"This year we will introduce a series of seminars and masterclasses in conjunction with Hotel Asia. It is a forum for general managers, owners of properties and aspiring chefs to exchange insight on several related topics, with a focus on improving the standards in hotels and resorts," he said in relation to another first by Hotel Asia. Hotel Asia is organised by Maldives Exhibition and Conference Services. The event is endorsed by Ministry of Tourism and Ministry of Economic Development and supported by the Maldives National Chamber of Commerce and Industry while Best Buy Maldives continues its support as the main sponsor of the event since its inception.