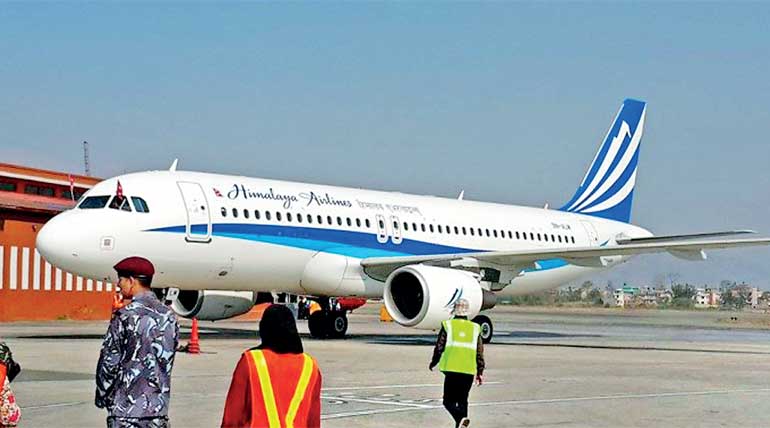 Himalaya Airlines, a Nepal-China Joint Venture Airline, has announced its second destination – Colombo - as the airline commences its passenger services on the Kathmandu-Colombo route with effect from 1 October 2016.

The airline will fly its A320-214 (configured with eight Business Class and 150 Economy Class seats) on the new route.

Operating as H9 673, Himalaya will fly every Tuesday and Saturday, departing from Tribhuwan International Airport, Kathmandu at 11:30 a.m. and arriving at the Bandaranaike International Airport in Colombo at 3:15 p.m. The return H9 674 departs Colombo at 4:15 p.m. and arrives in Kathmandu at 8:15 p.m. on the same day.


Himalaya Airlines Administration Vice President Vijay Shrestha said: "After an overwhelming response received from the previous two non-scheduled flights to Colombo, we found this route to hold great potential. We have observed passenger traffic data between the two countries over several years before arriving at this route decision. We are very pleased to be able to resume services to and from Colombo as it is an important market for the tourism promotion of both countries. Flying to this destination will definitely promote tourism between two nations along with generating new business opportunities."

The airline has appointed Classic Travel as its General Sales Agents (GSA). In representing the airline, Classic Travel will be responsible for the airline's sales and marketing, market development, reservations and ticketing services.

The airfare offered by the airlines starts from approximately Rs. 40,000 for one way travel and Rs. 68,570 for a round trip, inclusive of governmental taxes.

Himalaya Airlines, a full-service carrier established in August 2014, began its scheduled flight operation flying directly to Doha, Qatar from 31 May 2016. In addition to the opening of the Kathmandu-Colombo route, the Airline has planned regular flights to Delhi, Yangon, Dammam, Beijing, Lhasa, Chengdu, Bangkok, Hong Kong and Dubai.

The airline welcomed its first new aircraft an MSN 6626, an Airbus 320-214 on 9 March 2016. This aircraft carried Nepalese Prime Minister K.P. Oli, his wife Radhika Shakya and her delegation on an official visit to Beijing, China on 20 March 2016. The aircraft also flew to Colombo, offering a promotional package round trip on 12 April 2016 and 3 May 2016.

Over the next five years the airline aims to acquire 15 Airbus 320 family aircrafts and will operate from Kathmandu to various cities in Asia and beyond. The company will introduce the long haul wide body aircraft of the A330 family in due course for the operation of direct flights to Japan, Korea, Europe, Australia and America.