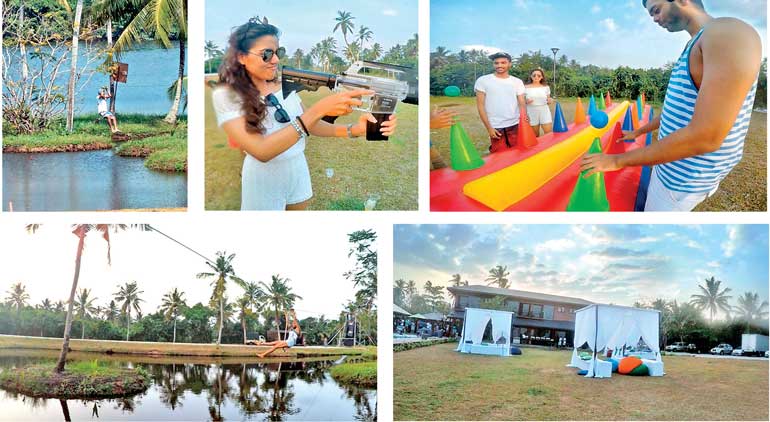 One of the latest hotspots for outdoor events Hamilton Deck recently held a spectacular event at the property. Hosted during the second week of March, the event was spread across the Hamilton Deck's 60,000 square foot garden which featured a 200 foot zip line that ran through the coconut trees and gave a bird's eye view of the surrounding waterways. A 40-foot double-lane 'slip n slide' and a 'mega vertical water slide' made for a splashing day in the hot sun.

Novelties like the 'large zorb ball' and 'BB gun target shooting' were also available along with other fun activities that every member of the family could enjoy. The atmosphere wouldn't have been complete without a few lounge tents decorated with sofas and beanbags to relax from all the fun in the sun. The Hamilton Deck's master mixologist provided everyone with innovative cocktails and shooters much to the delight of the adult guests.

Elaborate menus were put together by the innovative culinary department of the Hamilton Deck to tantalise everyone's taste buds. The lunch action stations included mini beef burgers, chicken and chili hot dogs, tortillas, French fries, and mini seafood pizzas. As the evening set in, the BBQ grills were rolled out serving juicy marinated chicken drumsticks, mutton kofta and Thai fish served in banana leaves. Dessert was definitely a sweet affair with assorted French pastries and warm chocolate mud cake to complete this delicious meal.

As one of Sri Lanka's latest and most sought after outdoor event venues, the Hamilton Deck can host over 2,000 pax at its outdoor venue and around 40 pax in its private restaurant. The venue comprises of its very own kitchen, a pool overlooking the Hamilton Lagoon, two water chalets and four standard rooms; the property is one of a kind with multiple functionalities. It is the ideal place for corporate events, parties, cocktails, training programs and weddings.

Hamilton Deck also has the capability to organise various activities at the request of its clients through their vast network of quality vendors for events held at the venue.

They also hope to introduce boat rides, jet skiing and fishing tours on the lagoon in the near future to give guests more options and value for money.

For more information and to make reservations please contact 011 789 1111 or visit www.reefsedge.lk/hamiltondeck.