The Ambassador of Sri Lanka to the Kingdom of Bahrain, Dr A. Saj U. Mendis, had a meeting with Gulf Air Chief Executive Officer Maher Salman Al Musallam, last week, to discuss the most efficacious courses of action as well as strategies to augment and to boost tourism in particular and other commercial, economic, investment and trade activities between the two countries. The Gulf Air, the flagship carrier of the Kingdom of Bahrain, operates five direct flights between Colombo and the Kingdom of Bahrain, thus complementing the flights of Sri Lankan Airlines as well.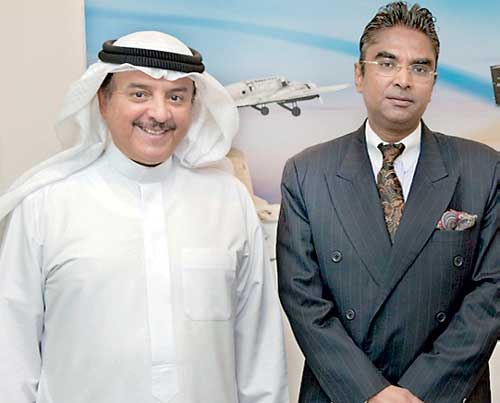 The Chief Executive Officer Al Musallam and Ambassador Dr. Mendis, during the meeting, discussed a myriad of issues ranging from tourism, economic activity including trade and investments, connectivity between and among nations, geo-political and geo-economic dynamics and developments and people to people contact, among others. It is of firm conviction of both the CEO and the Ambassador that the operation of Gulf Air to Sri Lanka would markedly enhance not only tourism from the Kingdom of Bahrain to Sri Lanka, but also other concomitant economic and investment activity, thus benefiting both the countries.

The Gulf Air has placed firm orders for state of the art aircraft and it currently operates 30 aircraft serving over 40 destinations around the world. In year 2015, the tourism from the Kingdom of Bahrain to Sri Lanka was merely 3,000 and last year, the tourism from Bahrain to Sri Lanka has risen to approximately over 10,000. It is strongly envisaged that this year the tourism to Sri Lanka from the Kingdom of Bahrain would reach nearly 16,000 to 18,000, particularly given the fact that Sri Lankan Airlines has almost daily direct flights as well as the direct flights of Gulf Air.

Al Musallam stated to Dr. Mendis that a large number of travel agents and tour operators as well as potential vacationers in Bahrain are keen to travel to Sri Lanka since it offers almost all touristic attractions of any given country. In addition, given the current political milieu and environment in the world, Sri Lanka is very stable and very safe for any foreigner or tourist to travel to almost any location in Sri Lanka.

Dr. Mendis punctuated the fact that a number of reputed international journals and magazines such as 'National Geographic' and 'Lonely Planet' have listed Sri Lanka as one of the most favoured and desired touristic destinations in the world.

Dr. Mendis also stated Al Musallam that Sri Lanka Tourism (SLT) is hoping to host a mega Road Show to promote tourism from the Kingdom of Bahrain to Sri Lanka in the foreseeable future. He also added that Sri Lanka received well over two million tourists last year and it is the third largest foreign exchange earner of the country behind the remittances of migrant workers and garment sector.