Marco Pierre White, the 'Godfather of modern cooking' and celebrated restauranteur, arrived at Cinnamon Grand last (18) afternoon and was given a warm welcome by the Cinnamon Grand team as he begins his 12-day tour in Sri Lanka.

He was greeted by Cinnamon Grand Resident Manager Chris Quyn, Executive Chef Dirk Heinen and Cinnamon Hotels and Resorts Head of Marketing Communications – City Hotels Tharika Goonathilake.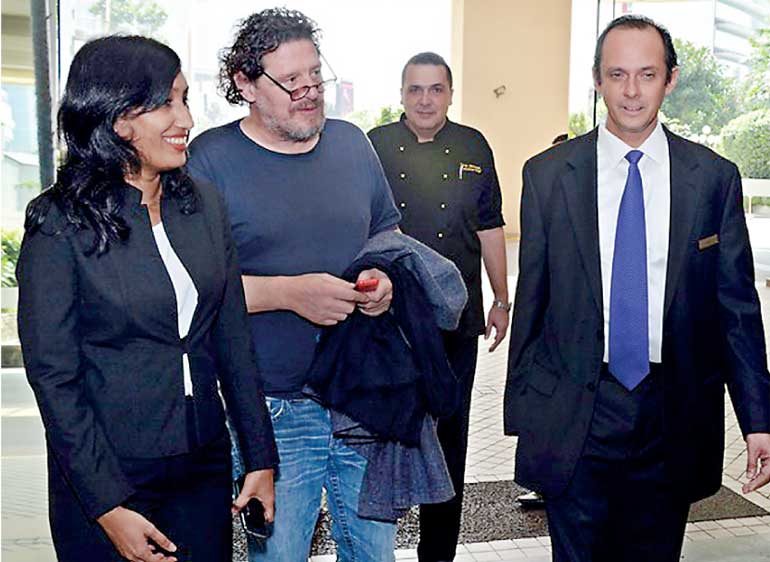 Hosted by Cinnamon Hotels and Resorts, Marco Pierre White will prepare a thematic British Gala Dinner Dance at the Oak Room this Friday, while also conducting the much-anticipated, four-hour long special Master Class on 30 January. The cook-off 'Cinnamon HSBC Marco Pierre White Challenge powered by Knorr' will be held at Cinnamon Lakeside, marking the end of the tour.

The internationally acclaimed British chef and Australian MasterChef Judge, Marco Pierre White is the youngest chef to be awarded three Michelin stars (at the age of 33) and was the Head Chef and joint owner of Harveys at 24. He has several restaurants in London, New York and in Ireland.