Paris (Reuters): France's tourism sector on Tuesday urged French authorities to set up a special police force in Paris to fight crime targeting tourists as safety fears curb the number of visitors to the French capital.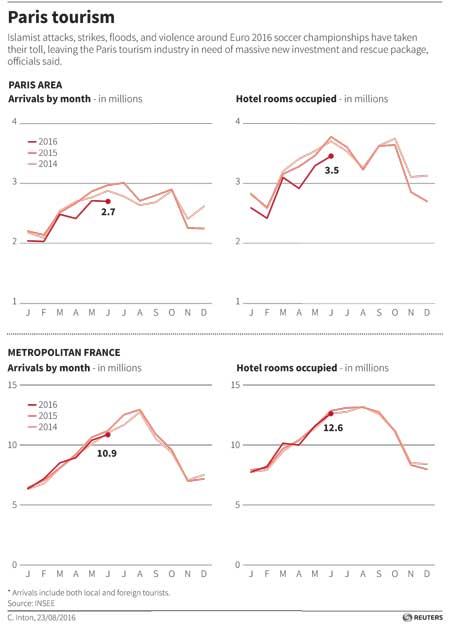 Foreign tourist arrivals to France could fall 4-5% this year following Islamic militant attacks and repeated robberies against Asian tourists, warned Alliance 46.2, a group representing firms that rely on foreign visitors.

Its members include department store chain Galeries Lafayette and holiday group Club Med and AccorHotels.

"The image of France has deeply deteriorated and it's likely that 2017 will still feel the impact. The recovery may therefore be long," it said.

An armed robbery against reality TV star Kim Kardashian on Monday only exacerbates the situation.

The decline in visitor figures, if confirmed, would be the steepest in 40 years and put up to 30,000 jobs at risk in the struggling French tourism sector, the statement said.

Foreign tourists have avoided France since Islamic State gunmen killed 130 people in an attack in Paris last November. In July, a gunman drove a truck into crowds celebrating Bastille Day on 14 July in the Riviera city of Nice, killing 86.

Repeated robberies against foreign tourists, notably Asian tourists, have also added to safety worries, Alliance 46.2 said.

The tourism sector represents 7-8% of France's gross domestic product and employs about 2 million people.

The French Government last month pledged more aid to the sector, bringing to 10 million euros its contribution to a campaign to promote the country abroad.

France is the most-visited country in the world, with almost 85 million foreign tourists last year. France is still targeting 100 million foreign tourists by 2020.