Fort Lauderdale in South Florida becomes Emirates' 11th destination in the USA on 15 December. The airline's office is Colombo is excited by the potential of this new destination for leisure and business travellers in Sri Lanka, says Emirates Area Manager for Sri Lanka and Maldives Chandana de Silva in this exclusive interview with Daily FT:
Q: Emirates commences flights to Fort Lauderdale on 15 December. How has the local market responded to this new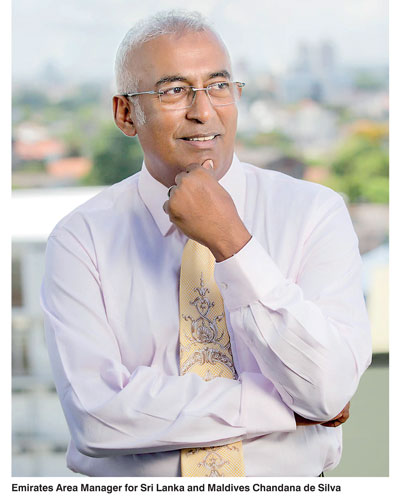 destination?

A: The response of the market has been most encouraging. There is a lot of local interest in any destination in the USA, but the South Florida area seems to generate even more excitement. In fact, we have significant numbers from Sri Lanka booked on the inaugural flight to Fort Lauderdale. We offered a very special inaugural fare in early November, and a special fare for advance booking in early December, both of which added to the excitement.

Q: What makes the destination special?

A: Fort Lauderdale is our 11th gateway in the USA, and the second in Florida after Orlando. Our Fort Lauderdale flight will also serve Miami and West Palm Beach. These are destinations that conjure up images not unlike Sri Lanka or the Caribbean – of sunshine, golden beaches, blue skies, gleaming yachts, pulsating music, and exotic dining, a place where cultures meet. Fort Lauderdale and Miami are two of America's most exciting destinations for leisure and business travel, and receive more than 25 million visitors a year. Fort Lauderdale is also a popular destination for the cruise industry. Broward County's Port Everglades, one of the top three busiest cruise ports in the world, welcomes more than four million annual visitors. But in addition to Fort Lauderdale's attraction as a destination, it is also a gateway to numerous other destinations in the US, Caribbean and Latin America through our codeshare partnership with JetBlue Airways. We can offer connection options to more than 26 destinations in the US and 19 destinations throughout the Caribbean and Latin America, including the Bahamas, Cancun and Havana.

There is also the benefit of having two Emirates gateways – Fort Lauderdale and Orlando – in close proximity to each other. This provides more options for travellers to make the most of their journey to Florida. Travellers to Fort Lauderdale can see several destinations in South Florida for leisure or business, visit local attractions and towns just a few hours north in Orange County and then fly back to Dubai direct from Orlando International Airport and onwards on an Emirates connecting flight.

Q: Is your focus principally the leisure traveller? Would Fort Lauderdale interest business travellers too?

A: South Florida is a destination for both leisure and business travellers. Miami, just a 30 minute drive from Fort Lauderdale, is one of one of the Western Hemisphere's financial capitals, and is home to the largest concentration of international banks in the USA. More than 1,100 multinational corporations have either their headquarters or regional offices in South Florida. These include AIG, Burger King, ExxonMobil, Kraft Foods, Sony, Visa and World Fuel Services. We believe there will be adequate interest in the destination among business travellers too.

Q: Do Emirates' flights to Fort Lauderdale offer good connecting times with flights from Colombo?

A: Yes, they do. Travellers to Fort Lauderdale from Colombo can connect with their onward flight in Dubai in less than four hours. Passengers from several destinations enjoy a similar connecting time to our Fort Lauderdale flights. These are Beirut, Doha, Riyadh, Cape Town, Johannesburg, Bangkok, Cebu, Singapore, Mumbai, Delhi, Chennai, Hyderabad and Karachi.

Q: How long is the flight to Fort Lauderdale?

A: The flying time from Dubai to Fort Lauderdale is 14 hours and 20 minutes. We will operate a daily flight – EK213 – that will depart Dubai at 3:30 a.m. local time and arrive in Fort Lauderdale-Hollywood International Airport at 10:55 a.m. The return flight EK214 will depart at 8:20 p.m. and arrive in Dubai at 7:40 p.m. the following day.

Q: Do Sri Lankan travellers generally enjoy long-haul flights?

A: It is difficult to generalise, as I think it depends on the individual. That said, the Emirates' in-flight experience really does take away the tedium of a long haul flight. On our Fort Lauderdale service for example, we will operate a Boeing 777-200LR aircraft in a three-class configuration, with eight First Class suites, 42 Business Class lie-flat beds and 216 Economy Class seats. Passengers in all classes will experience award-winning service and innovation, both on board and on the ground. All passengers will have access to our award-winning inflight entertainment system offering more than 2,500 channels of on-demand entertainment at every seat, gourmet regionally inspired dishes, complimentary wines, and dedicated children's menus and activities. Passengers will also experience our unmatched inflight service from a multilingual Cabin Crew representing over 135 nationalities and more than 60 languages.

Let's also not forget our dedicated lounge at the Bandaranaike International Airport and in Dubai for First and Business Class travellers, as well as the complimentary chauffeur drive service they are entitled to. With the commencement of the complimentary Emirates Chauffeur-drive service at the destination, customers travelling to Fort Lauderdale, Miami, Palm Beach and other South Florida cities will be able to reach their final destination in comfort and style.

Q: You said Fort Lauderdale is Emirates' 11th destination in the USA. Clearly, the US is important to the airline's growth?

A: It certainly is a huge market, and one that any global airline cannot ignore. We launched services to the USA in 2004 with our New York flight and have not looked back since. Over the past 12 years, we have carried 14 million passengers on US flights, at an average of more than a million a year. With the launch of flights to Fort Lauderdale, we will have 17 flights a day in to the USA. The 10 US gateways we currently serve from Dubai are Orlando, Chicago, Boston, San Francisco, Los Angeles, Seattle, Dallas, Houston, Washington and New York. We also operate a trans-Atlantic route between JFK and Milan and freighter services to Atlanta and Columbus. The US is an important market for SkyCargo too. We transport up to 650 tons of US exports each week, including auto parts from New York, apples and cherries from Seattle, and oil and gas equipment from Houston.

Q: How will the day-time closure of the Bandaranaike International Airport for four months from early January affect flights to the new destination?

A: Emirates currently operates five flights a day from Colombo to Dubai on six days of the week, and four flights a day on Wednesdays, making a total of 34 flights a week to Dubai. Even during the period of the day-time closure of the airport, we will operate four flights a day to Dubai, offering travellers from Colombo ample connections to our Fort Lauderdale flights.