findmyfare.com, Sri Lanka's largest online travel company is gearing up for a major expansion drive and is planning to raise Rs. 150 million to fund the company's continued growth in 2016.

The capital raised will be used to boost findmyfare.com's operations and will be invested in technological infrastructure, new offices and the development of the company's team. The expansion will help findmyfare.com to secure its position as a leader in the local travel industry.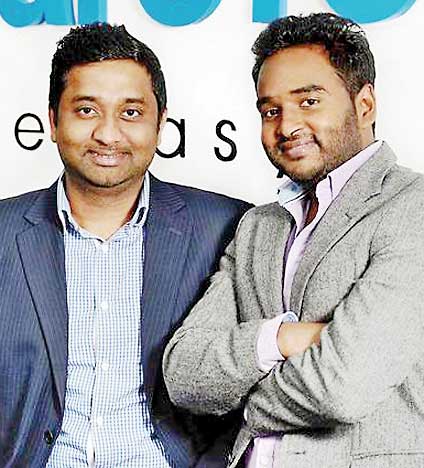 From 500 users a month to 10,000 users a day: From its humble beginnings in 2012, findmyfare.com has experienced exponential growth and immense success.

The company serves as a one-stop travel shop, offering its customers the very best deals available in the market-place on hotel stays across Sri Lanka and flights to destinations around the world. Initially only 500 users visited the findmyfare.com website each month and today over 10,000 users frequent the site each day.

Filling a unique void in the travel industry, findmyfare.com also provides a platform where customers and travel agents alike can search for deals, compare prices and seamlessly book their travel requirements online. Airline partners and hotel operators are also able to feature their deals and properties on the findmyfare.com website, which provides them with a valuable channel for driving online sales and selling inventory.

Headed by two dynamic entrepreneurs - Co-Founders Thushan Shanmugarajah and Abishek Sithampalam, findmyfare.com has managed to develop an extensive and loyal customer base as well as strategic partnerships with leading global airlines, local hotels and financial institutions such as Visa.

Commenting on the company's current success and way forward, Thushan Shanmugarajah, Co-Founder/ CEO of findmyfare.com stated, "Out of every 100,000 people who have plans to travel outside of Sri Lanka, approximately 50% will use findmyfare.com at some point to either compare prices, make bookings or to simply find deals and information online".

" We are immensely proud that we are able to service so many travellers and provide them a useful platform that aptly supports their travel needs. We have always focused on delivering functionality and transparency throughout all aspects of our operation and one of the key contributors to findmyfare.com's success is that we have been able to continuously evolve to meet our customers' needs," he said.

"Despite achieving significant revenue growth over the last few years, from 2016 onwards, we will be focusing heavily on expanding findmyfare.com's reach throughout the island, as we do not feel that we have tapped into the full potential of the local travel market yet. We will strengthen our 24/7 customer service operation and expand our local footprint by setting up regional offices in major cities such as Kandy and Galle. We also hope to diversify our product offering and we will provide our customers with complimentary services such as free visa consultations," Shanmugarajah added.

Having gained a solid reputation for offering the best deals on flights and hotels, findmyfare.com is now focusing on offering customers combined packages which include a discount on both a hotel stay and air fare.

Commenting on this and other plans in the pipeline, Thushan Shanmugarajah stated, "We recently launched an array of holiday packages on findmyfare.com which provide customers with a combined deal on their air travel and hotel stay. We are also working on a new product called 'Flight + Hotel' which enables customers to tailor-make their holiday package, by pairing the best flight option with the best hotel deal. Customers will be able to design their very own travel itinerary, get incredible deals and make their bookings, all within a matter of minutes. We hope that this kind of product diversification will also convince potential customers about how convenient and cost effective e-commerce and the process of making travel bookings online can be."

Meeting the needs of today's dynamic customer: To achieve its growth rate, findmyfare.com has had to apply a strong customer-centric approach that has placed its customers and their needs at the heart of the company's operations.

Commenting on how the company can adapt to the ever-changing needs of today's dynamic customer, Abishek Sithampalam, Co-Founder/ Director, findmyfare.com stated, "We've always focused on delivering the very best service to our customers. Often the cost of our operations is beyond the price of a ticket, but by ensuring that our customers enjoy a seamless service, we've been able to convert them into loyal customers who repeatedly make bookings. Whilst we will continue to apply this strategy, we are also keeping track of how customers and their requirements are changing. We have seen a significant increase in customers accessing our services using mobile devices. Compared to last year we've observed nearly a 100% increase in mobile traffic, so going forward we will keep our website features as mobile friendly as possible and ensure that we sustain this growth."

He further added, "We've also carefully analyzed what holds our customers back from making an online purchase and we've provided appropriate solutions to counter these deterrents. For instance, many customers plan trips well in advance due to the fact that it takes time for them to complete and process their visa applications. When they make a reservation, the airline will confirm seat availability but the fare may change. To encourage customers to confidently make their bookings online without the fear of prices changing, we introduced the 'Price Guarantee Service', which enables customers to pay a minimal fee of Rs. 500 per ticket and enjoy a fixed price on fares. In actuality, findmyfare.com takes a maximum liability of Rs. 100,000 per reservation in case there is a price change, so the customer doesn't have to bear the bulk of the cost."

Identifying key market trends: findmyfare.com has always been able to identify market trends in a timely manner and alter its offering in alignment with what customers want. The company recently extended its partnership with Visa, the world's leading global payments technology company and will continue to offer a special discount on travel to one key destination each month. For findmyfare.com, top selling destinations in 2015 have included Singapore, primarily due to there being no visa requirements and destinations such as Indonesia, Vietnam and the Philippines are becoming increasingly popular too. Looking ahead, the company will continue to identify and adapt to the latest trends, in order to effectively meet customer needs and preferences.

Building their people and their brand: findmyfare.com is known for providing employees with an avant-garde workplace, which is devoid of strict rules and hierarchies and truly gives them the freedom and space that they need to thrive. A dynamic team of passionate young professionals is currently the backbone of findmyfare.com's operations and each member's hard work, innovative thinking and dedication have helped the company to grow from strength to strength. The findmyfare.com team has already grown substantially over the last few years and as part of their expansion drive, Thushan and Abishek will focus on developing their current team whilst recruiting even more world-class professionals to support their journey of growth.

Thushan and Abishek have also made significant investments in building the findmyfare.com brand through an integrated communications strategy and plan that blends branding, with ongoing social media, customer engagement and PR initiatives. With the Rs. 150 million which findmyfare.com is set to raise in 2016, Thushan and Abishek are determined to leverage the strength of the brand that they have built and grow findmyfare.com into a dynamic force in the travel industry.