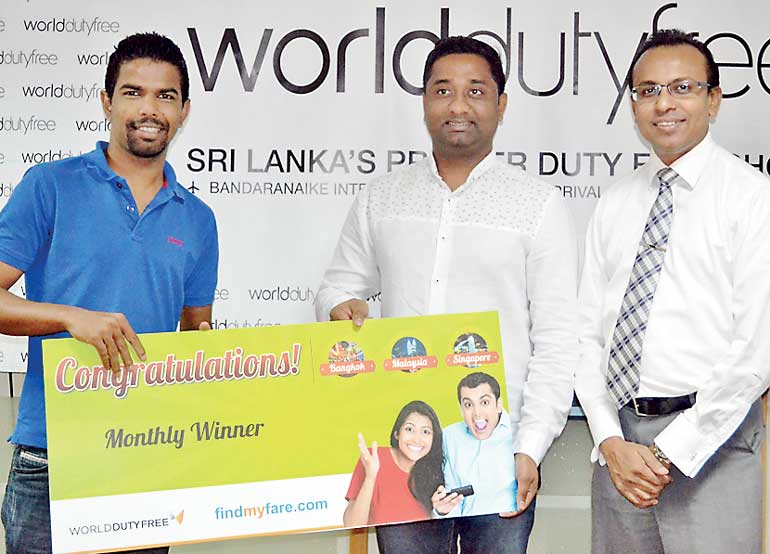 Winner of the promotion Shameera Dane Weerasinghe with Thushan Shanmugarajah, CEO and Co-Founder of Findmyfare.com and Chaminda Weeratunga, Head of Marketing – World Duty Free Lanka
Sri Lanka's largest online travel company, findmyfare.com recently partnered with World Duty Free (WDF), Sri Lanka's leading Duty Free retailer to provide all travellers who purchase their air tickets on the findmyfare.com website, with a 10% discount on World Duty Free's non-promotional products.

As part of the promotion, all of World Duty Free's walk-in customers in Sri Lanka can also participate in the lucky draw and stand the chance to win an array of prizes. For the month of July, Shameera Dane Weerasignhe was selected as the lucky winner of the draw and won two free air tickets to Singapore, along with a two-night luxury hotel stay.

Thushan Shanmugarajah, CEO and Co-Founder of findmyfare.com, along with Chaminda Weerathunga, Head of Marketing of the World Duty Free Group in Sri Lanka, presented the voucher to Shameera, the winner of the September draw, in the presence of management and staff members from both companies.

The promotion is part of findmyfare.com's efforts to ensure that its customers enjoy more benefits and added value when travelling with findmyfare.com and shopping at World Duty Free stores. To be eligible for the promotion, simply purchase your air tickets on the findmyfare.com website. The promotion is valid exclusively for non-promotional items at World Duty Free stores in Sri Lanka and will be running until 30 November.