Colombo Fort was lit up in brilliant shades last Thursday night as Fairway Holdings celebrated the grand opening of its brand new city hotel – the ZMAX Fairway Colombo. 15 September marked the completion of yet another milestone in the real estate giant's journey as it made its first entry into the hospitality industry of Sri Lanka.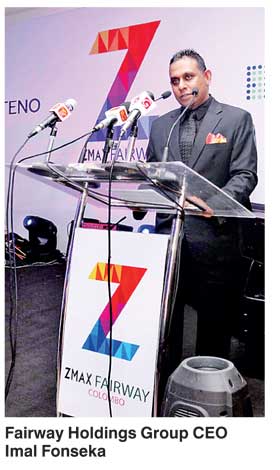 Present at the event as chief guest was Minister of Finance Ravi Karunanayake who in his speech promised that the Government would always support companies like Fairway Holdings that make a valuable contribution to the economy.
Other Government Ministers who graced the occasion were; Minister of Agriculture Duminda Dissanayake, Minister of Provincial Councils and Local Government Faizer Mustapha, Minister of Ports and Shipping Arjuna Ranatunga, Minister of Petroleum Resources Development Chandima Weerakkody, Deputy Minister of Foreign Affairs Harsha De Silva and Minister of Hill Country New Villages, Infrastructure and Community Development Palani Digambaran.


Prominent guests from the hospitality industry in Sri Lanka included Sri Lanka Tourism Development Authority Director-General Malraj Kiriella, John Keells Holdings Deputy Chairman Ajit Gunawardena, Jetwing Travels Managing Director Shiromal Cooray, Cinnamon Red General Manager Terrence Fernando, Maldives Resorts Sector Head and John Keells Group Executive Vice President Jayantissa Kehelpannala, George Steuart Travels Director CEO Channa Wijemanne and Aitken Spence Travels Vice President Prasanjit Perera.

The hosts for the evening were Fairway Holdings Chairman Hemaka de Alwis and other Board members.

The glittering evening's entertainment included captivating performances by the Channa-Upuli dance troupe, exciting fusion drumming by Jananath Warakagoda and cool jazz music performed by a group of musicians headed by Soundarie David.

"We at Fairway Holdings believe that Sri Lanka is uniquely positioned at this moment to take on a huge influx of foreign visitors and it is our belief that the country is no longer simply a seasonal destination for tourists from the West. Sri Lanka is now a full year-round destination for people from all over the world who come here for both leisure and business alike. So Sri Lanka is ready to take off and we want to be part of that journey, but we didn't want to create just another hotel. We identified a particular target group and their particular needs. So if you look at the whole design it is based mainly on what this target group looks for," stated Fairway Holdings Group CEO Imal Fonseka.

"ZMAX Fairway Colombo has been created mainly for guests – mainly business travellers – who value location, comfort, connectivity and privacy, all at an affordable price. Every aspect and detail of the hotel has been designed with this group of guests in mind."

Located in the very heart of Colombo's business district down Hospital Street, Fort, and managed by the Plateno Group – the world's fifth largest hotel management company – ZMAX Fairway Colombo offers a seamless blend of luxury and state-of-the-art technology, which it identifies as 'Smart Luxury'. The hotel's facade has a timeless elegance that is in perfect harmony with the surrounding buildings of the colonial era such as the Dutch Hospital and inside, an ultra-modern, minimalist style with abstract paintings by the famed Sri Lankan artist, Anoma Wijewardane.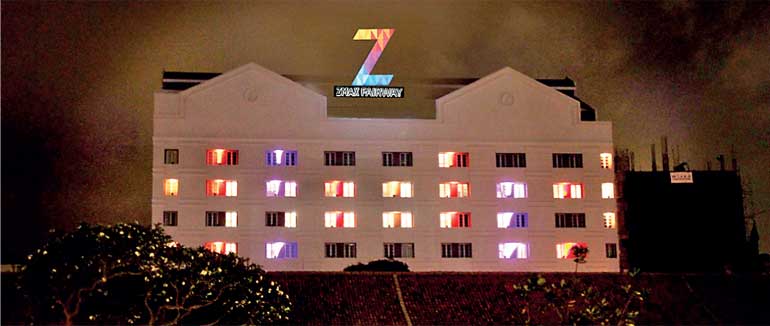 The hotel has a total of 181 comfortable rooms, ranging from single bedrooms to suites spacious enough to accommodate an entire family. Its amenities include a 24-hour food court – the City Food Arcade – providing a wide array of cuisines, a 24-hour gym and meeting rooms.

ZMAX Fairway Colombo provides its guests with high-end technological amenities and a much greater level of connectivity than usual with the intention of making their stay as comfortable and enjoyable as possible. Thus, guests, having accessed the elevators and their rooms through key cards, are greeted with personalised welcome screens in their room TVs offering an interactive customer experience and capability to handle communication with the front desk and other hotel staff electronically.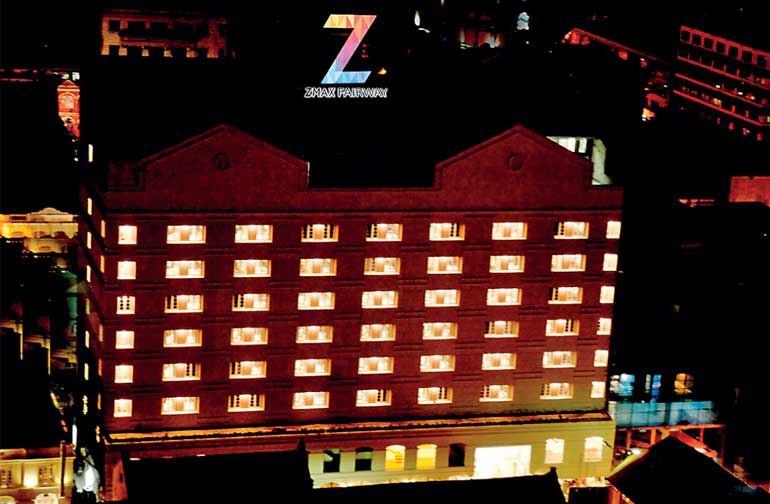 Sending messages, requesting housekeeping facilities, arranging taxis, exploring neighbourhood entertainment options, checking train schedules, ordering food from city restaurants, obtaining global and local weather forecasts and active news feeds, watching 22 local and international TV channels, and video on demand, playing games etc. are just some of the features available to guests through their room TVs.

The hotel has a paperless environment and uses advanced technology, including energy management systems and motion sensors, to promote the green initiative of energy saving.

Fairway Holdings has sought to take Sri Lankan hospitality to a whole new level of excellence and modernity through the ZMAX Fairway Colombo Hotel – the epitome of 'Smart Luxury'.