Airline launches 10th gateway to the US; first A380 aircraft to touch down at Orlando International Airport
Orlando one of the world's premier leisure destinations for families and a dynamic business centre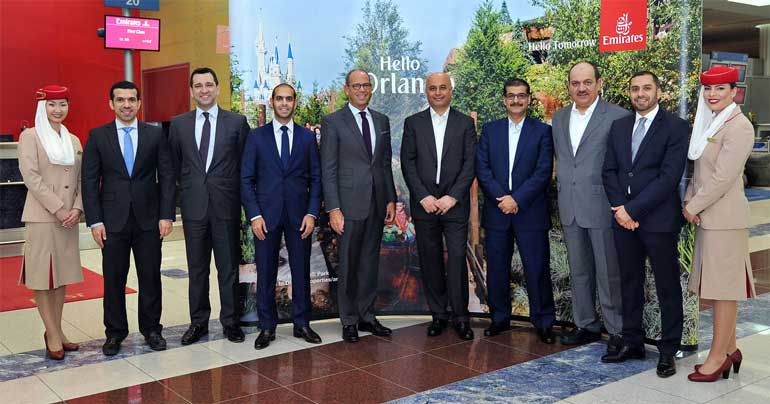 Emirates delegation at Dubai International Airport, from left: Dubai Land Department Senior Manager – International Relations Ammar Abdalla Yousif Al Hammadi, American Business Council Dubai President Ramsey Jurdi, Sharjah Investment and Development Authority Chief Executive Officer Marwan J. Al Sarkal, Emerging Markets Leadership Centre Founder Dr. Tommy Weir, Microsoft Gulf Region Regional General Manager Samer Ramez Abu-Ltaif, Emirates Executive Vice President and Chief Operations Officer Adel Al Redha, Dubai Municipality Corporate Support Sector Assistant Director General Mohamed Abdulkarim Julfar and Emirates Divisional Senior Vice President, Planning, Aeropolitical and Industry Affairs Adnan Kazim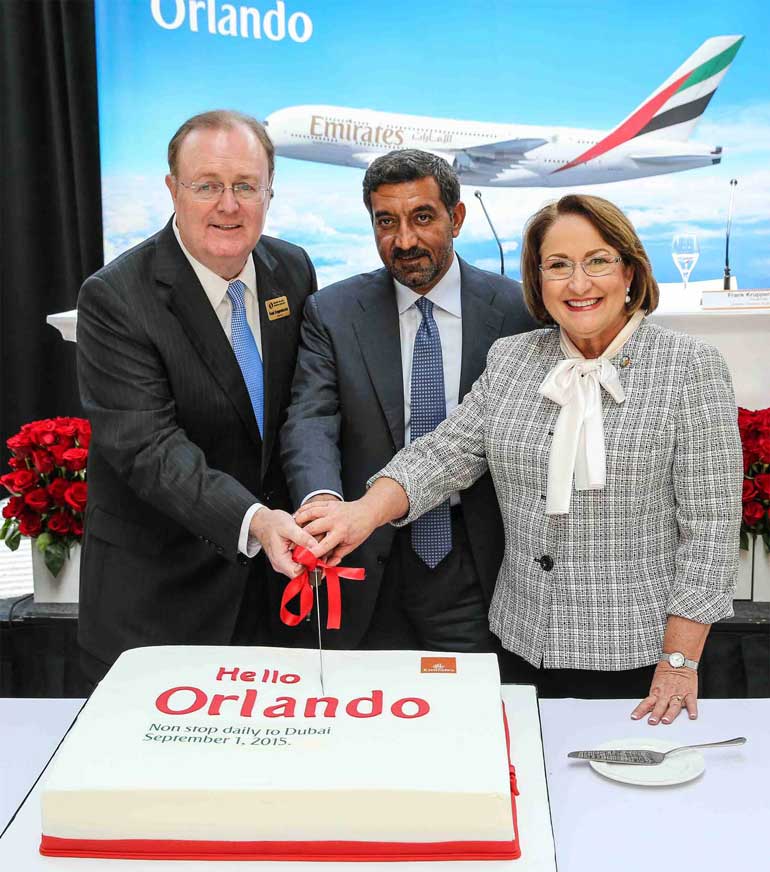 From left: Greater Orlando Aviation Authority Chairman Frank Kruppenbacher, Emirates Airline and Group Chairman and Chief Executive Sheikh Ahmed bin Saeed Al Maktoum and Orange County Mayor Teresa Jacobs take part in a cake-cutting ceremony to celebrate the launch of daily nonstop service between Orlando and Dubai Tuesday – Gary McCullough/AP Images for Emirates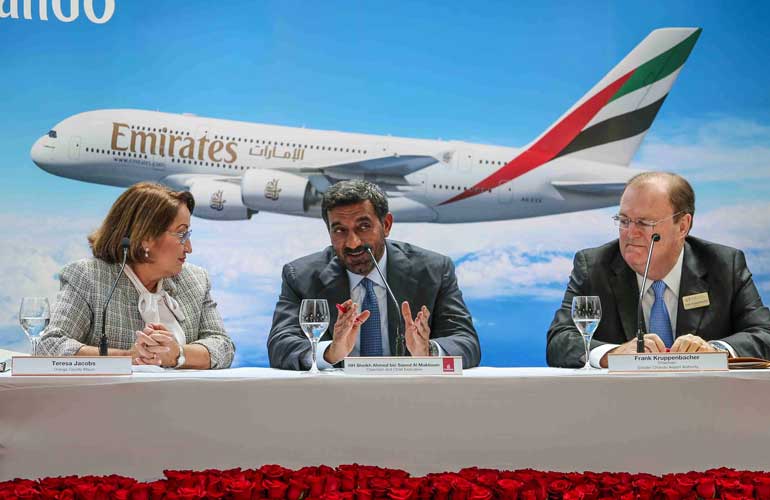 From left: Orange County Mayor Teresa Jacobs, Emirates Airline and Group Chairman and Chief Executive Sheikh Ahmed bin Saeed Al Maktoum, and Greater Orlando Aviation Authority Chairman Frank Kruppenbacher, host a press conference to celebrate the launch of daily nonstop service between Orlando and Dubai Tuesday – Gary McCullough/AP Images for Emirates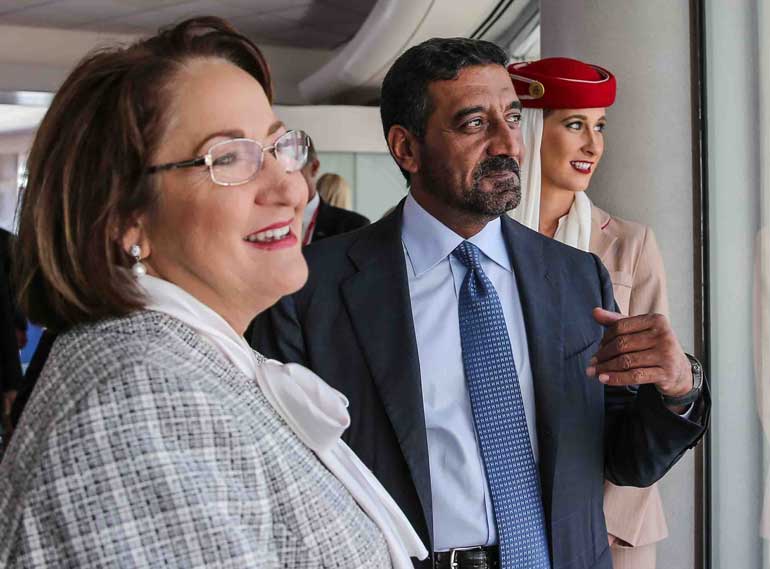 From left: Orange County Mayor Teresa Jacobs, Emirates Airline and Group Chairman and Chief Executive Sheikh Ahmed bin Saeed Al Maktoum, and Emirates cabin crew member observe the landing of the Emirates inaugural flight into Orlando International Airport Tuesday – Gary McCullough/AP Images for Emirates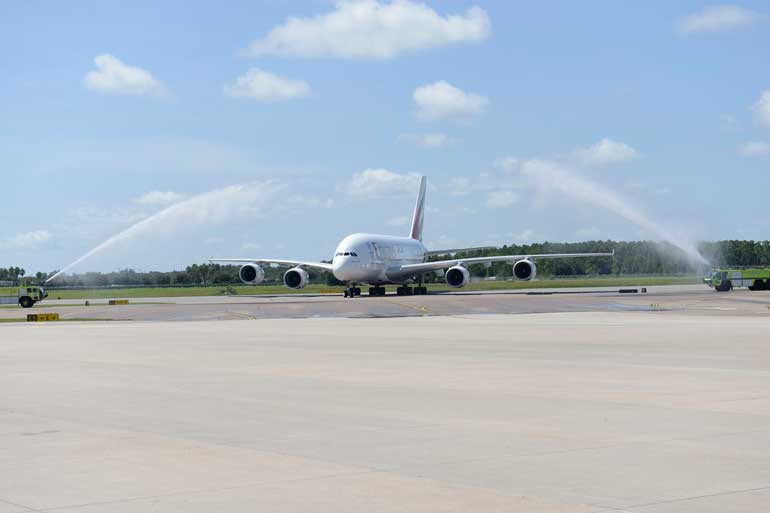 An Emirates A380 aircraft receives an honorary water cannon salute at Orlando International Airport to celebrate the launch of daily nonstop service between Orlando and Dubai Tuesday – Image courtesy of Greater Orlando Aviation Authority
​Emirates launched its 10th destination in the United States with the start of daily nonstop passenger service between Dubai and Orlando International Airport on 1 September. A VIP delegation and a contingent of international media including Daily FT were aboard the inaugural flight, which carried passengers from 29 different countries to Orlando.

"Our new daily service will enable Emirates to grow alongside Orlando, one of the world's premier leisure destinations and a dynamic business centre," said Sheikh Ahmed bin Saeed Al Maktoum, Chairman and Chief Executive of Emirates Airline and Group.

"The launch of this nonstop route will bring Emirates' unique product and award-winning service to passengers flying from Central Florida to our home in Dubai and beyond to more than 140 global destinations. Since 2004, Emirates has carried more than 11 million passengers on its U.S. flights and this new route will open up even more options for passengers travelling to Orlando. Additionally, the aircraft on this route has the capability to carry more than 17 tons of cargo in each direction every day, which will support Florida's export market."

"Florida is on a mission to become the global leader in job creation and we are excited about the new Emirates nonstop flight between Orlando and Dubai," said Florida Governor Rick Scott. "We welcomed more than 97 million visitors to our state last year and every 85 tourists creates another Florida job. We know our tourism industry helps grow our economy and that is why we are investing $145 million at the Orlando International Airport to expand the South Terminal Complex so we can continue to increase domestic and international air service, like the new Emirates flight."

"Emirates' nonstop service to Orlando opens a new world of opportunity for us to pursue tourism and business exchanges with the Middle East, Africa and Asia," said Orlando Mayor Buddy Dyer. "Business and leisure tourism is critical to Central Florida's economy and this new direct service will make it easier for travellers to get to and from Orlando, creating new jobs and opportunities for our residents."

Emirates' daily flight EK219, will depart Dubai at 3:50 a.m. local time and arrive in Orlando at 11:40 a.m., a flying time of 15 hours and 50 minutes. EK220 will depart Orlando International Airport Terminal B at 2:20 p.m. and arrive into Dubai International Terminal 3 at 12:30p.m. the following day, with a flying time of 14 hours and 10 minutes.

"Emirates is a premier airline and this is a significant new air service route for Orlando International as it opens the gateway to the Middle East, Asia, Africa and beyond," said Frank Kruppenbacher, Chairman of the Greater Orlando Aviation Authority. "The benefits of this new daily service will be measured both financially and culturally. The $100 million annual economic impact to Central Florida will be coupled with the potential to connect to diverse cultures of the world."


A first: One-off A380 service at Orlando International

On the special occasion of its Orlando launch, Emirates dispatched its flagship aircraft – an Airbus A380 – to celebrate the milestone and meet demand for the first flight. The inaugural Emirates flight was the first A380 aircraft to touch down at Orlando International Airport. The jet features two Shower Spas and the signature Onboard Lounge, which offers passengers a space for socialising and networking over fine wines, cocktails, hors d'oeuvres and delicacies prepared by five-star chefs.

Regular scheduled service on the Orlando route will be offered on the US-built Boeing 777-200 LR aircraft, which seats 266 passengers, including eight private First Class Suites, 42 Business Class lie-flat beds and 216 spacious Economy Class seats. Emirates operates a fleet of 143 Boeing 777's, the most of any airline in the world.

Emirates has historically increased its service capacity by up-gauging from Boeing 777 models to the A380 to meet strong consumer demand. In December 2014, Emirates commenced A380 service to Houston's George Bush Intercontinental Airport, which joined John F. Kennedy International Airport, Los Angeles Airport, San Francisco International Airport and Dallas/Fort Worth International Airport as U.S. destinations offering direct service to Dubai on the Emirates A380.


Connecting business and leisure destinations

Orlando is famous for its world-class theme parks, family entertainment and year round sunshine which bring in over 59 million visitors each year. It also has a strong business base with thriving industries in advanced technology, film and digital media production, aerospace and life sciences.

Emirates customers can also connect seamlessly onto many destinations in the US, the Caribbean and South America through the airline's codeshare partner JetBlue's regional hub in Orlando, which serves 24 cities including San Juan in Puerto Rico; Bogota, Colombia and Nassau, The Bahamas.

Emirates passengers can connect seamlessly from many destinations in the US, the Caribbean and South America through codeshare partner JetBlue's regional hub in Orlando, which serves 24 cities including San Juan, Puerto Rico; Bogota, Colombia; and Nassau, The Bahamas.


The Emirates difference

Emirates passengers in all cabin classes enjoy renowned service provided by a multilingual crew representing more than 130 nationalities, savour regionally inspired gourmet cuisine and immerse themselves in the award-winning in-flight entertainment system – ice Digital Widescreen – offering more than 2,000 channels of movies, TV programs, music, games and podcasts in a three-cabin configuration featuring 8 private First Class suites, 42 Business Class suites with lie-flat beds and 216 Economy Class seats.

First Class and Business Class passengers can also travel to and from the airport (up to a distance of 90 miles around Orlando International Airport) via Emirates complimentary Chauffeur-drive service.

Parents flying with children are well-attended with access to free strollers at Dubai International Airport, a choice of children's toys, specially prepared children's meals and dedicated children's channels on board to keep younger passengers entertained.


Explore more of the Americas with Emirates' Pass

Emirates passengers looking to explore beyond the airline's network of American destinations now have dozens of options with the Americas Pass.

With one combined ticket, travellers flying to any of Emirates' 10 U.S. destinations can connect to more than 90 cities across America, Canada and Latin America through Emirates' five partner airlines: Jet Blue, Alaska Airlines, Virgin America, WestJet Airlines and Porter Airlines.

For more information about Emirates and to book tickets, please visit www.emirates.com.


Emirates and the US

Founded in 1985, Emirates is a global connector of people, places and economies. Based in Dubai, the airline's global network serves 149 destinations in 81 countries across six continents. Its luxurious amenities, regionally inspired gourmet cuisine, award-winning in-flight entertainment system - ice, and unmatched hospitality provided by its iconic multilingual Cabin Crew have made Emirates one of the world's most recognized airline brands.

Emirates has carried more than 11 million passengers on US flights since launching services to New York in 2004. The airline currently serves 10 US gateways – Orlando (MCO), Chicago (ORD), Boston (BOS), San Francisco (SFO), Los Angeles (LAX), Seattle (SEA), Dallas (DFW), Houston (IAH), Washington (IAD) and New York (JFK), as well as operating a trans-Atlantic route between JFK and Milan and a freighter service to Atlanta. Emirates SkyCargo transports up to 650 tons of US exports each week – including auto parts from New York, apples and cherries from Seattle, and oil and gas equipment from Houston – stimulating trade and opening new markets for American businesses across the Middle East, Africa and Asia.