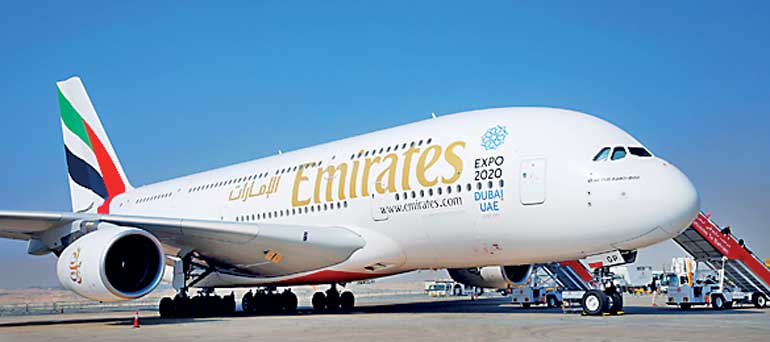 Emirates will operate a special one-off A380 service to Amman on 25 September, marking 30 years of commitment to Jordan. The airline's flagship double-decker, with the ability to carry over 500 passengers at a time, will make history when it becomes the first-ever scheduled A380 service to Queen Alia International Airport, and it will also be the first time the A380 commercially operates to the Levant.

On 25 September, the Emirates A380 service will operate EK 901 and EK 902, departing Dubai at 0725hrs and arriving in Amman at 0930hrs. The flight will then depart Amman at 1300hrs arriving in Dubai at 1700hrs on the same day.

This year is a milestone for Emirates as it celebrates 30 successful years of operations to Jordan. With the support of the Jordanian Authorities and Airport International Group, the deployment of the one-off Emirates A380 operation has been made possible through significant infrastructure upgrades to accommodate the aircraft. Since its introduction to the Emirates fleet in 2008, the A380 has proved tremendously popular with customers, and the upcoming service next month will give travellers the chance to experience this revolutionary aircraft and the best service in the sky.

Jordanian Minister of Transport, Engineer Yahya Kisbi said: "The decision to bring the Emirates A380 for a one-off flight to Amman is a testament to the competitiveness of Jordan's aviation infrastructure and strong transport sector. We thank Emirates for the long-standing partnership and look forward to welcoming the airline's flagship in Amman next month."

Emirates has been flying to Jordan since 1986, and since then has carried over 4.1 million passengers. In the last five years, Emirates has also transported 100,000 tonnes of cargo to and from the country. Emirates has developed its operations in Jordan by gradually increasing its services, and today operates three daily flights between Amman and Dubai.

Emirates also employs almost 400 Jordanian nationals across the organization, including 60 Cabin Crew. The airline also employs eleven Jordanian pilots, of which seven operate the A380.

The Emirates A380 flying to Amman will be set in a three-class configuration, with 429 generously pitched seats in Economy Class on the lower deck, 76 well-appointed flat-bed seats in Business Class and 14 First Class Private Suites on the upper deck. Once the A380 reaches cruising altitude, passengers in the First Class cabin can upon request enjoy one of two on-board Shower Spas before joining fellow premium class travellers in the On Board Lounge where they can socialise, network and enjoy complimentary beverages, canapés and other special delicacies at 40,000 feet.

Passengers in all classes can enjoy Emirates' multi award-winning 'ice' Digital Widescreen entertainment system, offering over 2,500 channels of on-demand entertainment available in 37 languages. The largest selection of programming in the sky includes TV shows, the latest films, games, podcasts and Live TV, including a robust selection of Arabic programming. Passengers can also enjoy free Wi-Fi on board all A380 flights.

Emirates currently has 81 A380s in service and 61 pending delivery, more than any other airline globally. More than 57 million passengers have travelled on the Emirates A380 since it was first launched in 2008, and the aircraft has visited more the 60 airports for special one-off and permanent services. The airline currently operates the A380 to over 40 global destinations and recently announced its deployment to Guangzhou from 1st October, which is a popular trading destination frequented by travellers from Jordan.