Emirates has resumed its full schedule of flights to and from Colombo from Friday, 7 April, by recommencing 13 flights that were cancelled during the three-month daytime closure of the Bandaranaike International Airport (BIA) for runway renovation.

The resumed services are Emirates' daily flight to Singapore and a fifth daily flight to Dubai, operating all days of the week except Wednesdays, the airline said.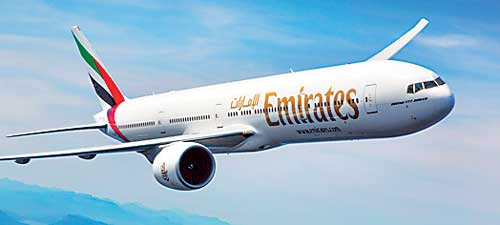 Commencing 7 April, Emirates flight EK348 from Dubai departs Colombo for Singapore at 15:05 Hours, arriving in Singapore at 21:35 Hours, offering a convenient connection to Emirates flight EK404 which departs Singapore at 22:40 Hours and arrives in Melbourne, Australia at 07:50 Hours the following day.

The return flight, EK349 departs Singapore at 00:50 Hours and arrives in Colombo at 01:55 Hours. It departs Colombo at 03:15 Hours and arrives in Dubai at 06:00 Hours.

"Emirates has always operated a high frequency schedule to Colombo, and it's great to be back to our normal schedule," said Chandana de Silva, the airline's Area Manager for Sri Lanka and Maldives. "The resumption of Colombo – Singapore flights in particular will be welcomed by regular travellers to Australia, because of the excellent connections from Singapore to our flights to Melbourne."

With the return to its full flight schedule to Sri Lanka, Emirates now operates a total of 41 flights a week from Colombo – 34 flights westward to Malé and Dubai and seven eastward to Singapore.

A global connector of people, places and economies, Emirates has deployed ultra-modern Boeing 777-300 ER aircraft on flights serving Colombo, offering passengers gourmet regional cuisine and the airline's award-winning ice entertainment system with 2,500 channels of movies, television programs, games, audio books, and music, as well as the famed hospitality of its multi-national Cabin Crew, which includes more than 160 Sri Lankans.

Travel with Emirates also earns passengers Skywards Miles on the airline's award-winning frequent flyer programme. Accrued Skywards Miles can be redeemed for free tickets, travel upgrades or other benefits.

Emirates commenced operations to Sri Lanka in April 1986 and now connects the country to an ever-expanding global network of destinations, now numbering 155.