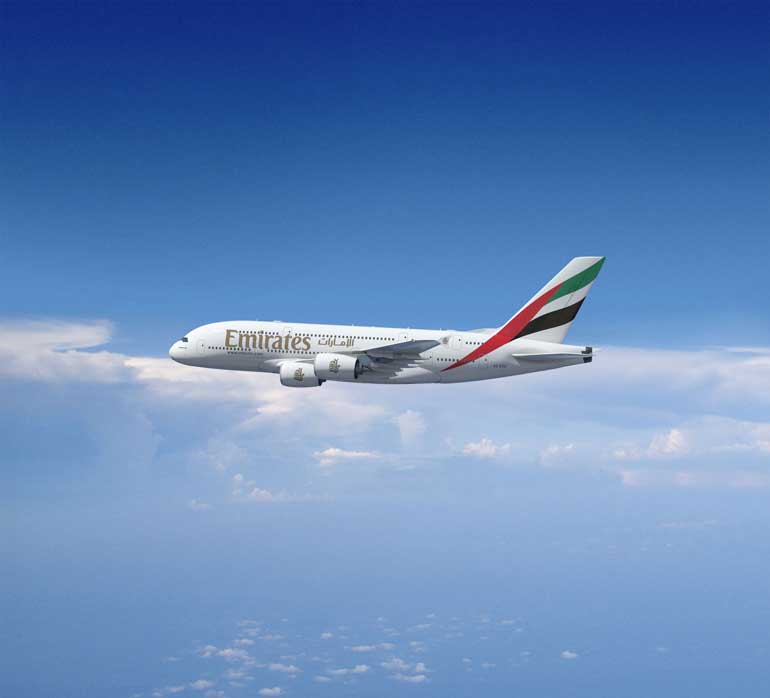 Emirates has announced that it plans to upgrade its Dubai (DXB)-Washington D.C. (IAD) service, with the introduction of its flagship Airbus A380 on the route beginning 1 February.

Replacing the existing Boeing 777-300ER used on this route, the A380 will serve the strong customer demand and restore route capacity following United Airlines' planned withdrawal from the Washington D.C. (IAD)-Dubai (DXB) route after 25 January.

The aircraft upgauge will also offer consumers travelling on the Washington, D.C. route the unique experience of Emirates' flagship A380 aircraft, and a seamless Emirates A380 experience to many connecting destinations on the airline's global network.

Sir Tim Clark, President Emirates Airline said: "Our service to Washington D.C. has been one of our most successful and profitable routes, with high demand across all cabin classes. Despite strong seat load factors, United has made the decision to withdraw from the route. The additional seats offered by our A380 will therefore restore capacity on the route, and ensure that American consumers and international travellers wishing to visit D.C. for business or leisure will continue to be served. We look forward to offering the award-winning Emirates A380 experience to our customers, and to continue contributing to the economic success of the city and its surrounding regions."

Timings for the daily inbound/outbound flights on the Dubai (DXB)-Washington, D.C (IAD) route will remain unchanged. As of 1 February, flight EK231 will continue to depart Dubai at 2:20 a.m. daily arriving in Washington, D.C at 8:15 a.m. Timings for the return flight, EK232 will also remain unchanged, departing Washington, D.C. at 10:15 a.m., arriving in Dubai at 8:00 a.m. the next day.

Supporting US jobs and economic output in Washington, D.C.

On 8 December 2015, Virginia Governor Terry McAuliffe announced an investment of US$ 50 million into Washington Dulles International Airport – a move designed to make the airport more competitive. This funding is expected to help support direct and indirect jobs and encourage other airlines to enhance their services. Emirates' current service and planned aircraft upgrade on its Dubai-Washington, D.C. route will help support this mandate.

With the launch of Emirates' direct service from Dubai to Washington, D.C. back in September 2012, Emirates helped contribute US$ 130 million in annual spending by visitors to the U.S., created 2,787 U.S. jobs, added US$ 113 million to U.S. employee earnings, and resulted in an annual total economic output of US$ 326 million to the Washington, D.C. area.

Combined, Emirates' current services to 10 U.S. cities help contribute US$ 1.9 billion in annual spending by visitors to the U.S., and support nearly 40,000 jobs.

All passengers on Emirates flights enjoy over 2,000 free channels of films, TV shows, music, games and podcasts through ice, the airline's multi-award winning in-flight entertainment system, free inflight Wi-Fi throughout all A380s, regionally inspired gourmet cuisine and Emirates' renowned inflight service from the airline's multi-national cabin crew comprised of over 135 nationalities.

What's more, First and Business Class passengers can travel to and from the airport via Emirates complimentary Chauffeur-drive service as well as enjoy Emirates exclusive lounge access in Dubai and at several locations around the world. Once on board the A380, passengers in premium class seating can relax in Emirates' flat-bed seats and enjoy Emirates' onboard lounge. First Class passengers can unwind in their very own Private Suite and prepare for their arrival in the Emirates A380 Shower Spa. Passengers travelling to Washington, D.C via Dubai from several destinations such as Mauritius, Bangkok, Hong Kong, Singapore, Sydney, and Melbourne can experience the entire journey on Emirates' award-winning A380 aircraft.

Furthermore, passengers on Emirates' global network of destinations can continue to enjoy seamless connections to and from the United States. Whether travelling from Addis Ababa, Johannesburg, or Nairobi in Africa, from Far East destinations such as Bangkok or Manila, or from several destinations in the Indian Sub continent, Emirates has short connection times in Dubai to take passengers onwards to Washington, D.C., and back home again.

Emirates passengers looking to explore even more of the Americas now have dozens of options with the Americas Pass.

With one combined ticket, travelers flying to any of Emirates' 10 U.S. destinations can connect to more than 90 cities across America, Canada and Latin America through Emirates' five partner airlines: Jet Blue, Alaska Airlines, Virgin America, WestJet Airlines and Porter Airlines.