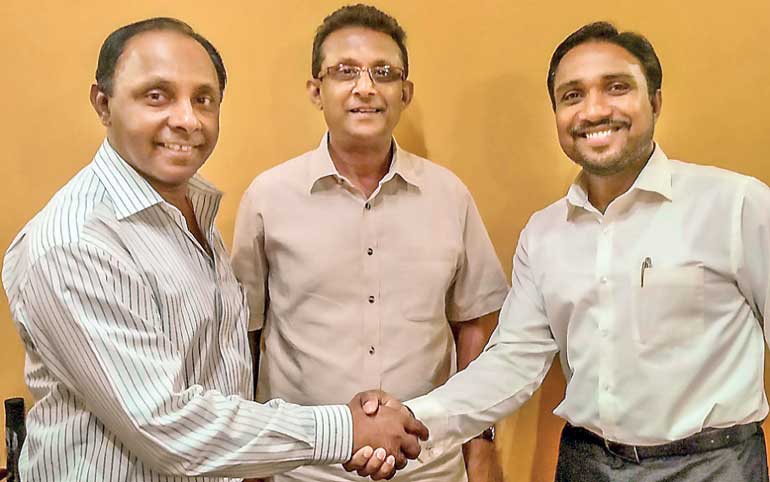 Newly-appointed NKAR Travels & Tours Chief Operating Officer and renowned Tourism Economist Dr. Damian Fernando (right) being welcomed by the outgoing COO Ravi Subramaniam whilst MD Nilmin Nananyakkara looks on
Renowned Tourism Economist Dr. Damian Fernando has been appointed as the new Chief Operating Officer of NKAR Travels & Tours Ltd. to lead its Inbound Department, replacing the former COO Ravi Subramaniam.

The 37-year-old organisation which prides itself as a leading tour operator in Sri Lanka offers over 125 direct opportunities of employment under one roof that also flanks the success of the 16-million-dollar business. NKAR is also an esteemed member of the Devagiri Group Ltd. which is a household name in plantation, manufacturing of tea and rubber as well as in hospitality.

Dr. Damian Fernando comes with 20 years of experience in the travel and tourism industry in both Sri Lanka and Australia. Initiating his career with Sri Lankan Airlines before heading NKAR's Inbound Department from 2002-05, Dr. Damian Fernando is also the former General Manager of DMS Universal Melbourne and has served as a Lecturer at Victoria University, Melbourne. Being a prominent researcher in the field of tourism, Dr. Damian Fernando has tabled numerous Tourism Research Papers in international tourism conferences and holds a PhD in Tourism Economics (Victoria University) as well as an MBA in Marketing (La Trobe University). He was also a Senior Lecturer/Program Director at NSBM Green University before beginning his second stint with NKAR.

The outgoing COO Ravi Subramaniam – a veteran personality – bids adieu with over 37 years of experience in the travel and tourism industry of Sri Lanka and was originally contracted to NKAR to enhance the service quality while organising and introducing effective management systems within the fast growing business of NKAR Travels & Tours Ltd. Before joining NKAR Ravi was the Chief Executive Officer of a travel outfit of a renowned blue chip conglomerate in Sri Lanka.

Following the appointment of the new COO, NKAR Managing Director Nilmin Nananyakkara said, "I am extremely happy to have Damian on board on this occasion at a much higher position, as NKAR is now on a full thrust expanding its market share and spreading the business across the world. It is ideal to position a COO with a solid marketing background," he said. Nilmin also very much appreciated the contribution of Ravi Subramaniam during the past few years, as NKAR needed to be structured in a pressurised operational layout whilst increasing the quality of service standards.