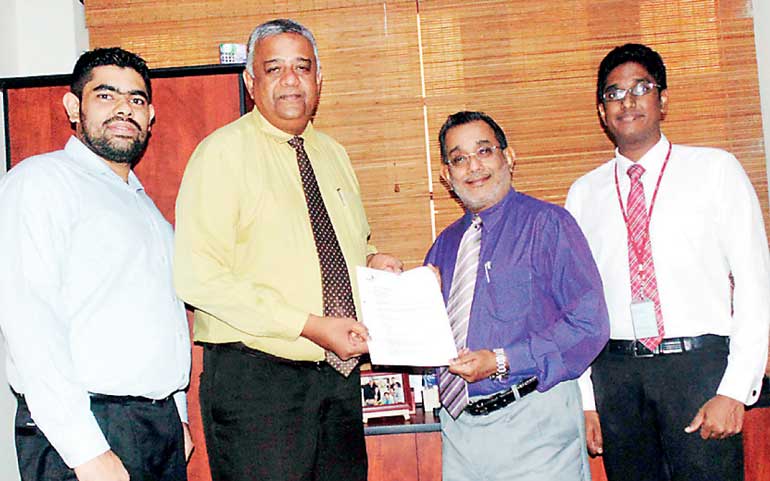 From left: Classic TravelManagement Accountant AmmarGaffoor, Classic TravelCEO Suresh Mendis,PwCCEO YudyKanagasabai and PwCSenior Manager – Technology Consulting Janindu De Silva
Leading Travel solutions provider, Classic Travel optimized its Business Continuity Plan (BCP) with PricewaterhouseCoopers (PwC) to safeguard the continuity of each component of its business and ensure maximum benefits to customers.

Classic Travel's BCP covers a fundamental aspects of its businessincluding Corporate Sales Divisions located at Classic Travel head office, Outbound travel, MICE Division, Frequent Individual Travel (FIT) Division, Ticketing, Quality Assurance, Marketing, Visa, Information Systems (IS), Call Centre, Human Resource, Finance, Research Development and Strategy Development.

Business continuity planning is defined as a holistic management approach that identifies potential impacts which can threaten an organisation and provides a framework for building resilience with the capability for an effective response that safeguards the interests of its key stakeholders, reputation in the market place and business sustenance even after a disaster.

Classic Travel's business continuity plan is designed to ensure that the business operations performed at Classic Travel Head office will be minimally affected by the occurrence of a disaster or any interruption affecting the Head Office site, and its employees.

"Classic Travel is renowned for raising the bar in the Sri Lankan travel industry arena. This is yet another example of our dedication to sustaining a resilient and a solid business plan to serve our customers better. With the initial guidance from PwC, our corporate BCP team works tirelessly to builda framework toenhance resilience for an effective response that safeguards the interests of our key stakeholders at all times," commented Classic TravelCEO Suresh Mendis.

Classic Travel's corporate BCP team has defined RPO (Recovery Point Objective) and RTO (Recovery Time Objective) to cover details of each function based on a thorough business impact analysis conducted across all departments.

Accordingly, the company is well prepared to manage business operations under adverse conditions, with the introduction of appropriate resilience strategies, recovery objectives, business continuity considerations and crisis management plans in place.

"At the moment we have a firm business continuity plan in place in case of an unexpected crisis. However, we are well aware of the need to constantly upgrade and adapt our BCP to our ever-changing needs and the business environment. We plan to constantly update, train employees and monitor our BCP to maximise results," saidClassic TravelBCP Coordinator AmmarGaffoor.