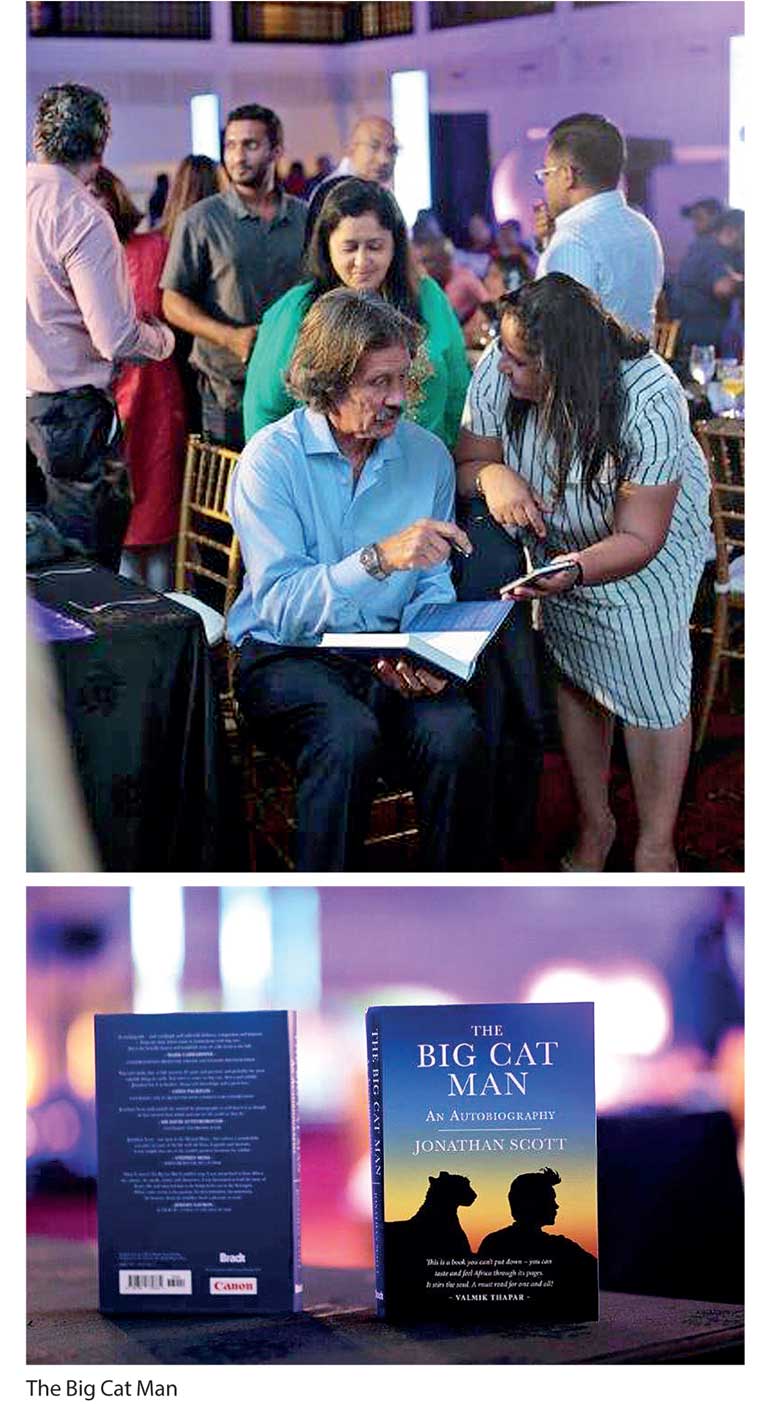 Cinnamon Life in association with HSBC premier hosted an exclusive evening with world-renowned wildlife photographers and authors, Jonathon and Angela Scott 'The Big Cat People', at The Atrium, Cinnamon Grand. The event was organised to bring together keen wildlife enthusiasts from across the country, to celebrate the launch of Jonathan's highly anticipated autobiography 'The Big Cat Man'.

Prior to the launch, the duo was exploring Wilpattu National Park, which is known for its abundance of flora and fauna and unique natural surroundings. The park harbours a variety of wildlife and is home to elephants, leopards, sloth bears, buffalos, spotted deer and many more species. Jonathon and Angela Scott have visited many of Sri Lanka's key areas of wilderness over the years, and remain passionate about highlighting the island's rich natural heritage.

Following their tour, Jonathon and Angela joined fans to officially launch 'The Big Cat Man', which has received a wave of positive reviews and has been described as a love story of one man's infatuation with Africa and adventures there. Jonathan's writing brings readers into the thrilling life he leads, exploring the world's most spectacular wilderness areas and learning more about their flora and fauna.

HSBC Premier customers who are avid nature lovers and wildlife enthusiasts had the opportunity to dine with these two renowned personalities and received a complimentary copy of the book 'The Big Cat Man', which they were able to get personally autographed by Jonathan Scott.

Jonathan Scott was born in London in 1949and has lived in Kenya since 1977. He holds a BSc (Hons.) degree in Zoology from the Queen's University of Belfast, Northern Ireland, and in 1987, he was selected as the overall winner in the highly prestigious Wildlife Photographer of the Year competition. Jonathan is also a renowned television personality who has presented numerous wildlife programs for leading global channels such as BBC and Animal Planet. Angela Scott, who was born in Alexandria, Egypt in 1953, spent her childhood in Dar es Salaam, Tanzania. In 2002, she also secured the Wildlife Photographer of the Year award, making Jonathan and Angela the only couple in the world to have bagged the awards as individuals.

Commenting on hosting the celebrity wildlife duo and celebrating the launch of Jonathan's autobiography, Cinnamon Hotel & Resorts Head of Eco Tourism Chitral Jayatilake said: "We are immensely pleased to have had the opportunity to host Jonathon and Angela Scott in Sri Lanka. We are delighted that Jonathon chose to launch his autobiography here, and we hope that they enjoyed their time exploring Wilpattu National Park. Jonathon and Angela's many adventures and learnings are truly inspirational and it was a great honour for us to delve into the incredible lives that they lead and learn more about their many journeys across the world. At Cinnamon, we strive to offer exclusive and memorable experiences that include wildlife and safari getaways and it was a privilege for us to host an evening, featuring two of the industry's most respected icons and professionals."

Cinnamon Life is an integrated resort developed by Sri Lanka's premier listed conglomerate, the John Keells Group. The project will consist of an 800-room luxury hotel that will operate under the Cinnamon brand and will be equipped with state-of-the-art entertainment facilities, apartments, retail spaces, a shopping mall, office spaces, and many other attractions. The iconic design by Cecil Balmond covers 4.5 million square feet and is envisioned to be the epicentre of modern South Asia.

Cinnamon Hotels & Resorts along with Nature Trails, a Cinnamon holiday experience, work with naturalists that have extensive years of experience in the field. Nature Trails is known to tailor excursions to meet the requirements of discerning travellers, ardent wildlife enthusiasts, corporate groups, as well as families, so that they can truly explore, discover and enjoy the island's rich biodiversity and natural heritage.