Team of the Quarter - 8 Degrees on the Lake Engineering Team with Cinnamon Lakeside General Manager Dermot Gale.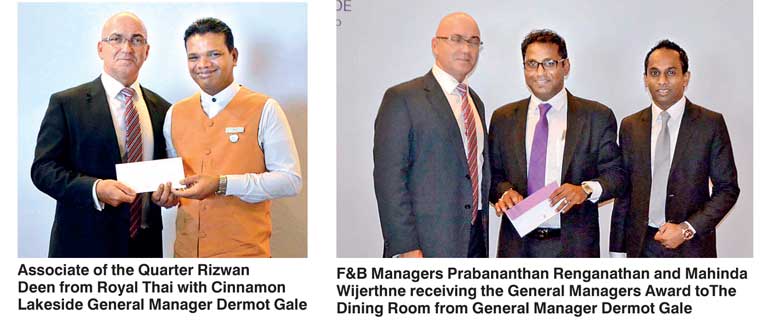 Premier five-star urban resort Cinnamon Lakeside held its first Quarterly Meeting for the financial year 2016/2017 on Wednesday 21 September at the Earls Court.

The meeting, attended by over 250 associates served as a platform for the hotel management to discuss the progress of the hotel and its future plans as well as to recognise and appreciate the dynamic members of the Lakeside family for their outstanding work.

Cinnamon Lakeside General Manager Dermot Gale speaking at the event commended the hard work of the associates.

Several associates were rewarded for their exemplary performance. Rizwan Deen from Royal Thai was awarded the acclaimed Associate of the Quarter award for his commitment to excellence in ensuring a smooth operation at the restaurant, while Team of the Quarter award went to the 8 Degrees on the Lake Engineering Team consisting of Shantha Jayawardena, Shantha Perera, Gunathilaka Bandara, Rathnasiri Dissanayake and Nimal Silva. They were praised for going the extra mile to provide assistance to the Banquets Operations team at all times.

There were also two General Manager's Special Awards given to The Link (associate cafeteria) team and The Dining Room team for their dedicated services. A Best Smile award was also presented and this was received by Anushka Bandara from F&B. 12 associates received Bravo awards for their dedicated service as well.