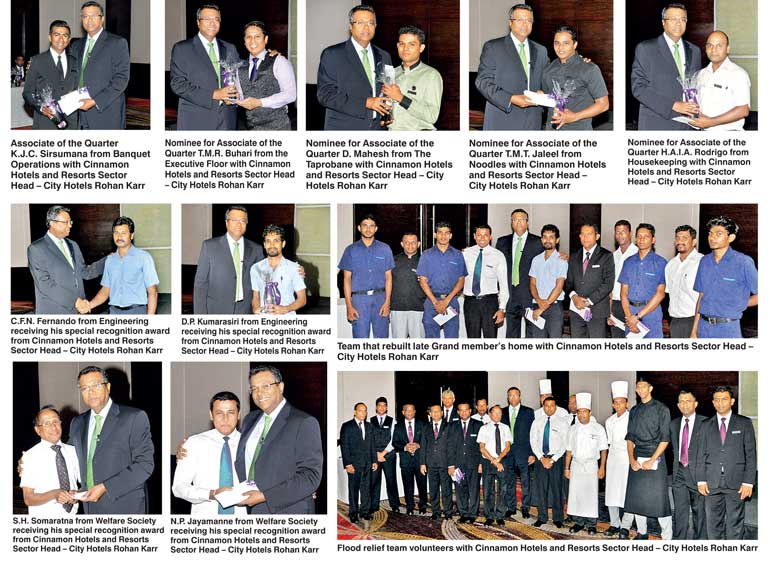 Sri Lanka's hospitality trendsetter, Cinnamon Grand held its Associates Quarterly Meeting for Quarter 1 on 25 August, recognising and rewarding their hardworking staff, the backbone of the hotel's success.

The meeting is held every quarter to share with the staff, the progress made by the hotel in terms of financial performance reward and recognise outstanding associates for their dedication, and assess future challenges. The meeting is also an interactive platform where team members are encouraged to share their thoughts and ideas. Over 500 associates attended the meeting held at the Oak Room.

Cinnamon Hotels and Resorts Sector Head – City Hotels Rohan Karr outlining the financial performance of the quarter and future expectations noted that those in the hospitality industry must think ahead and innovate accordingly to stay ahead of the game.

"This is a 'people' business. It is about people, caring for people. We must continue to ensure that our guests are well looked after and they take back the very best of memories. In ensuring that the benchmarks are continually raised through enhanced products and services, we will be able to create an enriched lifestyle experience."

Lauding exemplary performances, associates were acknowledged as nominees and winners of the coveted Associate of the Quarter award, with cash prizes, special dining vouchers, bottles of bubbly and a letter of appreciation from the General Manager to celebrate their achievement.

K.J.C. Sirsumana from Banquet Operations was unanimously voted as the Associate of the Quarter for his positive attitude at all times and going beyond what is expected to ensure that guests, his subordinates and superiors are well satisfied. Other nominees for this award were T.M.R. Buhari from the Executive Floor, D. Mahesh from The Taprobane, T.M.T. Jaleel from Noodles and H.A.I.A. Rodrigo from Housekeeping.

Special recognition awards were given to W.A.A.R. Weerasinghe from Security, C.F.N. Fernando and D.P. Kumarasiri from Engineering. Weerasinghe's attentiveness has assisted the hotel protect its property. Fernando was the man behind the conceptualisation and realisation of the beautiful and sustainable Vesak décor made out of used plastic cups. Kumarasiri was appreciated for his diligence and hard work, no matter the time or day whilst maintaining a cheerful attitude at all times. Pillars of strength, Welfare Society's S.H. Somaratna and his successor N.P. Jayamanne were also commended for their commitment and loyalty.

Under the hotel's CSR arm 'Spread a little sunshine', volunteers who braved the weather to assist those in need during the severe flood situation and those who travelled far to rebuild the house of a late team member were also recognised.

For more photos, follow the hotel on Facebook or check out #CGrandStaff on social media platforms.