Guangdong Tourism Cooperation and Promotion Centre set up in partnership with Aitken Spence
Partnership to promote Sri Lanka among affluent Chinese, private sector and public sector cooperation
China's richest province Guangdong yesterday partnered Sri Lanka to promote two-way tourism, a move that is likely to give a big boost especially to the post-war peaceful economy.

Formerly Canton, the Guangdong Province GDP is estimated at $ 1 trillion which makes it the richest in giant China as well as the 13th biggest economy in the world. In terms of tourism, foreign exchange earned was a staggering $ 16.5 billion, the most by a Chinese province. Its economic vibrancy as a trade and business hub is adorned by a wide range of tourist sites including the longest coastal stretch in China.

A high-powered delegation from the Guangdong including Provincial Tourism Association and members as well as Senior Advisor to Guangdong Province Government are in town to woo Sri Lankan tourists as well as promote Sri Lanka among the Chinese.

The Guangdong Tourism Cooperation and Promotion Centre was established yesterday in partnership with Aitken Spence, with an office at Vauxhall Street.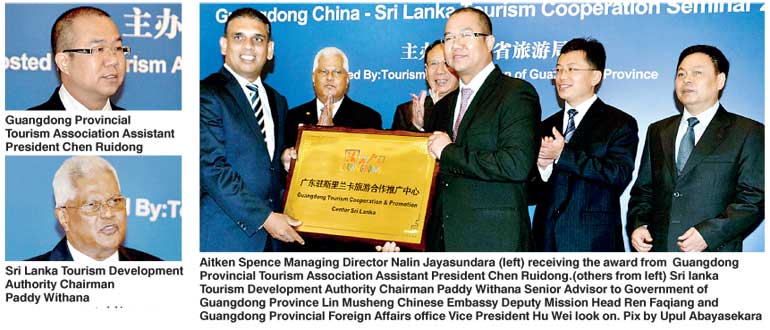 The partners held a Guangdong China-Sri Lanka Tourism promotion seminar yesterday for the benefit of the travel trade. It featured a presentation of Guangdong tourism and collaboration between Sri Lanka as well as information on transit visa exemptions.

The Chief Guest was Sri Lanka Tourism Development Authority Chairman Paddy Withana whilst Chinese Embassy Deputy Mission Head Ren Faqiang was also present. Guangdong was represented by Senior Advisor to Government of Guangdong Province Lin Musheng and Guangdong Provincial Tourism Association Assistant President Chen Ruidong.

The Guangdong Tourism Cooperation and Promotion Centre in Sri Lanka will create various exchange platforms and conduct diverse joint promotions, thereby attracting more tourists to travel in Guangdong and Sri Lanka. Greater private sector role will be promoted in addition to enhancing cooperation via public sector tourism administration authorities.

The partnership will explore and jointly develop tourism resources and fine tourism routes.

"We will also exchange tourism information and administration experience, improve the ability to dispose of tourism safety and emergencies collaboratively, and promote the common prosperity of the two sides," Guangdong Provincial Tourism Association Assistant President Chen Ruidong said.

At the event it was emphasised that Guangdong and Sri Lanka have carried out cultural, economic, trade and staff exchanges as important nodes on the ancient Maritime Silk Road. In recent years, with the constant development of China-Sri Lanka relations, especially the gradual implementation of the strategy of 'Constructing the 21st Century Maritime Silk Road,' ties have grown stronger and potential for cooperation and mutual benefit have become greater.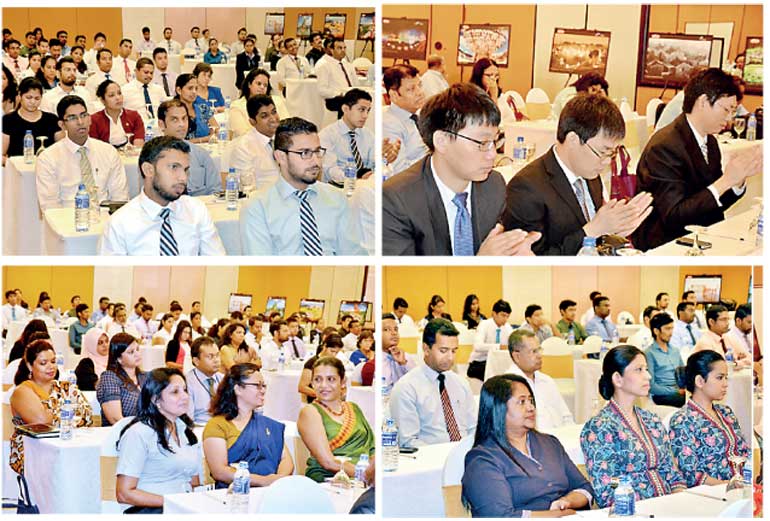 Guangdong Provincial Tourism Association Assistant President Chen Ruidong said Guangdong is rich in tourism resources with the destination focusing on four tourism brands – Lingnan Culture which is unique for Guandong within China, Business Capital, Golden Coast and Food Paradise. The province annually draws over eight million tourists. Given its economic muscle, outbound market of Guangdong is also the biggest out of China.

Withana said China is the biggest potential for Sri Lanka since its outbound market is over 120 million. According to him arrivals from China last year rose by 136% to 128,000 and the target is to achieve 200,000 Chinese tourists by 2016. He said at present Sri Lanka-China destinations are serviced by 16 flights per week and there was scope for an increase in tandem with future growth and potential.

The visiting delegation included Chairmen of the Guangdong Travel Services Association and the Dongguan Travel Services Association, as well as heads of competitive tourism enterprises in Guangdong and the country such as GZL, China Youth Travel Service Guangdong and Dongguan Comfort Travel.