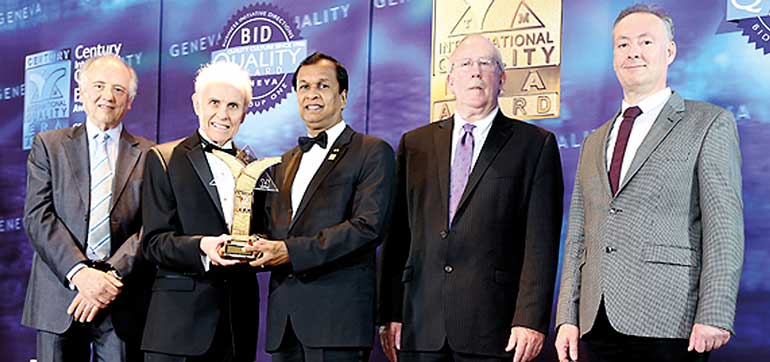 S.W.R.D. Bandaranaike National Memorial Foundation (BMICH) won the Century International Quality ERA Award in the Gold category in Geneva in the presence of leaders and representatives from 70 countries at the Century International Quality ERA Convention. The prestigious award is presented in recognition of business excellence and innovation. From left: BID Scientific Director Prof. Dr. Alfonso C. Casal, BID President and CEO Jose E. Prieto, S.W.R.D. Bandaranaike National Memorial Foundation (BMICH) Director and CEO Sunil Dissanayake, President of the Quality Mix Norman Ingle and Devin Savage (MEP)
Geneva hosted this year's BID Century International Quality ERA Convention, where professionals and business leaders from around the world gathered to recognise excellence and success. In particular, the convention celebrated quality in business and operations. Award winners demonstrated commitment to quality standard, which helps bolster customer satisfaction and cost efficiency across all areas of operation.

Among this year's winners, S.W.R.D. Bandaranaike National Memorial Foundation (BMICH), from Sri Lanka, received the Century International Quality ERA Award in the Gold Category at the BID Quality Convention in Geneva. The organisation has made huge strides this year as a leader not only within its sector, but also in Sri Lanka. The award came as an ideal way to celebrate this past year's successes while looking forward to putting quality first in the year to come.

Geneva is a financial global centre and the worldwide headquarters for diplomacy thanks to numerous international organisations that call Geneva home, including the largest United Nations Headquarters in Europe, the Red Cross, and other major financial institutions and multinational companies.

Sunil Dissanayake stood before the gathering of international leaders, sharing the company's achievements to date as well as its future ambitions and goals. Despite the difficult current global economic climate, S.W.R.D. Bandaranaike National Memorial Foundation (BMICH) strives to excel in quality each day, creating a competitive advantage in its industry. For this reason, S.W.R.D. Bandaranaike National Memorial Foundation won the 2016 BID Century International Quality ERA Award in Geneva. The award is presented by BID to those companies and organisations from around the world that best adhere to excellence and innovation in their practices, putting quality first at all levels of organisation.

Leaders awarded by BID are united by their commitment to quality in their respective sectors. This year, winning organisations include:

Aerium – Cefic Turkey, from Turkey. Operating in Europe since 1986 and in Turkey since 1994, Cefic is active as a consulting firm supporting its clients in investment, development, leasing, property and facility management as well as marketing and promotion of shopping centres and commercial properties. With 1,500,000 square metres under management, it has 20 years of proven success in Turkey and over 28 years in Europe.

Mergevan LLC, from Mongolia. Leading company established as a joint venture with Rosneft between Mongolia and Russia, and specialised in loading and unloading of oil and in providing high quality fuel to jet fuel depots for civil aviation with a total capacity of jet fuel storage of 6,000 m3. Rosneft is an integrated oil company whose majority owner is the Government of Russia. Rosneft is headquartered in the Moscow district near the Kremlin, near the Moskva River. Breast Care International, from Ghana. Breast Care International Ghana (BCI) was conceived and formed in October 2002. BCI is a non-governmental organisation dedicated to the establishment of breast cancer awareness centres throughout the country, to create breast cancer awareness among Ghanaian women, especially the rural women since they form the majority, educate them of the existence of breast cancer, undertake screening exercises, diagnosis, counselling, treatment, rehabilitation as well as research into the various breast pathologies especially breast cancer in Ghana.

Canal Mooring & Lights Company, from Egypt. It is one of the companies affiliated to the Suez Canal Authority. It is a pioneer in the mooring/unmooring of ships that transit the Suez Canal, as well as vessels that call on different Egyptian ports, (Port Said, Suez, Sharmel Sheikh and Nuwaiba). The company provides northbound and southbound vessels that transit the Suez Canal with the search lights required for their trips.

The companies honoured in Geneva were recognised not only for their entrepreneurial achievements, but also for their dedication to continuous improvement and innovation. Seeking to increase customer satisfaction and optimise efficiency, these companies promote an organisational culture of engagement and a proactive approach to improving processes.

All of the winning companies in Geneva have expressed their commitment to the QC100 TQM Model, which serves as an excellent example for other organisations in today's rapidly changing business environment. By making customer satisfaction the highest measure of quality, BID award winners set the benchmark in their respective sectors and contribute to the social and economic development of their countries, paving the way for world-changing initiatives. A key example can be seen through S.W.R.D. Bandaranaike National Memorial Foundation (BMICH), whose spirit of innovation and positive growth has overcome and indeed thrived in the challenging current global economic climate.

An ongoing commitment to Quality, one of the core requirements for receiving a BID Award, can be witnessed through the distinguished companies previously honoured with a BID Quality Award. Companies which already share BID's corporate seal are present in more than 170 countries and include world-renowned names on the Fortune Global 500 list such as: Operadora VIPS, of Wal-Mart Stores (1) Indian Oil Corporation Ltd. (96); and Beijing COFCO Plaza Development (401).

Other previous BID winners worthy of mention include Turner Construction (USA); Haki (Sweden); Ansaldo Energy (Italy); Zepter (Austria); RAO-Unified Energy Systems (Russia); Als& Cachou-TBWA (France); Tata Group (India); Plamex-Plantronics (USA); Dogus Holding A.S. (Tukey); Franklin Electric (USA and Mexico); QMS International from the United Kingdom, FSUE VO "Safety" (Russia); and Viking Line (Finland).