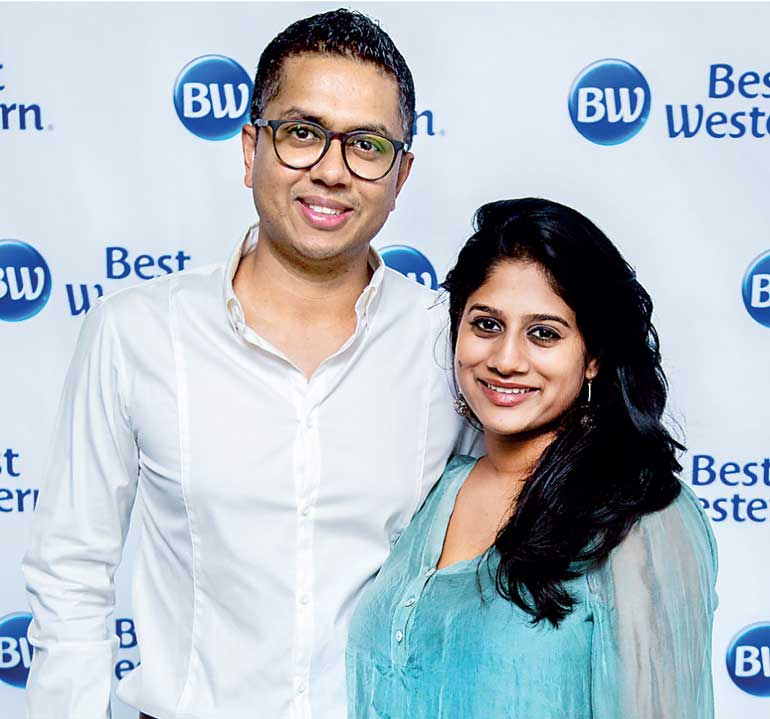 Elyon Hotels Chairman Presantha Jayamaha and wife
Best Western Elyon Colombo, Sri Lanka's first Best Western Hotel which is part of the globally acclaimed Best Western hotel chain, recently celebrated its second anniversary with an enchanting evening of fellowship for its valued guests and patrons.

Best Western Elyon Colombo, located in the city's picturesque suburbs, has set a new benchmark for comfort and style, showcasing 59 tastefully designed contemporary rooms, a range of modern facilities, including a stunning rooftop bar, the hotel has carved a distinctive niche in Sri Lanka's luxury hospitality offerings.

Since opening its doors in 2014, the hotel has quickly gained praise for its stylish design, extensive range of services and convenient location, all available at extremely competitive rates that have proven popular with business and leisure travellers alike.

The hotel has steadily built a reputation for offering some of the most comprehensive facilities, amenities and service in the lean luxury category. From room-service to deluxe bath amenities, Best Western is known around the world as the ideal choice for leisure or business travellers seeking enhanced style and comfort at a reasonable price point.

Commenting on the milestone, Elyon Hotels Chairman Presantha Jayamaha said: "It is our great pleasure to celebrate two successful years and we are immensely proud of our achievements to date. We have grown to epitomise the Best Western brand in service excellence. We will continue to provide the highest levels of personalised service as we constantly seek ways to further improve guest satisfaction."

In the past two years the hotel has excelled in guest service, winning numerous awards including those from Booking.com; Award of Excellence in 2014, Trip Advisor; Traveller's Choice 2015/Certificate of Excellence in 2016, and Agoda; Best Partnership Gold Circle Award in 2016.

"We are extremely proud of our accomplishments in the second year, as it recognises our commitment to excellence and our achievement in offering exceptional and thoughtful service as a team," stated General Manager Roshan Adhihetty,.

"Since 2014 we have constantly strived to deliver a high quality service experience that exceeds customer expectations among all our guests," he added.

Best Western Elyon Colombo is introducing its tantalising new menus and fabulous cocktail concoctions created by the hotel's own F&B department. This will provide its guests with a unique experience in dining while enjoying a perfectly enchanting ambience at the rooftop bar.

Best Western International is 'The World's Largest Hotel Chain®', comprising more than 4,000 independently-owned and operated hotels in 100 countries and territories worldwide.

Offering three distinct brand levels - midscale Best Western, upscale Best Western Plus and luxury Best Western Premier - the company is able to cater for the needs of any business or leisure traveller.

Best Western first launched in Asia and the Middle East in 2001 and now covers 27 countries in the region. For hotel owners, Best Western offers a broad range of operational support, including sales, marketing and distribution, with online, mobile and social media booking capabilities. The award-winning Best Western Rewards® guest loyalty program also has 15 million members.