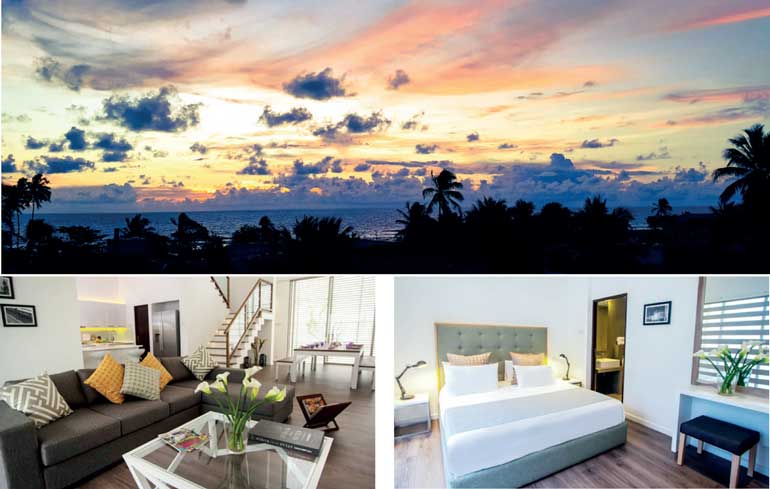 In Colombo by the sea, in quiet luxury, sits Alexandra Villas, gaining a buzz for its many unique features. Situated in a prime location, these six villas of four bedrooms each come fully furnished with modern amenities in elegant design.

They are reasonably priced (starting from $60 for a junior room, $65 for a Captain Room, $75 for a Master and $200 for the entire villa) and available for short or long term rentals and for business or pleasure. Boasting impeccable service 24 hours, AV15 is a breath of fresh air to Colombo city's offerings.

The complex is conveniently located in Alexandra Place, between Galle Road, which is the most central street in Colombo, and Marine Drive, that runs by the Indian Ocean. It is a perfect place to access Colombo's financial and business districts, along with premium shopping centres, popular restaurants, vibrant nightlife and much more.

You can book either a room or an entire villa. Each villa features a fully equipped kitchen, A/C, wide screen TV, and roof top entertainment area with Wi-Fi. Each bedroom is fully furnished and beautifully designed in contemporary aesthetics and comfort. AV15 is fully staffed with 24-hour security, housekeeping and concierge service.

The goal of the establishment is to leave guests wanting for nothing and fully relaxed in their stay. AV15 routinely hosts private gatherings for guests, with customised options of delicious food, drinks and décor. Flexible accommodation and impeccable service is something AV 15 strives for.

Since Alexandra Villas opened its doors a few months ago, it has catered to corporate travellers, families, couples and singles. The location, space, amenities and price have led many to choose these serviced villas over hotels. At AV15 you have none of the daily intrusions of a hotel. You are free to cook your own meals, order a take-out or go out to dine. But unlike at home you don't do the dishes here; the friendly staff will take care of everything.

Dining, living and entertainment areas come with complete privacy. AV15's child friendly policy makes it a preferred option for multiple-family vacations. For business travellers, it is hopefully a remedy for home sickness.

Alexandra Villas caters to travellers seeking a personalised experience and connection with Colombo. It is a great place to meet and network with travellers from around the world. Cared for like home in the heart of a buzzing city, you will find AV15 a welcome place to unwind at remarkably affordable prices. More details at www.av15.lk or call 0094 76 898 59922.