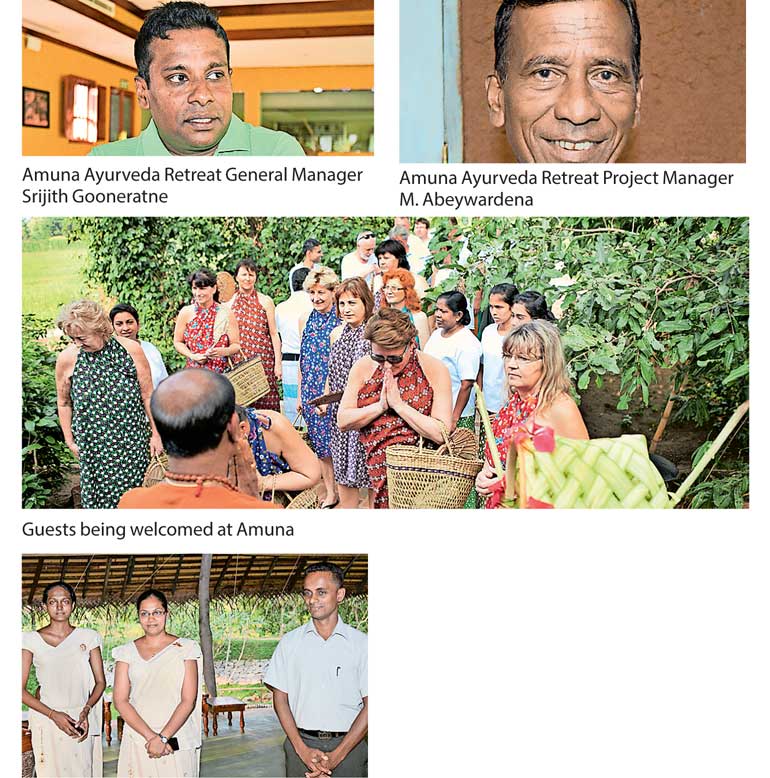 Eco-Ayurvedic treatment resort offering authentic Sri Lankan traditional herbal experience
Ayurveda is a holistic healing science where ayu means "life" and veda means "science," which translates to 'science of life'. Ayurveda is accepted as the oldest scientific medical system with a long record of clinical experience and is a complete way of life.

Embodying this way of life, Amaya Resorts & Spas unveiled an Eco-Ayurvedic treatment resort recently, Amuna Ayurveda Retreat – a holistic retreat embodying authentic Sri Lankan traditional herbal experiences to ensure a relaxed, unforgettable and a healthy vacation.

Spread out over some 22 acres at Kumbukkandanwala, Dambulla and just two kilometres away from Amaya Lake, Amuna offers a variety of treatments and therapies which includes yoga, meditation and a strict in-house organic diet.
Beautiful place of healing
Stepping into the property, it is clear that Amuna is not an ordinary Ayurvedic retreat. The environment is surrounded by paddy fields, vegetation and trees of every kind with views of the mountains in the distance.

Amuna Ayurveda Retreat General Manager Srijith Gooneratne, who also heads Amaya Lake, is the man behind this beautiful place of healing which is modelled on a typical Sri Lankan village, while M. Abeywardena is the Project Manager. The expansive property has a farm and herbal garden with all the required plants for herbal decoctions, and features wattle and daub huts, natural mud colours and cheetha cloth in keeping with its traditional theme. Built with eco-friendly and recycled materials, there are 13 rooms – eight dwellings, one villa and three tree houses – along with a restaurant, lobby, consultation room, treatment and therapy rooms. The guest rooms are designed to merge elegantly with the vibes of Amuna and its ancient traditional elegance. They all come with normal amenities such as the tea-making facility, air-conditioning, bath amenities and more.

There are 10 treatment rooms, two Shirodhara rooms and one special rejuvenation unit while Herbal Aromatic Steam therapies are housed in two separate steam baths and Ayurvedic herbal baths are available in four special indoor tubs.
Treatments at Amuna
In terms of treatments, the focus is on yoga, meditation and Ayurveda. The three full-time physicians at Amuna explained the healing process: Treatment starts with a blessing ceremony, followed by a deep consultation. Diet and treatment is planned depending on the body constitution, along with yoga, meditation and acupuncture if necessary. The wellness programmes focus on stress relief, rejuvenation and slimming and beauty. Guests can choose from three main treatments – Suwa Shanthi (refreshing mind, body and soul) which breaks into seven days, 14 days and 21 days while Niroga (revitalising body) and Swastha (healthy living) break into seven days, 10 days, 14 days, 21 days, 25 days and 30 days. There's also yoga and meditation that gives the best wellness experience possible according to one's time, health requirements and budget. As all these come with a healthy diet programme, every meal that is made for the guest plays an important role. A guest will be prescribed a diet consistent with the physicians' diagnosis and recommended treatment. All food that is made and served to guests such as fruits and vegetables are all grown in the retreat itself. No meat or alcohol is served at Amuna.

Everyone is prone to stressful situations and difficult encounters that result in stress. The way to deal with these situations will differ depending on one's frame of mind. Check out the website http://www.amunaayurvedaretreat.com to learn how to start a journey to a healthy and rejuvenating life.

Pix by Daminda Harsha Perera