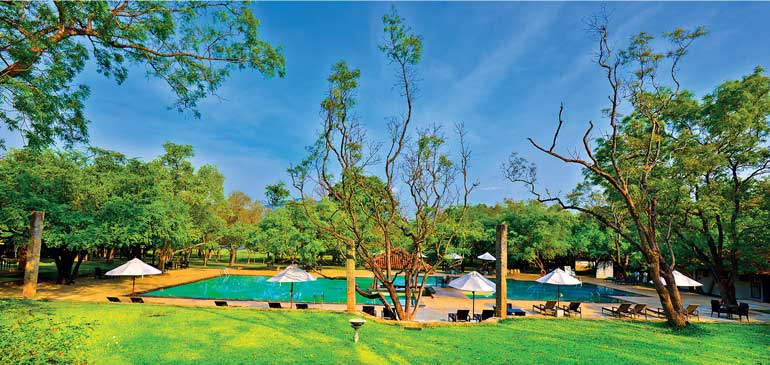 By Marianne David

There's something – well, some 80,000 things, actually – very special about Amaya Lake, and that's only the trees! Throw in the tantalising treats on offer at the hotel (which include the luxurious Signature by Amaya experience) and you're in for a time worth remembering.

Walking into this beautiful property in Dambulla which is sheathed in greenery, one cannot help but gaze around in wonder at the abundance of trees and absorb the natural beauty on offer.

But first, there are the raban players.


Spotlight on local culture

Amaya Lake, given its location in the centre of the country's Cultural Triangle, places heavy emphasis on local culture, especially in terms of in-house entertainment for guests.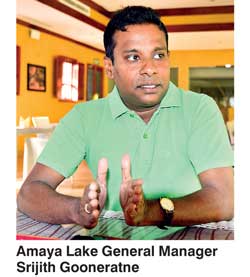 Every guest who enters the property is greeted by smiling raban players, who started the drumming at 7:30 each morning and also play again when bidding guests farewell. It's a superb Sri Lankan touch and offers something worth recording via pictures and videos the very second one walks in, setting the stage for what to expect at this property.

The welcome extended to guests also comprises lighting the traditional oil lamp, followed by a hot towel, a welcome drink and a speedy check-in process.

An especially unforgettable experience is when the flautist starts playing in the evening by the pool. When you hear the haunting notes lingering in the night air as the light falls and the stars slowly emerge, you will be mesmerised every single time.

The flute playing in the evening is followed by oriental music in the dining area, continuing on the same theme, while cultural dances are performed thrice a week.

Another experience that draws the guests, local and foreign alike, is offered by Amaya Lake's very own astrologer, to whom guests flock in droves, eager to see what their future holds.



Something for everyone

Nestled along the shores of the breath-taking Kandalama reservoir, Amaya Lake offers something for everyone – from luxury, seclusion and relaxation to action-packed entertainment and interesting experiences.

Amaya Lake General Manager Srijith Gooneratne, who has been with Amaya Lake for an impressive 19 years and is approaching his silver jubilee in hospitality, knows this place best.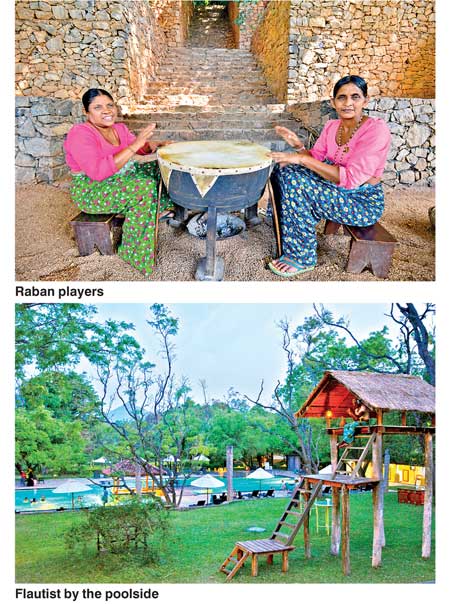 "The property spans 44 acres with over 80,000 trees. We commenced operations in 1994 and today we have 101 rooms at Amaya Lake and 24 Signature by Amaya luxury rooms," he noted.

Formerly Culture Club, Amaya Lake was rebranded in 2004 post a major refurbishment from 2004 to 2012, which was carried out without closing down the hotel, added Gooneratne.

Most of the trees here were planted by the hotel, which gives pride of place to nature. "In fact we have given an opportunity to the staff to care for the trees, where every staff member is responsible for two trees within the garden area, which are marked with their EPF number," he explained.

Speaking about the wildlife one can witness here, Gooneratne says there are about 15 kinds of animals, including elephants who come to the lake during the drought, in addition to deer and an abundance of monkeys.

Amaya Lake offers bird-watching walks for nature enthusiasts, one at 6:30 in the morning and another at 5:30 p.m. With over 130 species to be seen, including migratory and endemic birds, the walks are quite popular and also feature a boat riding element on the beautiful lake.

In terms of sports and recreation at Amaya Lake, for children there is a playground at the lakeside while guests can enjoy tennis, badminton, volleyball, cycling (in the village), village excursions via bullock cart and barge rides on the Kandalama Lake, to name a few.



Dining

The lake also comes into focus for special dining occasions, with champagne breakfasts and dinners on a barge plus barbeques on its banks.

"The barbecue terrace by the lake is where we have special events for groups and it is in high demand. The champagne breakfasts and dinners are especially popular among honeymooners, served on board a barge with a one-and-a-half-hour ride," said Gooneratne.

The culinary offering at the Samara restaurant comprises themed nights with a different theme and menu every day, including Italian, Sri Lankan, International, Japanese, Chinese and Mexican, served up by specialised chefs. The Sri Lankan spread deserves special mention. While musicians play oriental music here, the hotel also offers DJ music or calypso bands on request.

The hotel also recently opened a new a la carte restaurant which can seat 60, while the Lake Bar serves tropical juices, the resort's signature cocktails and some fine wines.

The Green Apple at Signature by Amaya serves Italian and Asian flavours and handpicked wines from around the world. We had a delicious breakfast there on our last day and enjoyed the dining experience in the comfortable setting overlooking the pool and an expanse of trees. If you're a Sri Lankan cuisine addict like I am, do try the pittu here – it's perfect.


Accommodation and facilities

Amaya Lake and Signature by Amaya are two of the eight properties that fall under the umbrella of Amaya Resorts & Spas. All the rooms are surrounded by lush tropical landscaping and grounds. The Amaya Lake rooms are decorated in earthy clay tones and tastefully blend with nature.

Signature by Amaya gives guests the option of choosing from a Luxury Villa, a Family Suite or the Lake View suite. The rooms are decorated in warm colours of beige and gold with wooden floors and plush furnishing.

Staying in Signature by Amaya rooms, we were enveloped in a haven of bliss with plenty of space, featuring welcoming Jacuzzis, the comfiest beds (the pillows were to die for!) deep sofas and lovely lighting, leaving nothing to be desired. The welcome and turndown services were impeccable.

Signature by Amaya also offers the incomparable Bulgari experience via its amenity products and taking things up another notch, in room entertainment featured a wide selection of movies instead of being limited to satellite TV channels.


Pampering at the spa

What's a hotel stay without some pampering at the spa? I chose a reflexology foot massage lasting one-and-a-half hours at the hotel's Pancha Karma Spa, an experience highly-recommended for those with burning feet after exploring ancient cities or climbing the Sigiriya Rock.

With a warm and welcoming smile, therapist Sriyani took my tired feet and made them new with her magical hands. All the treatments here are 100% traditional Ayurveda and guests can choose any treatment after a consultation with one of the Ayurvedic doctors.


Excursions

Dambulla is best known not only for being a Heritage Site, but also for its ideal location in the Cultural Triangle comprising Anuradhapura, Polonnaruwa and Sigiriya.

This makes Amaya Lake the perfect place to be based as you explore the area, visiting world-famous ancient heritage sites such as the Sigiriya Rock Fortress and the Parakrama Samudraya and going on safari to Minneriya or Kaudulla National Parks to see elephants in the wild. Go during 'The Gathering' for a fantastic wildlife experience you will never forget.

On a final note, don't leave Amaya Lake without doing this to serve yourself a slice of bliss: Walk around the property at night once most of the lights are out, roam through the trees, linger by the lakeside, and turn your face up to gaze at the explosion of stars.

Pix by Daminda

Harsha Perera