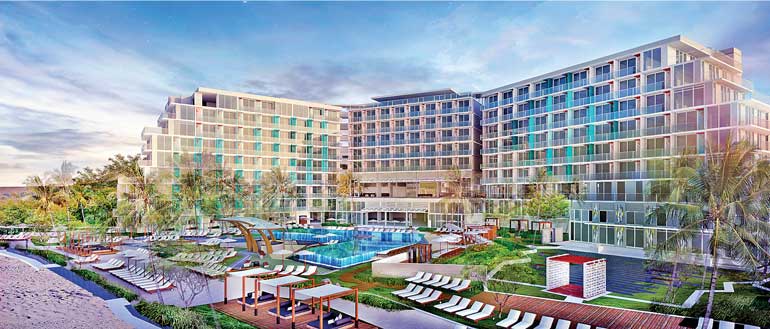 Amari Galle building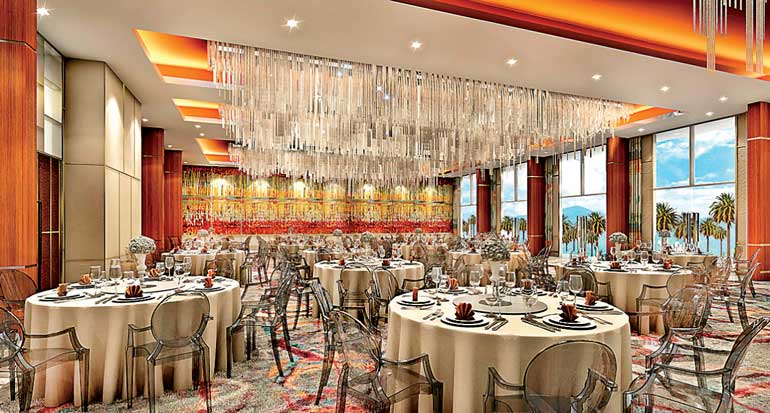 Ballroom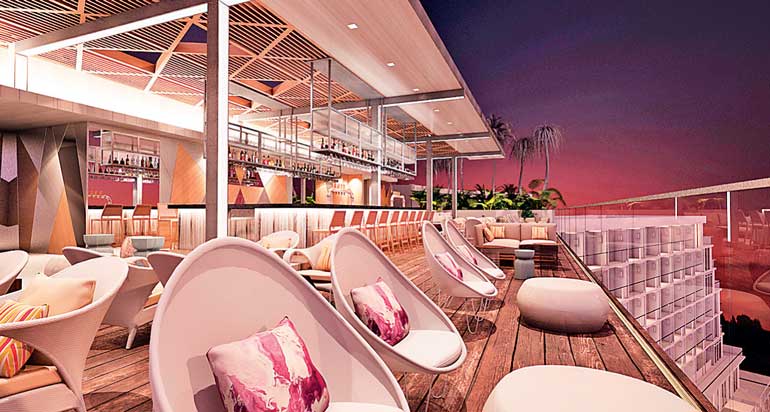 Bommu Rooftop Bar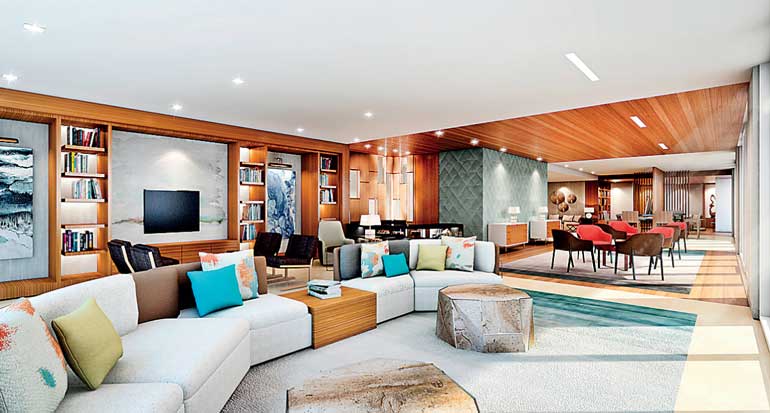 Voyager Lounge
By Marianne David



Q: Plans are underway to open Amari Galle Sri Lanka soon, which will introduce the Amari brand by ONYX Hospitality Group to the country. What's Amari all about and how does it differ from ONYX Hospitality's OZO brand which is already operational in Sri Lanka?

A: As the centrepiece of the ONYX portfolio, Amari creates experiences that showcase a modern view of Asia, whilst embracing the traditions of Asian hospitality. Everything we offer here revolves around what makes Asia unique and original, we blend local culture with our Thai roots.

Amari is different to OZO, it is our up-scale, luxurious and leisure oriented brand. Amari Galle will be the first international luxury hotel brand to come into Galle, a destination which is predominantly served by lovely boutique properties but none that are larger. With its spacious 172 rooms and suites, Ahara Food gallery, The Shoreline beach bar, BOMMU rooftop bar, vast outdoor swimming pool and landscaped beachfront gardens, the hotel will set a new standard for hospitality in Sri Lanka. Add our extensive meeting facilities, ballroom and breakout rooms and the offering is complete.

OZO stands for 'Smart, Simple and Savvy,' catering to the guest who is on the move and looking for a fast track hotel experience. It's essentially a midmarket, select service brand. However, in Sri Lanka we have gone beyond usual OZO standards by providing a lot more than the brand promise of a good night's sleep, perfect connectivity and a fine breakfast. OZO Colombo and Kandy are upgraded versions of the OZO concept with their exquisite rooftop bars, open air swimming pools and extensive F&B offering.

Q: Could you tell us when Amari Galle will open and how things are progressing right now?

A: Construction of Amari Galle Sri Lanka is progressing well, with the resort on track to open late December, early January. Apart from the construction, we are also currently recruiting our teams in order to develop talent and train the international standards we set ourselves at ONYX Hospitality Group.

Q: How will Amari Galle be positioned in Sri Lanka and what kind of a clientele is the property looking to attract?

A: Based on the resonance we've created with travellers through our two OZO properties here and the history of Amari, we are introducing our flagship brand Amari to the iconic town of Galle. This is a very exciting time for us since Amari is our core, heritage brand which caters to the expectations of European and regional travellers in search of authentic, shared experiences. Amari stands for friendly luxury, promising enjoyable times together.

Amari enjoys a fine reputation amongst seasoned travellers from around the globe. As such, we are confident of being able to attract a wide selection of segments, from individual leisure travellers to MICE, wedding and events guests.

Q: Can you tell us how the new property will look in terms of design and décor?

A: The property consists of three, separate buildings, interconnected by sky bridges between the different floors. We have worked with Grey Matters for the bulk of the main design and interior. This work is supported by our own technical team of experts based in Bangkok who accompany all projects like this from start to finish with guidance on various aspects from brand compliance in design and work flow through to the very important aspects of health and safety.

Q: How would you describe the property's offerings and potential and what can guests expect at Amari Galle in terms of rooms, services, entertainment and dining?

A: Amari Galle offers 172 rooms including seven suites, making it one of the largest hotels in the Southern Province. All rooms and suites are with sea view. No exception. And all have a balcony or terrace. The hotel has an extensive outdoor swimming pool,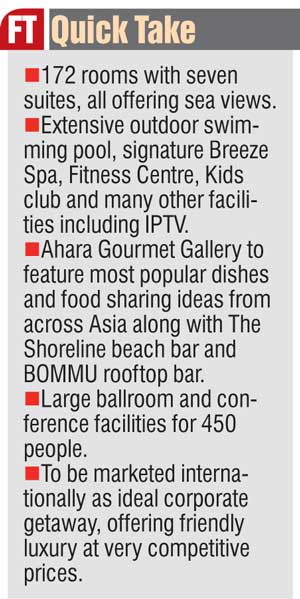 signature Breeze Spa, Fitness Centre, Kids club and many other facilities including IPTV. The main restaurant, Ahara Gourmet Gallery will feature some of the most popular dishes and food sharing ideas from across Asia and with a show kitchen atmosphere, guests will enjoy the action going on around them. Bommu is our rooftop bar on the top of the building with uninterrupted views of the ocean; here we will be conjuring up exciting, fun cocktails alongside great dishes designed for sharing with friends and family. Regular events will round off the reasons to visit this one of a kind experience in Galle.

The eight floor property will also offer a large ballroom and conference facilities for 450 people helping the region to be promoted as a MICE destination. We will also market this property internationally as an ideal corporate getaway, offering friendly luxury at very competitive prices in Galle.

Q: Why did ONYX Hospitality Group choose Sri Lanka and Galle in particular for this new venture?

A: Sri Lanka has matured as an exceptional travel destination and this is the reason that Amari brand is coming to Sri Lanka. We see Sri Lanka embarking on a significant road of development and growth and we wish to contribute to this and be a part of the success story. We recognise that we must participate in the advancement of the population's opportunities, wellbeing and growth. We are a unique proposition to the market in terms of our services by location, there is no other property with a larger inventory in the vicinity.

Galle is predominantly, up to now, a boutique hotel market. We bring a different angle with our size and ability to cater to a broader spectrum of segments. Amari has a clear positioning and the desire to cater to people who enjoy and value spending time together. To this end we design our features and offerings around this concept. Food and drinks are often designed for sharing, for example.

We also make it a point to help people to maximise their stay with us and to this end we have Destination Amari and our Amari Hosts. Destination Amari is a set of evolving recommendations for places to visit and things to do, insider tips that help our guests plan and make the most of their days or weeks.

The Amari Hosts are local team members who move around the property, Reception and restaurants, they are knowledgeable about the hotel and the location, carry a tablet and are able to help guests with ad hoc questions and advice on what to do. We are located just 10 minutes away from the historic Galle Fort. All leading attractions are within the reach of the property.

Q: Could you tell us about the property's staff and outline your recruitment policy?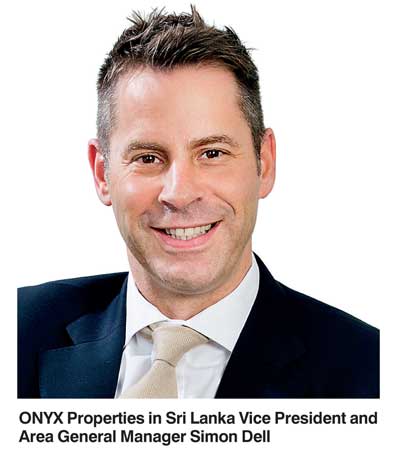 A: In terms of teams, we focus on building for the future. We believe we can bring value to the careers of a great many people. Our company has a structured approach to career planning with solid programs to coach and develop leaders for the future. Our recruitment process is tailored to address the needs of the organisation and of the community around us.

Career paths are created and at the same time we aim to increase the female workforce percentage. Here, work-life balance is an important factor to attract more females to not only Amari and OZO hotels but to the industry. Providing traineeships for young school leavers and graduates through various ONYX development programmes help us to create the future in terms of succession planning.

Our recruitment drives have inspired Sri Lankans working overseas to return back home which is a huge plus point as repatriation of knowledge and experience leads to higher standards.

Q: How will Amari Galle give back to the community in which it operates?

A: Corporate Social Responsibility is an important part of who we are as a company. We recognise that there is a direct correlation between our actions and the impact on the community and environment. Our different brands under ONYX Group each have a different CSR focus. Amari CSR programme aims to support and provide educational opportunities for underprivileged children in poor and rural areas. This can take many forms from providing essential learning tools, to scholarships with opportunities for on-the-job training and employment to help maintaining schools or even school routes.

Q: With the new opening, ONYX Hospitality will have three properties in Sri Lanka and you are responsible for all of them. How do you see local operations overall, are there any changes/additions in the pipeline and what are your expectations of the properties?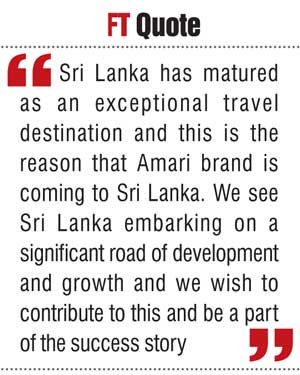 A: I have been with ONYX Hospitality Group for over eight years now. Starting as Executive Assistant Manager at the Amari Pattaya, then to beautiful Krabi as General Manager for our two properties there. I was the fortunate enough to be selected as pre-opening General Manager for the new-build property Amari Hua Hin before being sent over to Hong Kong and China to oversee the operations and pre-opening support across our North Asia region. Now ONYX Hospitality Group has recognised the enormous potential in Sri Lanka and that is why I am here, to oversee our OZO hotels, open Amari Galle on brand and to assist in the development of future properties in Sri Lanka.

We are proud of our growing presence in Sri Lanka. Our first two properties – OZO Colombo and OZO Kandy – are well established and well frequented by travellers. Amari Galle opening soon will expand our loyal guests' visiting options when choosing Destination Sri Lanka. With these three existing properties plus our pipeline of properties, we aim to cover most desirable destinations within Sri Lanka. With the growing importance of this multi-facetted island as a travel destination today we consider Sri Lanka to be a separate region for our company.

Q: What are your views on Sri Lanka and its tourism potential and what would you say Sri Lanka needs to get right to achieve its tourism goals?

A: Sri Lanka is on the brink of a strong reform agenda with a promising period of rapid economic growth and social development. The country is on a steady tourism growth path. According to the Travel and Tourism Index 2015, Sri Lanka's travel and tourism competitiveness jumped 18 ranks over the past four years, driven by the strong government focus on the tourism sector, remarkable infrastructure growth and enhanced marketing and promotional efforts for the country as a whole, making it the perfect time for the hospitality industry to further grow in a sustainable and inclusive manner. There has been an average growth of 16% over the past five years in the foreign tourist arrivals with close to 1.8 million foreign tourist arrivals in 2015 and the target for 2016 being set at 2.2 million tourist arrivals.

As previously mentioned, Sri Lanka is on a truly steep curve with great times ahead. This island has so much to offer that keeps it on par with some of the more established Asian destinations such as Malaysia and Thailand. To achieve this and more, there is still much work to do and it is good to see that this is well understood and that there is meaningful discourse in progress on how to make this all happen.

Certainly the country must be marketed with a view to creating and promoting the destination as a brand. The authorities are indeed active in enabling conversations around branding Sri Lanka. All stakeholders should be united in these efforts such as the Government, Sri Lanka Tourism Development Authority, hoteliers and other tourism service providers.