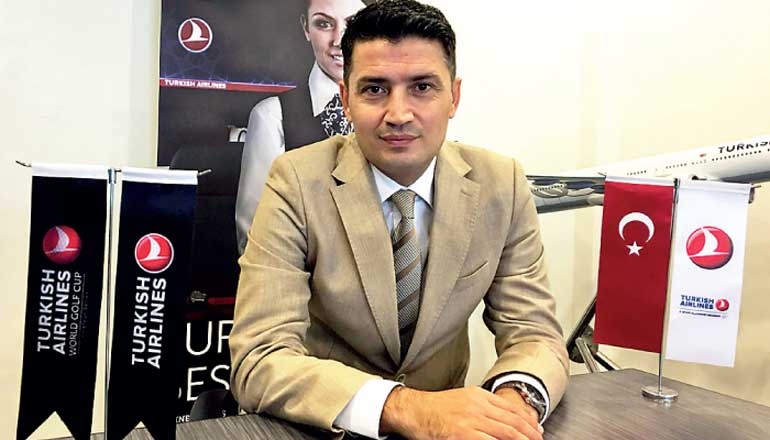 Turkish Airlines General Manager Sri Lanka Ozgur Suucak will be delivering his duty to his counterpart Murat Baydar effective from 1 September.

After working in multiple departments in Turkish Airlines in many countries, Suucak who has been General Manager in Sri Lanka since 2013 has now been appointed as General Manager of Turkish Airlines in Bishkek, Kyrgyzstan effective from 1 September.

Turkish Airlines Sri Lanka established office and started operations in 2013 with four flights a week. Within a successful year of operation the flights increased to daily flights. Since October 2016, Turkish Airlines further added a cargo freighter which operates once a week and has planned to increase to two cargo freighters per week within the coming months.

"I believe that the historic relationship between Sri Lanka and Turkey has been sealed with Turkish Airlines flying into Sri Lanka. Turkish Airlines has added more value to Sri Lanka Tourism due to its vast network of 300 destinations around the Globe. Being awarded 'The Best Airline' in four categories at the Skykrax Passengers Choice Awards 2017, Turkish Arline has given the Sri Lankan market an opportunity to choose flying with an award winning European carrier and experience the quality of the flying experience. They would also be able to have better connection with the rest of the world since Turkish Airlines flies to more counties than any other airline," Suucak stated.

"I like to thank Sri Lankan authorities, namely the Civil Aviation, the Government and all the travel agents and staff for their support and hospitality given to me. As a stable European carrier who will continues to fly Sri Lanka, I would like more and more Sri Lankan's to come and experience flying with Turkish Airlines. I like to wish Murat Baydar all the very best on his new appointment," Suucak added.

Established in 1933 with a fleet of five aircraft, Star Alliance member Turkish Airlines is a 4-star airline today with a fleet of 331 (passenger and cargo) aircraft flying to 300 destinations worldwide with 251 international and 49 domestic.

According to the 2017 Skytrax survey, Turkish Airlines, already having a six consecutive years of 'Best Airline in Europe' award between 2011 and 2016, now chosen as the 'Best Airline in Southern Europe' for the ninth consecutive time. Having won the 'Best Economy Class Onboard Catering' award in 2010, Turkish Airlines also awarded as the 'World's Best Business Class Onboard Catering' in 2013, 2014 and 2016, and 2017. Winning the 'World's Best Business Class Lounge' award in 2015 and 2017, the global carrier also picked up the 'World's Best Business Class Lounge Dining' award for the third consecutive years according to this year's survey results.